Not easy to repatriate Bangabandhu's killers
Says law minister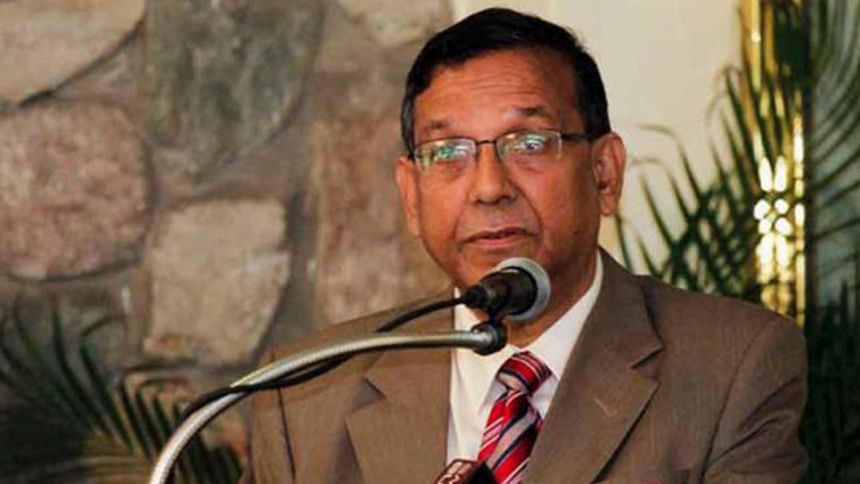 Law Minister Anisul Huq yesterday said it is not easy for the present government to bring back the convicted fugitive killers of Bangabandhu Sheikh Mujibur Rahman to the country.
"The governments led by HM Ershad and Khaleda Zia had patronised them [convicted killers of Bangabandhu] in such a manner that they have been holding very strong positions in different countries," he said while talking to reporters at his secretariat office ahead of the National Mourning Day on August 15.
The law minister said the government has been working to find out the documents regarding their travel to and living in those countries.
"We have information about two killers and we are aggressively pursuing them. We have taken relevant legal steps to bring them back to the country. For example, we had taken measures to stop Rashed Chowdhury, one of the convicted killers, to reside in the USA since 1996 till 2000. But, the then BNP government after assuming powers in 2001 had patronised and aided him to reside there and therefore our process was hampered. We have resumed the same process to stop his residing in the USA," he said.
Replying to a question, Anisul Huq said the Canadian government has not permitted Noor Chowdhury, another fugitive killer of Bangabandhu, to reside in that country. But, he is staying there on the grounds that his death penalty will be executed if that country deports him to Bangladesh, he said, adding that Canada does not support death penalty. 
The law minister said the present government is trying to bring Noor Chowdhury back to the country through alternative way.
"Noor Chowdhury can be brought back home if we give an undertaking that he will not be executed. But, he has been convicted and sentenced to death by the trial court on the basis of documents and evidence, and later on the High Court Division and the Appellate Division of the Supreme Court have confirmed his death sentence. Our duty is to execute the verdict," Minister Anisul said. 
He said the government has achieved some progress about brining another fugitive killer of Bangabandhu, but refused to disclose the progress over concerns that it may impede the progress.
On November 19, 2009, the Appellate Division upheld a High Court verdict, confirming capital punishment of 12 people, including the six absconding killers, for killing the Father of the Nation and most of his family members on August 15, 1975.
The six fugitives are: Col (dismissed) Khandaker Abdur Rashid, Lt Col (relieved) Shariful Haque Dalim, Maj (retd) Noor Chowdhury, Maj (retd) Rashed Chowdhury, Capt (retd) Abdul Majed and Risaldar Moslehuddin Khan.
Five of the convicts -- Syed Farooq Rahman, Sultan Shahriar Rashid Khan, Bazlul Huda, AKM Mohiuddin Ahmed and Mohiuddin Ahmed -- were executed on January 27, 2010. The other killer, Aziz Pasha, died in Zimbabwe in 2001.