Boro saplings sell at high price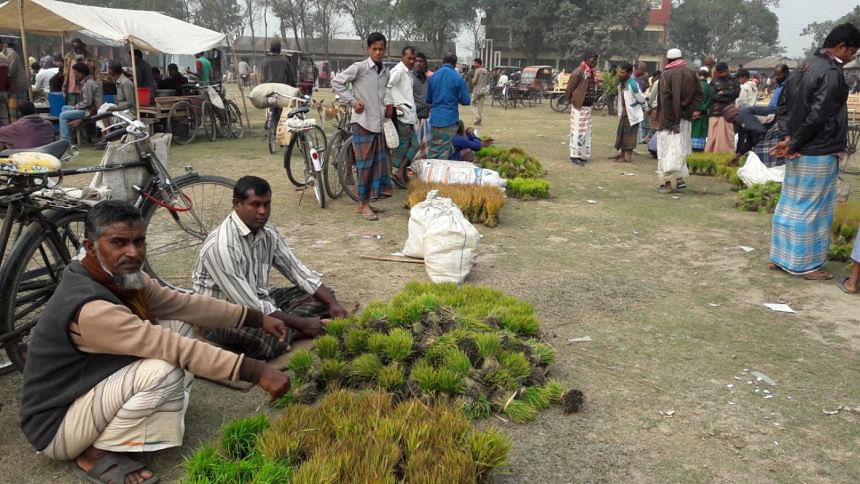 Taking advantage of a shortage of Boro saplings, caused by damage due to prolonged cold and dense fog, a section of traders in the district are doing brisk business by selling saplings at high price.
Farmers are forced to buy saplings at high rate for farming Boro crop, and they are upset over the price hike this year. Now, one bundle of 50 to 55 saplings is being sold at Tk 5 to Tk 6, while it cost Tk 2 to Tk 3 last year.
"We purchase one bundle of saplings from the farmers at Tk 3 to Tk 4 and sell them in the local market," said sapling trader Nur Islam, 44, of Durakuti Haat in Sadar upazila. "We collected saplings easily last year, but we are facing difficulties in collecting them this year as they were affected by fog and cold," he added.
"Last year, I sold 500 bundles of Boro saplings for Tk 1,000, but I purchased 100 bundles for Tk 600 this year," said Dhaniram Chandra Barmon, 56, of Kodalkhata village in Sadar upazila. "I have already completed farming Boro on 12 bighas this season, while it was 10 bighas the last year," he said.
Shamsul Alam, 52, of Shalmara village in Aditmari upazila, said he purchased 200 bundles of Boro saplings for Tk 1,200 from Durakuti Haat on Saturday for planting them on his one bigha of land. "I purchased saplings from the market at high rate as some of my saplings were affected in the seedbed due to prolonged fog and cold," he said, adding that he has prepared eight bighas for farming Boro this year.
Haradhon Chandra Barman, 63, of Chandrapur village in Kaliganj upazila, said his Boro saplings on 12 decimals were not affected as he protected them by covering them with polythene at night. "After fulfilling the target of farming Boro on 10 bighas, I earned Tk 2,500 more by selling saplings," he said.
District Department of Agriculture Extension Deputy Director Bidhubhushon Roy told this correspondent that there is no crisis of Boro saplings for farming on the targeted 52,000 hectares in the district. "Some unscrupulous traders are selling saplings at high rate, saying there is a crisis of saplings," he added.