Bid to protect Kuakata beach
Businessmen dump sandbags to save the beach from erosion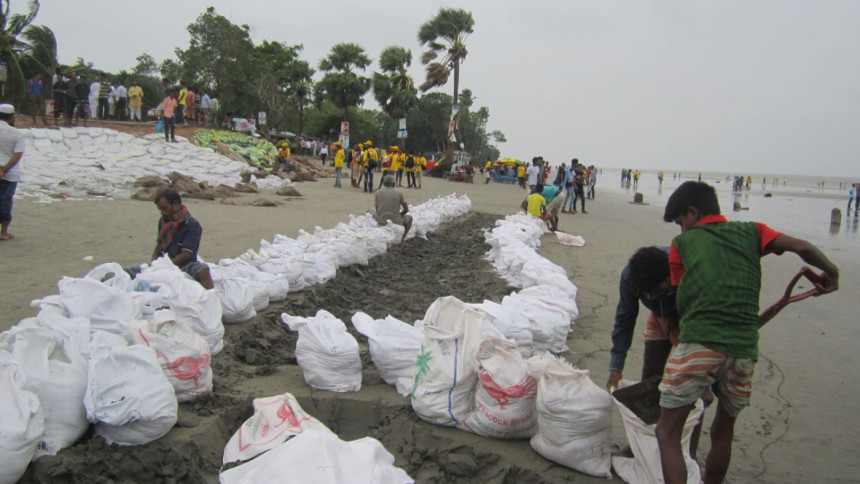 Nine businessmen of Kuakata dumped 250 sand-filled bags along the beach in the last two weeks to protect it from erosion by tidal surge during the rainy season, and theyt have a plan to dump 500 more bags.
Md Shah Jalal, owner of Hotel Sunrise, said erosion washes away a portion of the beach into the Bay every year, and all establishments situated outside the flood control embankment face the threat of being devoured by the Bay.
"We urged the local authorities, including Water Development Board (WDB), to take sustainable steps to protect the beach, but in vain. Finally, nine of us, all businessmen, took a plan to protect the beach by dumping sand-filled bags along the shore. We have already placed 250 bags on the beach and plan to place 500 more," he said.
The step has worked as tidal surge cannot hit the shore directly now, Shah Jajal said, adding that the total cost would be around Tk 10 lakh.
Md Kabir Hossain, a small trader of the same area, said this initiative will protect the beach from erosion that takes serious turn in the rainy season, especially from May to October.
The only road link from Kuakata zero point to the beach is also damaged by tidal surge every year, locals said.
Kuakata Municipality Mayor Abdul Bareq Mollah said he requested the water resources ministry and the WDB to build a marine drive here like that in Cox's Bazar to protect Kuakata beach, but they did not respond.
He spent over Tk one lakh to protect the lone road from erosion by dumping bags filled with sand at the end of the road around a month ago, he said, adding that erosion has decreased as tidal surge cannot hit the road.
"We request the prime minister to take steps on an emergency basis to protect Kuakata beach from erosion," he said.
Executive Engineer of WDB Kalapara Circle Abul Khayer said they sent a proposal in 2004 to the higher authorities to protect the beach from erosion, but in vain, adding that around 100 metres of the beach have been washed away since then.
"Now we are preparing a proposal of a newly designed embankment to protect the beach," he added.