Vashkar Bhattacharjee receives Unesco laurel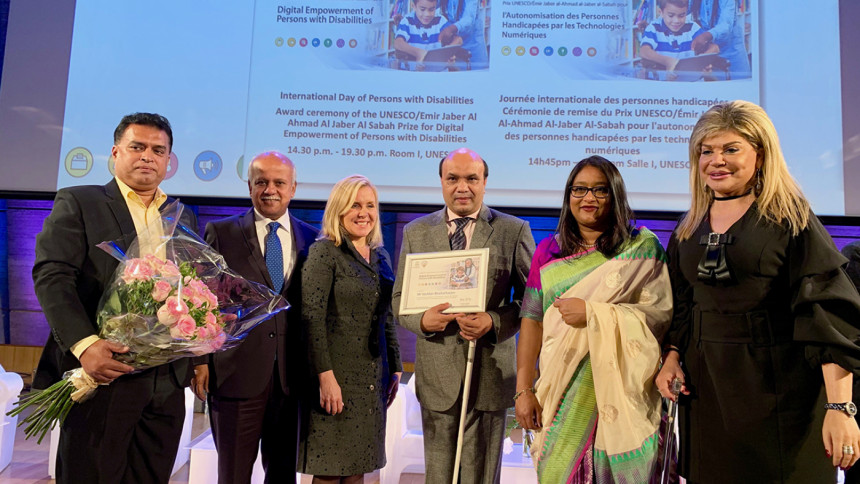 Vashkar Bhattacharjee, a visually-impaired Bangladeshi national, has been awarded the Unesco/Emir Jaber al Ahmad al Jaber al Sabah Prize for Digital Empowerment of Persons with Disabilities.
This is the first time a Bangladeshi has received the prestigious award, according to press release of Bangladesh Embassy in Paris yesterday.
The award carries a monetary prize of US $20,000 and was given to Bhattacharjee, a disabilities advocate, in recognition of his outstanding contribution to the empowerment of persons with disabilities through the application of ICT to access information and knowledge.
Sheikh Mubarak Jaber Al-Ahmad Al-Jaber Al-Sabah, the representative of the Kuwaiti Government handed over the prize to him at a ceremony organised in observance of the International Day of Persons with Disabilities at Unesco Headquarters on Monday.
Vashkar is credited for successfully developing Bangladesh's first Accessible Dictionary in four forms, dedicated to persons with visual, print and learning disabilities. He is currently working for Young Power in Social Action, an NGO based in Chattogram.
The prize, created in 2002 and supported by the State of Kuwait, is given in individual and organisational categories every two years in recognition of contribution for the promotion of quality education and raising awareness about the right to education of persons with disabilities.