Iconic Hardinge Bridge: A tale of 138 years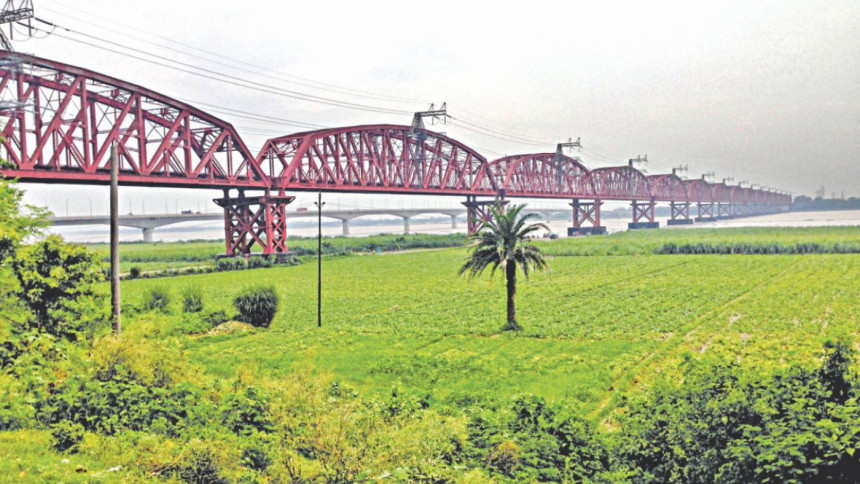 Hundred years are over and still counting! The 1.8-kilometre long Hardinge Bridge, one of the country's historical attractions, stands still and steady over the Padma river even today with its beauty and pride, running between the railway stations of Pabna's Paksey and Kushtia's Bheramara.
Those who have seen the bridge on their way over the river must have mesmerized with its beauty, but very few can imagine that it has completed its centenary on March 4, 2015. Even those who had guaranteed its centenary are no longer alive!
The steel railway bridge is one of the many British structures in the country. From now, 138 years ago, the bridge plan was proposed by Eastern Bengal Railway in 1889 for better rail communication of the Indian subcontinent, especially Assam, according to official records.
It took 20 years of talks to finally start its construction in 1910. A total of 24,400 construction workers worked till 1914 to complete the mighty bridge. A train had undergone a trial run on its down line on January 1, 1915, and the passenger trains went on operation two months later on March 4.
Though the bridge is also known as Paksey Bridge, it was initially named after Lord Hardinge, the then Vice Roy of this continent who had inaugurated it.
Digging down wells, 15 trusses were founded weighing 1,250 tonnes each to build the bridge. While it took almost three lakh bricks, 30 lakh tonnes of steel, 1,70,000 drums of regular cement and 12 lakh drums of different types of cement to complete the entire construction. The total amount of cost was Tk 3,51,32,164.
British Chief Engineer Robert William Gales was honoured with 'Sir' title for his significant work to design the beautiful, attractive bridge, and for its deepest base of that time.
However, in 1971, the bridge was damaged, especially the ninth and 12th span by Pakistan army's air bombing destroying the communication system of northern region to the south. Later, it was reconstructed with the joint efforts of India and Bangladesh Railway.
This bridge is not only historically but also economically significant, which makes it more important to the people of Pabna. Witnessing history of more than 100 years, it has turned to be one of the popular tourist attractions of the country over the time. Every day many visitors gather there to enjoy the wonderful beauty of the bridge.
And all can only wish that the iconic bridge crosses 100 years more!