14 die in 3 northern dists as flood ravages on
Death toll across country rises to 26
As flood ravages through the northern and northeastern parts of Bangladesh, 14 people lost their lives in Dinajpur, Lalmonirhat and Kurigram today, raising the death toll in floods all over the country to 26.
Five of them died each in Dinajpur and Lalmonirhat while four in Kurigram, reports our local correspondents. 
Click on the markers on the map and zoom in to see details on the flood situation in 14 northern, northeastern districts of Bangladesh.
18 rivers have been flowing above danger mark at 25 points.

"The water levels of Jamuna and Meghna have already crossed the danger level. The Ganges is also swelling. The situation might worsen if downpours continue in the upstream," an expert said on August 13, 2017.
In Dinajpur, at least five people including two children were killed in Nawabganj, Biral and Birganj upazila, police said.
Md Amanullah, 10, son of Ramzan Ali, and Amir Hamza, 5, son of Dabirul Islam, of Birganj upazila, Motiur Rahman, 60, and Jonab Ali, 65, of Nawabganj upazila, said Subrata Sarker and Abu Akkas, officers-in-charge of Birganj and Nawabganj police station.
Amanullah, Amir and Motiur drowned in water while Jonab Ali killed in wall collapse due to flood, they said.
Meanwhile, villagers recovered body of a 5-year-old girl, whose identity could not be known, in Biral upazila, said Mir Khairul Alam, deputy commissioner in Dinajpur. 
Besides, Jahangir Islam, 38, in Birganj upazila remained missing since Sunday night.
Flood waters from the Punorbhona river continue to rush into the town after the embankment to protect the town near Mahutpara area was damaged yesterday at 7:00am, our Dinajpur correspondent reports.
Members of the Bangladesh Army, who were working since yesterday evening to repair the embankment, have started working on it from this morning again, the correspondent reports quoting Deputy Commissioner Mir Khairul Alam.
In Lalmonirhat, the bodies of three people, who went missing yesterday, were recovered in Purbo Baruya village in Lalmonirhat sadar upazila this morning.
The victims were identified as Nazma Begum, 23, wife of Robiul Islam, Mozam Uddin, 33, his son Alif Islam, 6, our local correspondent reports quoting Shafiul Arif, deputy commissioner of Lalmonirhat.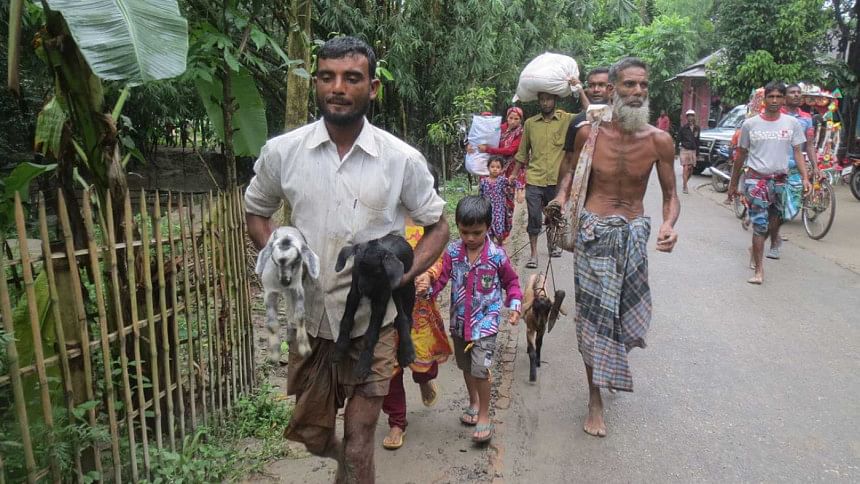 Besides, Shimul Hossain, 26, drowned in the floodwater at Paschim Jagotber village of Patgram upazila this morning.
Meanwhile, a team of fire fighters recovered the body of Noor Islam, 48, from flood water at Doljar village in Aditmari upazila this afternoon, said the DC.
In Kurigram, flood claimed lives of four people, whose identities could not be known, Relief and Rehabilitation Officer Enamul Haque told our local correspondent.
However, the water in Dharla, Dudhkumor and Brahmaputra rivers at different points in Kurigram continues to flow above the danger mark, said sources at Bangladesh Water Development Board (BWDB).
The water at Dharla Bridge Point in Kurigram is flowing 131cm above the danger mark. At Nunkhawa area of Dudhkumor River, the water is flowing above 7 cm and at Chilmari point of Brahmaputra it is flowing 73cm above the danger mark.
Meanwhile, the water at Kaunia point of Teesta river is flowing 24cm below the danger mark.
A total of 42,351 hectares of cropland has also been damaged in the floods, Enamul Haque said.
According to UNB, the flood situation worsened further in Lalmonirhat as six embankments have collapsed due to strong current in the Teesta and Dharla rivers, inundating fresh areas of the district.
Following the collapse, some 19 villages went under water freshly and more than one hundred houses were eroded by Teesta and Dharala rivers.
The road and train communications between Lalmonirhat and Burimari routes have remained suspended for the second consecutive day due to severe erosion in different places.
Meanwhile, people in the flood-hit areas are suffering from scarcity of food and drinking water. Only 160 tonnes of rice and Tk 4.50 lakh in cash have been allocated for over one lakh flood-affected people.
Mustafizur Rahman, executive engineer of Water Development Board at Dalia Division, said Teesta River was flowing 5 centimetres above the danger mark at Dalia point while Dharala River was flowing 135 centimetres above the danger level at Kulaghat point on Monday morning.
To control the water, the Teesta Barrage Authorities have opened its all gates at Dalia point, he added.
Many of flood-hit victims claimed that people in 63 chars and char villages have remained marooned by flashfloods for the last five days but they got insufficient government relief, forcing most of them to starve.
Rajpur Union Parishad chairman Mofazzal Hossian said in last five days, 50 houses were devoured by the river while flood situation of 17 villages under his union worsened. But the administration allocated only 130-kg of rice for 25,000 flood-affected people.
Saniajan UP chairman Abdul Gafur echoed the same adding that he received only 75-kg of rice and a poor amount of dry food in against of 6,000 flood victims.
Waterborne diseases are spreading in the flood-hit areas. District Civil Surgeon Dr Amiruzzaman said some 54 medical teams are working in the flood-hit areas. However, no activities of medical teams were seen while visiting the spots.
More than one hundred schools were closed as floodwaters entered inside the buildings.
District Education Officer Nobez Uddin said academic activities in 197 educational institutions in the district have remained suspended due to floods.
Admitting the shortage of relief supply, Lalmonirhat deputy commissioner M Shafiul Arif said distribution of 160 tonnes of rice and Tk 4.50 lakh in cash is going on. Upazila Nirbahi Officers will distribute those relief items gradually.
Heavy rains and fresh onrush of water from upstream have raised the water levels of most of the rivers in the Meghna, Brahmaputra and Ganges basins, submerging most of the northern and northeastern parts of the country.