Bagerhat tomato industry at risk
Outbreak of the disease locally called 'stoke' has worried farmers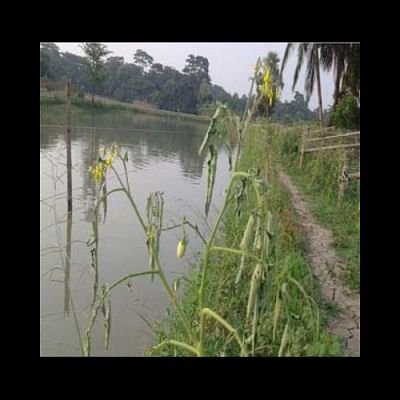 Bagerhat's tomato farmers are worried. In the key tomato-growing Chitalmari upazila, a tomato disease locally called 'stoke' has become widespread. The disease causes mature plants to dry out, with leaves curling and flowers wilting. It is crippling the industry. Worse still, available pesticides seem to have no impact in combating the disease.
"I planted tomatoes on six bighas of land this season," says farmer Biplob Mandal from Kharmakhali village, "Unfortunately about eighty percent of the crop is now infected with stoke.
We are trying hard to save the crop, but the usual pesticides just don't work at all. It's very frustrating, especially because nobody can tell us how to cure it."
Tomatoes are usually cultivated in the area from mid-August through to March. According to local farmers thousands of tonnes of tomatoes harvested here are significant to tomato availability nationwide; and with many tomato crops sold in advance, the prevalence of stoke disease is creating uncertainty for both producers and buyers.
If stoke disease cannot be brought under control, farmers warned, the whole industry would face economic disaster.
"The upazila-wide target for tomato cultivation this year was 1,605 acres," says Chitalmari's Agriculture Officer Abul Hasan. "But due to advanced planting and excessive rain this season some crops have become infected by disease. We are trying to communicate with the farmers to control the diseases."