Attacked, police car falls into Brahmanbaria ditch
5 hurt in the crash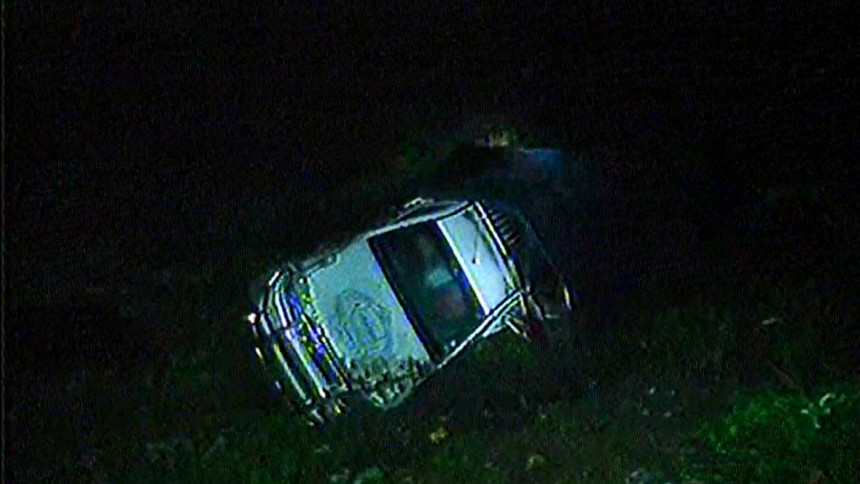 Five policemen were injured when their pick-up van plunged into a ditch after it came under gun attack at Brahmanbaria last night.
Police arrested three alleged drug dealers today along with the private car used during the attack, a stringer from Brahmanbaria reports quoting MA Masud, additional superintendent of police in Brahmanbaria.
The injured policemen -- Awal Bhuiyan, 35, a sub-inspector, and constables Mithun Chandranath, 27, Ariful Islam, 32, Abul Bashar, 23, and Shahidul Islam -- are undergoing treatment at Brahmanbaria Medical College Hospital and Sadar Hospital.
Acting on a tip-off, police patrol team signaled a red-coloured private car which was allegedly carrying drug smugglers on the highway in Ghatura area around 9:00pm to stop.
Police started to chase the car when the vehicle ignored their signal and sped away.
Sensing danger, the drug smugglers opened fire at the police van, which later skidded off the road and plunged into the ditch, leaving the five lawmen injured.
The injured were rushed to the hospital.
Soon after the incident, police detained one Swapan Mia, an alleged drug trader, from Suhilpur area.
Quoting Swapan, Tapos Ranjan Ghosh, assistant superintendent of police of Brahmanbaria, told the correspondent that the drug dealers were carrying yaba tablets in their vehicle.