Asaduzzaman, Yeafesh, Nurul take oath as ministers
Tarana Halim, Md Nuruzzaman sworn in as state ministers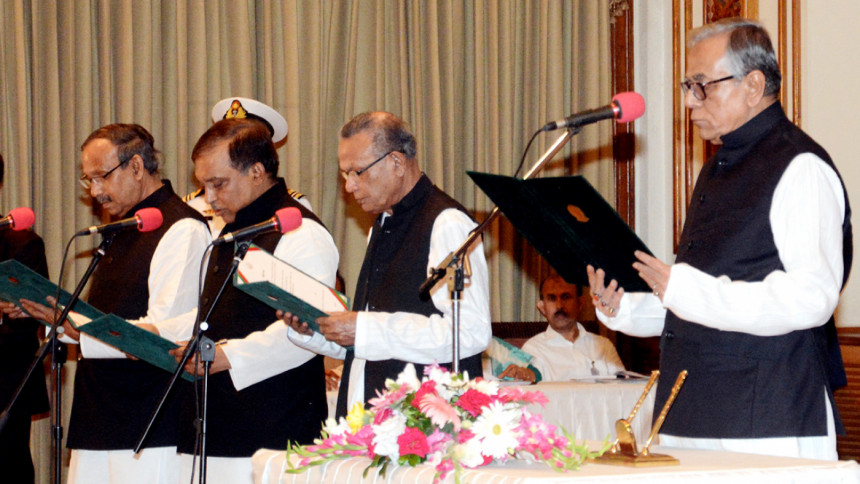 -- Asaduzzaman Khan Kamal promoted to home minister
-- Yeafesh Osman promoted to science and technology minister
-- Nurul Islam Bsc made expatriates' welfare and overseas employment minister
-- Tarana Halim made state minister for post and telecommunication
-- Md Nuruzzaman made state minister for food 
In a major reshuffle, Prime Minister Sheikh Hasina today inducted three new faces into her cabinet and promoted two junior ministers as full ministers.
President Abdul Hamid administered the new ministers' oath taking at Bangabhaban, his office-cum residence, around 6:30pm.
The premier, ministers, ruling Awami League leaders and other dignitaries were present at the ceremony.
State Minister for Home Asaduzzaman Khan Kamal and State Minister for Science and Technology Yeafesh Osman were sworn-in as cabinet ministers to their respective ministries.
Of the new faces, Nurul Islam Bsc was sworn in as a full minister while Tarana Halim and Md Nuruzzaman as state ministers.
Nurul Islam has been given the portfolio of the expatriates' welfare and overseas employment ministry.
Tarana Halim has been made state minister for post and telecommunications ministry, while Nuruzzaman state minister for the food ministry.
Meanwhile, Awami League and government insiders have told The Daily Star that some more new faces might be inducted into the cabinet after the upcoming Eid.
Previously, the expatriate welfare ministry was being headed by Khandker Mosharraf Hossain who has also been asked to lead LGRD ministry after removal of Syed Ashraful Islam.
Changes in the cabinet are entirely within the bounds of Prime Minister Sheikh Hasina.
At the moment, the ministerial positions of post and telecommunications, home, information and communication technology are vacant.