HC asks MP Liton to surrender by Oct 18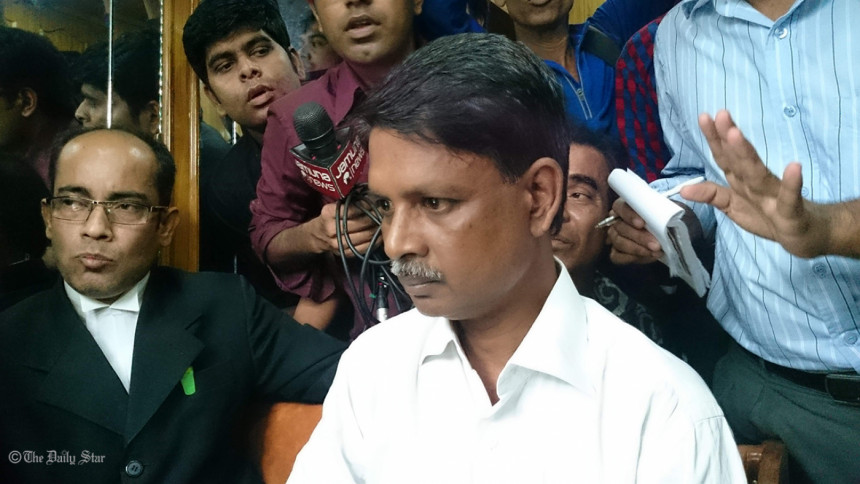 - 'Traceless' MP answers to HC summons 
- Appears in hours after the order
- Bail rejected, told to surrender by Oct 18
- Liton leaves court after proceedings
- AG to appeal against order
The High Court today told ruling party MP Manzurul Islam Liton to surrender before a Gaibandha court by October 18 over alleged shooting a 10-year-old.
The order was given in presence of the Gaibandha-1 lawmaker who answered a summons around two and half hours after the order was issued this morning.
The bench of Justice M Enayetur Rahim and Justice Bismadeb Chakrabortty floated the summons after Liton's lawyer Moksadul Islam moved two bail pleas.
The lawmaker stands accused in two cases over shooting 10-year-old Sourav in Sundarganj upazila of Gaibandha on October 2. He has been traceless since the lawsuits were filed.
ALSO READ: MP Liton won't be spared, home minister says
Liton, who appeared before court today wearing a white shirt, brown trousers and polished shoes, later walked off the court premises after his bails were rejected.
ATTORNEY GENERAL TO SEEK LITON'S ARREST
Attorney General Mahbubey Alam, who argued against Liton's bail, said he will file an appeal against the High Court verdict seeking a stay on the order.
He told The Daily Star he will file the appeal tomorrow. "The current order might place law enforcers in confusion regarding Liton's arrest. I will seek a stay to erase all confusion."
ALSO READ: MP Liton sued with attempt to murder
The High Court however told concerned including court and law enforcers to deal with Liton in accordance to law after passing the order.
Advocate Khushid Alam Khan, editor of Dhaka Law Reports, said that there was no legal bar to arrest Liton since the HC did not say anything in this regard specifically.
One of the cases was filed by Sourav's father with Sundarganj Police Station on October 3. Liton along with his family members remained traceless since that day.
Law enforcers have repeatedly been claiming they could not trace Liton.
The shooting incident caused a furore across the country. Different socio-political organisations brought out protest processions in Dhaka and Gaibandha in the last few days, demanding punishment to the lawmaker.