12 more trafficking victims return from KL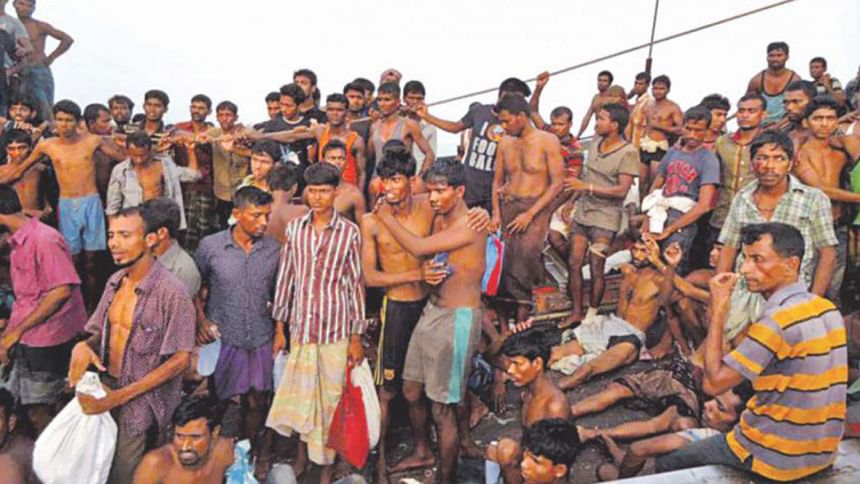 Twelve more Bangladeshi trafficking victims, who were rescued from the Andaman Sea last May, have returned home from Kuala Lumpur today.
A flight of Biman Bangladesh Airlines carrying them landed at Hazrat Shahjalal International Airport in Dhaka around 5:30pm, said officials at International Organisation for Migration (IOM).
They received the returnees at the airport and assisted them with some financial grants from IOM to reach their respective home.
However, a total of 96 Bangladeshi trafficking victims were scheduled to return home from Kuala Lumpur today.
For some unavoidable reasons all of them could not be arranged to board on the flight, officials concerned told The Daily Star.
The returnees are from Cox's Bazar, Sirajganj, Narsingdi, Narayanganj, Jessore, Jhenidah, Chuadanga and Joypurhat, Sayedul Islam, counsellor (Labour Wing) at the Bangladesh High Commission in Kuala Lumpur told The Daily Star.
With these 12, the total number of the returnees from Malaysia stood 453, he said.
"We are sending back the rescued migrants, whose nationality verification was confirmed by our government. We will try to send back the rest around 300 others before Eid," the counselor added.
He added that the government was bearing all the expenses regarding the repatriation of the rescued Bangladeshis from Malaysia.
A total of 715 Bangladeshi migrants were among over 1,051 trafficking victims, including Rohingyas, rescued from Langkawi island of Malaysia on May 11. The traffickers had abandoned them in the island after holding them captive in a Thai jungle for weeks.
Over 1,000 Bangladeshis have been rescued in Malaysia, Indonesia, Thailand and Myanmar in May after the issue of human trafficking through the Bay of Bengal got international media's attention.
Of them, more than 600 Bangladeshis returned home from those countries since June. Several thousand Bangladeshis, who had allegedly left home for jobs in Malaysia, still remain missing.