6 'militants' held while 'preparing to kill pir'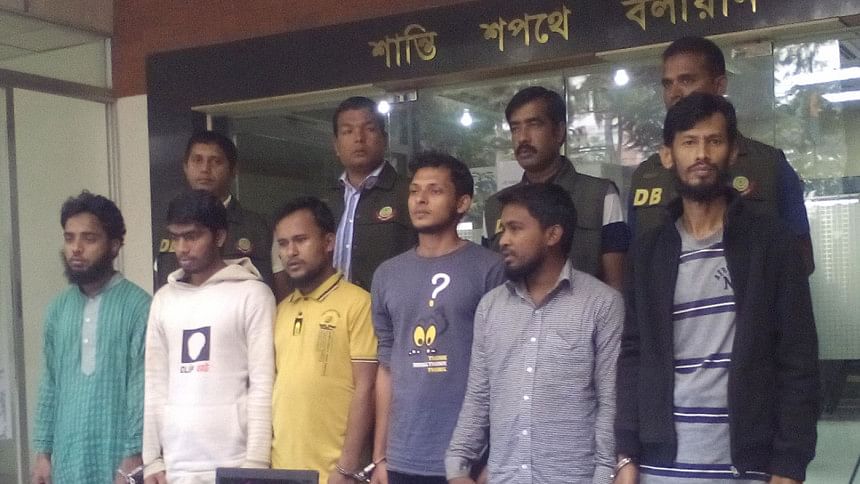 Detectives claim to have detained six alleged militants in Dhaka yesterday when they were preparing to kill a "pir" (spiritual leader).
The detainees are active members of a newly-introduced militant organisation, Mujahid of Bangladesh, Dhaka Metropolitan Police (DMP) Joint Commissioner Monirul Islam told reporters at a press briefing this afternoon.
The alleged militants are: Jahirul Islam alias Ansar, Khandakar Rajes Subhan alias Raju, Abu Bakkar Siddique alias Abir, Abraham Ahmed Al Tareque, Morshedul Islam alias Kingmore Khan, and Kazi Bappi Ahmed alias Sazzad.
Acting on a tip-off, DB police carried out raids in and around Motijheel yesterday and detained them when they were planning to kill a pir in the area, the joint commissioner said at the DB media center.
The DB men also recovered a laptop and 10 mobile phones from their possession, Monirul claimed. 
They have been organising in a bid to carry out militant activities across the country by opening Facebook pages in different names, Monir said.
They have no link with Jama'atul Mujahideen Bangladesh (JMB), Harkat-ul-Jihad-al-Islami (Huji), al Qaeda and Ansar Ullah Bangla Team but their activities proved that they are followers of al Qaeda, he added.  
At least 25 to 30 self-motivated activists across the country belong to the Mujahid of Bangladesh and they have been carrying out their organisational activities for the last two years, Monirul said quoting the detainees.