Arrest warrant revised, summons issued
12 more lawsuits, including 3 sedition pleas, filed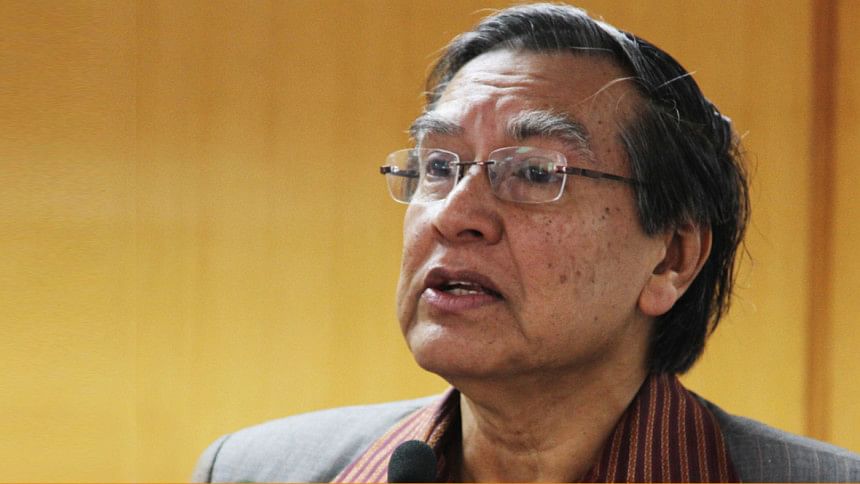 A Narayanganj court, which issued a warrant of arrest against The Daily Star Editor Mahfuz Anam yesterday, revised the order and issued a summons today.
As per the fresh order, the Star editor will have to appear before the court on March 28, according to court sources.
The court of Senior Judicial Magistrate Saiduzzaman Sharif passed the order on a defamation charge filed by Advocate Muhammad Mohsin Mia, joint secretary of Narayanganj district lawyers' association, who introduced himself as an Awami League activist, yesterday.
Read more: IFJ worried at cases against Star editor
The order came today as nine fresh cases were filed against Anam amid continuing lawsuit spree.
This took the total number of lawsuits against Anam filed since February 9 to 67. Of them, 15 are pleas for sedition cases, while the rest are defamation suits.
The case galore began days after the Star editor at a talk show on February 3 made an introspective comment about a lapse in his editorial judgement in publishing a few reports, based on information given by the Task Force Interrogation Cell during the 2007-08 tenure of the last caretaker government, without being able to verify those independently.
On Tuesday, the Narayanganj court took into cognisance the defamation allegation under 500/501/502 provision of the Code of Criminal Procedure (CrPC).
The Jatiya Sangsad, however, scrapped five years back the provision for directly issuing arrest warrants against journalists, writers and others for writing or saying anything defamatory. The amendment to the CrPC, passed on February 2, 2011, introduced a provision for issuing summons on them.
During the passage of the bill, Barrister Shafique Ahmed, the then law, justice and parliamentary affairs minister, told the JS that the previous provision had curtailed freedom of the press. The provision should have been amended much earlier since it was a repressive one, he said.
Talking to The Daily Star last night about the arrest warrant, Law Minister Anisul Huq said, "I have talked to the law officers in Narayanganj. I am saying this with responsibility that it won't be an arrest warrant, it would be a summons."
In Mymensingh, ABM Nuruzzaman Khokon, district unit president of pro-ruling party Swechchhasebak League, and advocate Moyazzem Hossain Babul, a member of district unit Awami League, filed two pleas today for bringing sedition charge against Anam.
Senior Judicial Magistrate Ahsan Habib directed officer-in-charge (OC) of local Kotwali Police Station to run an inquiry after taking permission from the government.
Assistant public prosecutor advocate Jashim Uddin Ahmed, also assistant secretary of Mymensingh Bar Association, filed a defamation suit.
Senior Judicial Magistrate Md Rafiqul Bari ordered OC of Gouripur Police Station to take legal action in this regard after investigation.  
In Chittagong, SM Al Mamun, president of Chittagong North Jubo League, sought to sue Mahfuz Anam in a sedition case.
Metropolitan Magistrate Farid Alam ordered Kotwali Police Station officer-in-charge to launch investigation after obtaining permission from the government.
At the same court, a Tk 100-crore defamation lawsuit was filed by Prabir Paul, general secretary of Satkania unit Bangabandhu Parishad.
Meanwhile, Giasuddin, general secretary of Chittagong district Bangladesh Chhatra League (BCL), filed a libel lawsuit with Metropolitan Magistrate Jhalak Roy.
The court issued a summons for Anam, counsel of Gias Uddin told The Daily Star. He could not say anything about the date.
In Gaibandha, Ruhid Hasan Rintu, a member of Gaibandha Jubo League, filed a defamation case claiming Tk 10,000 crore in compensation.
Additional Chief Judicial Magistrate court issued a summons asking Anam to appear before it on March 24.
In Gazipur, advocate Amanat Hossain, education affairs' secretary of AL's district unit, filed a defamation case claiming Tk 5 crore as compensation.
Judge Iqbal Masud of Senior Judicial Magistrate Court issued summons to Anam to appear before it on June 2.
In Chandpur, Habib Sheikh, a freedom fighter of Haimchar upazila, filed a Tk 10-crore libel suit. Magistrate Nusrat Jahan Urmi ordered the local information officer to investigate the matter and submit report by March 31.
In Rajbari, advocate Asharaful Hasan, former general secretary of Rajbari Government College unit of BCL, filed a defamation suit claiming Tk 5 crore in compensation.
After hearing, Senior Judicial Magistrate Abu Hasan Md Khairullah ordered district information officer to report after investigation in a month.
In Joypurhat, Mizanur Rahman Tito, office secretary of district unit of Awami League, sued Anam in a Tk 500 crore defamation suit.
Senior Judicial Magistrate Abdullah Al Amin Bhuiyan took the case into cognisance and fixed March 20 for hearing, said public prosecutor advocate Nripendranath Mondal.
In Manikganj, Monoronjon Sheel Nokul, organising secretary of Shivalaya Upazila unit of AL, filed a Tk 200-crore defamation suit.
Senior Judicial Magistrate Md Abdul Hye ordered OC of Manikganj Sadar Police Station to take legal actions in this regard after an investigation.