OC closed after Dinajpur temple blasts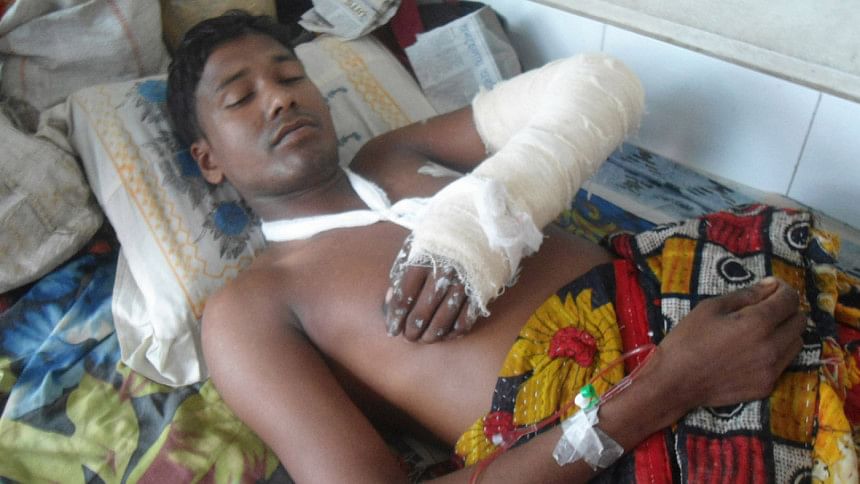 - 3 crude bombs blasted
- 10 people hurt
- 7 held
- Kaharol OC colsed
Officer-in-charge (OC) of Kaharol Police Station was closed to the office of Superintendent of Police (SP) in Dinajpur hours after the blasts at Kantaji temple that left 10 people injured early today.
"The action is taken against OC Md Abdul Mazid as per departmental directives following the blasts," Ruhul Amin, superintendent of police in district told The Daily Star.
Earlier, police detained seven people for their alleged involvement with the blasts at jatra pandal (open air drama) on the premises of the temple in Kaharol upazila that left 10 people injured.
According to police and witnesses, three crude bombs went off around 1:15am when people were watching a jatra show at the Rash Mela organised on the temple premises.
Six of the injured were rushed to Dinajpur Medical College and Hospital.
They are: Mokaddes, 23, of Badarganj upazila of Rangpur; Sadhon, 35, of Nilphamari Sadar upazila; Jabbar, 28, and Saidur, 27, in Kaharole upazila; and Romakanto, 22, and Mithu, 30, of Birganj upazila of Dinajpur districts.
The condition of Saidur and Sadhan is stated to be critical, said Hasinur Rhaman, a duty doctor of the hospital.
The law enforcers were conducting drives to arrest the culprits, the SP said.
Major Mahmud Al Raju, company commander of Rab-13, visited the spot and collected some evidence related to the blasts.
Kantaji was built at Kantanagar not far from the bank of the River Dhepa by Dinajpur's rulers, with construction commissioned by Maharaja Prannath in 1704 and completed during the reign of his adopted successor Maharaja Ramnath some decades later.
The late medieval Hindu temple built in navaratna style originally featured nine spires, that was destroyed in the earthquake of 1897.