5 years of Tazreen tragedy: Survivors still cry for justice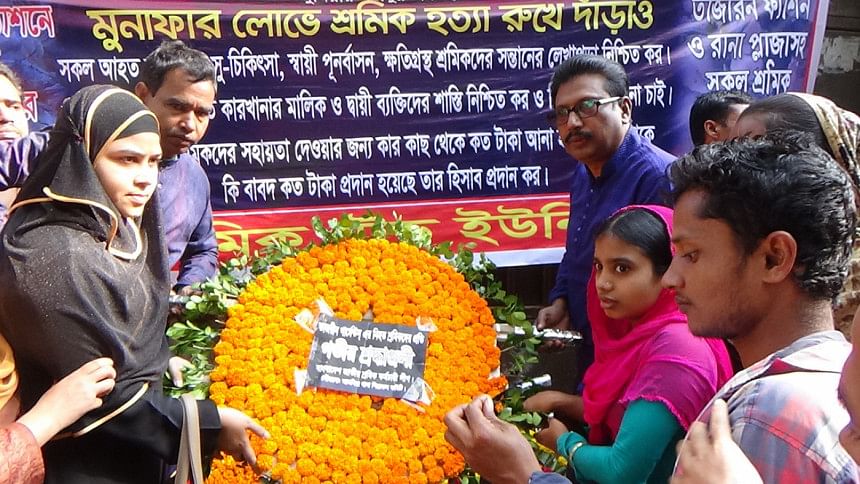 Marking the fifth anniversary of Tazreen Fashions factory fire, survivors and relatives of the deceased today demanded capital punishment for those responsible for the fire including the factory owner Delwar Hossain.
On this day of 2012, a fire broke out at Tazreen Fashions at Ashulia's Savar, on the outskirts of the capital, and claimed 119 lives and gravely injured more than 200.
Several hundred people including the injured victims, relatives of the deceased and worker leaders from different organisations gathered in front of the factory gate and placed floral wreaths.
They mourned the deaths of their dear ones and co-workers, and made several demands including compensation and rehabilitation for all the families of the victims and punishment of the culprits who are responsible for the fire.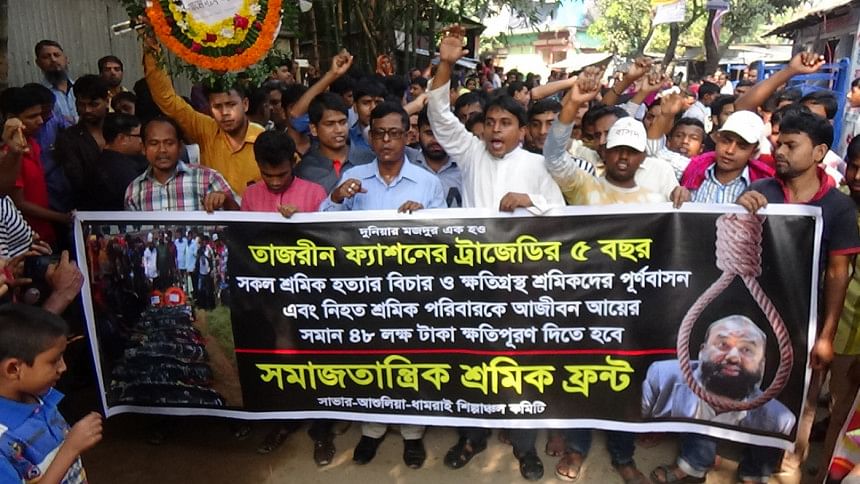 After placing the wreaths, Taslima Akter Lima, coordinator of Bangladesh Garment Workers' Solidarity urged the government to ensure compensation and rehabilitation for the injured victims and the families of the deceased.
Although five years have passed after the incident, the government is yet to ensure rehabilitation of the survivors and ensure justice for them, she said.
Many survivors of the Tazreen garments tragedy of November 24, 2012, which killed 119 and injured more than 200 workers till date, continue to live in dire straits.
Many of them are yet to recover from their physical injuries and as a result are struggling to find jobs. Survivors are also scared of returning to work in other factories as they continue to battle mental wounds.