14 die in separate road crashes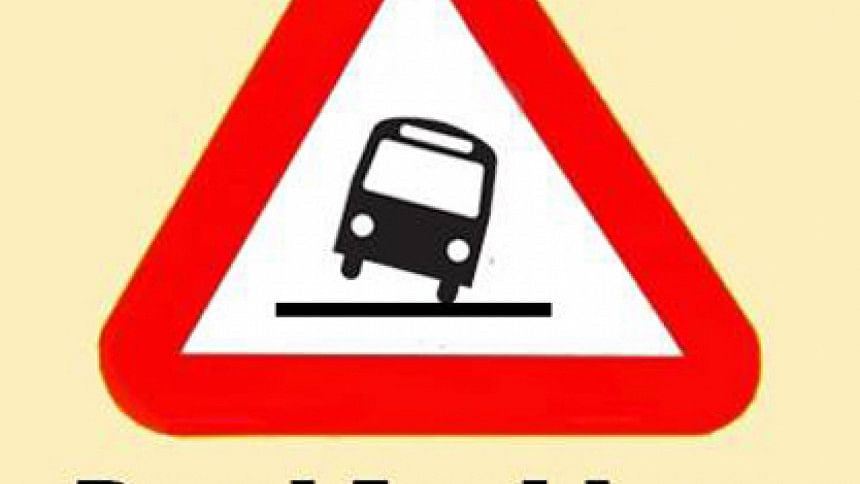 At least 14 people were killed and 28 others injured in separate road crashes in Dhaka, Sirajganj, Moulvibazar, Natore and Rangpur districts today.
In Dhaka, four people died in a bus-truck collision, three died in Sirajganj and Moulvibazar each after when the vehicles veered off the road and two others in Natore.
Four people were killed and 20 injured when a bus collided head-on with a truck on Dhaka-Aricha highway in Dhamrai, on the outskirts of Dhaka around 1:30am.
A brick-laden truck collided with the Satkhira-bound bus of Soudia Paribahan in Joypura area leaving four passengers of the bus dead, said Abdul Jalil, a sub-inspector of Dhamrai Police Station.
Three of the deceased were: Shahidul Islam, 23, and Shamsur Rahman, 40, of Satkhira and, Obaidur Haque, 70, of Noakhali. Identity of another could not be ascertained immediately.
Three people died and another 5 injured after the driver of a microbus lost control over the vehicle and drove into a three-wheeler at Salanga upazila of Sirajganj around 9:30am.
Chaina Khatun, 26, and her father in law, Rajob Ali, 50 and Rehana Khatun, 22, all passengers of the three-wheeler died, said officer-in-charge of Hatikumrul highway police camp Imdadul Haque.
The accident took place at Charman Market on the Bonpara-Hatiqumrul highway.
In Moulvibazar, three people died in a road crash Sreemangal upazila after a private car veered off the Sreemangal-Sylhet road in Kakhia Bazar area and went headfirst into a tree around 1:30am.
The dead victims were identified as Sabuj Miah, 40, Raju Ahmed, 35, and private car driver Arif Hossain 28. Three others were also injured and they took primary treatments at a hospital.
"It was a hired private car. Sabuj and Raju were going to Sylhet to perform a religious ritual," Md Abdul Jalil, officer-in-charge of Sreemangal Police Station said.
"The driver lost control over the steering and drove into a roadside tree. The driver and two passengers died on the spot. Their bodies have been sent for post mortem."
In Natore, two people including a bank employee died in separate road accidents.
A Rajshahi bound microbus lost control over the steering and hit a roadside tree in Sadar upazila, leaving Abdul Latif, a messenger of UCBL Bank of Rajshahi branch, dead on the spot.
Meanwhile, a truck-laden with mangoes veered off the road at Boraigram upazila. The helper Asraful Islam, died on the spot, said Fuad Rohani, officer-in-charge of Bonpara highway police camp.
In Rangpur, two motorcyclists died in a road accident on Rangpur-Kurigram highway at Bijaler Ghanti area under Kaunia upazila this morning.
The deceased were identified as Mominul Islam, 30, son of Md Asimullah and Abdul Khalek, 33, son of Shakil Uddin, both hailing from Udaynarayan-Machari village in Kaunia upazila.
The accident took place when a Kurigram-bound bus from Dhaka hit the motorcycle coming from the opposite direction at around 10:00am, said Md Rejaul Karim, officer-in-charge of Kaunia Police Station, quoting witnesses.