3 Rohingyas rescued, 3 human traffickers detained in Cumilla: Rab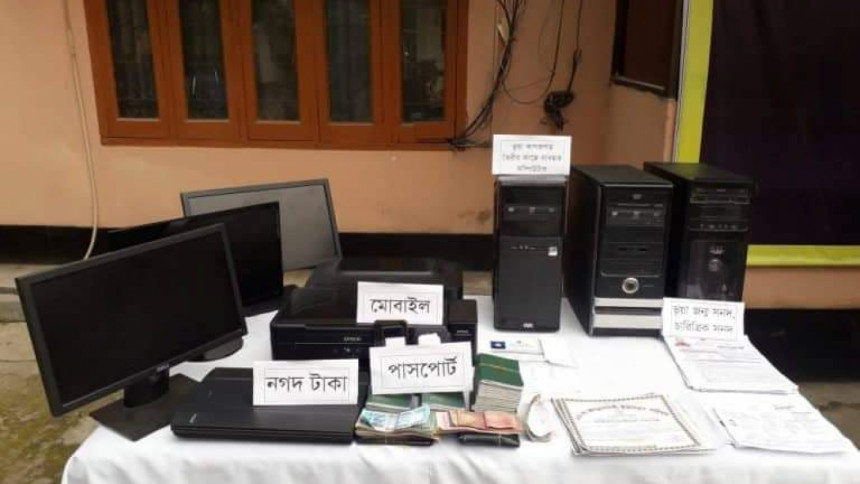 Rapid Action Battalion today claimed to have detained three human traffickers and rescued three Rohingyas during a special drive in Cumilla's Chauddagram upazila.
A team of Rab-11 also seized a huge number of illegal passports, fake birth certificates, three computers, two printers, a scanner, seven mobile phones and Tk 60,540 in cash, reports our Cumilla correspondent.
The detainees are Abdur Rahim Rubel (25), and Nurul Haque (29) of Kaporchotoli village, and Kazi Faisal Ahmed Roni (32) of Dimatoli village in Chauddagram upazila.   
The arrests were made from a shop while the Rab members raided Dhorkora Bazar and Chiora Bazar yesterday, Rab-11 Commanding Officer Major Talukder Nazmus Sakib said in a press briefing at the district's Rab office around 11:00am.
He said, "The three arrestees have been involved in human trafficking for a long period. They usually communicate with Rohingyas staying in different camps of Cox's Bazar and send them abroad including Malaysia."
"The process of filing a case against them is underway," he said.
The rescued Rohingyas are Md Jahed Hossain (25) of Tangkhali camp, Md Rafique (37) of Kutupalang camp at Ukhia in Cox's Bazar and a woman from Balukhali Panbazar camp, according to the elite force.