3 killed in Ctg cops firing
30 injured during protest against power plant project at Banshkhali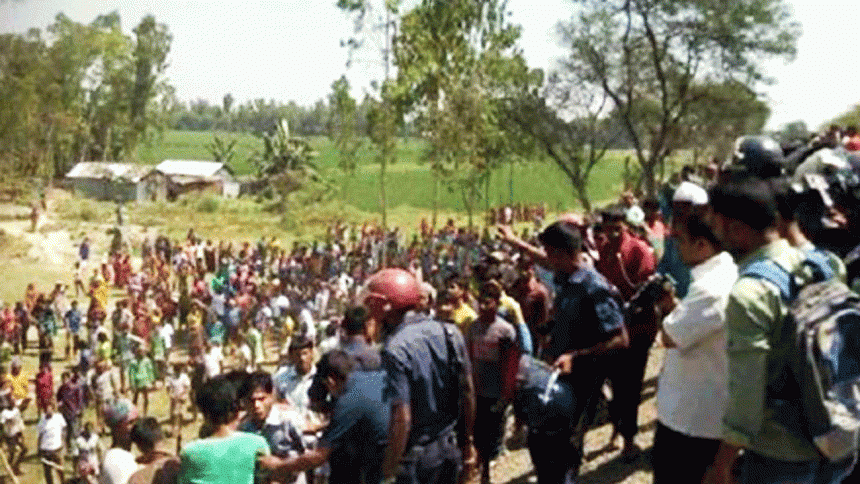 At least three persons were killed and 30 others including 11 policemen injured as the law enforcers opened fire after being attacked by locals protesting a power plant project at Banshkhali in Chittagong this evening, according to police.
Talking to The Daily Star, Hafiz Akhter, Chittagong superintended of police, confirmed the incident that took place around 4:00pm today.
The deceased were identified as Anwar Hossain alias Angur, 44, Mortuza Ali, 50, both son of Ashraf Ali, and Zaker Ahmed, 35, son of Nur Ahmed. All three hailed from Ward-1 of Gondamara union, said Abdul Awal, additional superintendent of police (special branch) in Chittagong.
Six of the injured--Mujibur Rahman, 20, Ansarullah, 30, Md Zahir, 30, Abdul Khaleq, 25, Md Abu, 50, and Md Motaleb --were admitted to Chittagong Medical College Hospital with bullet injuries, hospital sources said.
ALSO READ: Power purchase deals signed with S Alam-led groups
Local administration imposed section 144 as two rival groups of villagers called for separate rallies at Hazipara School playground under Gondamara union this afternoon in support of and against setting up a power plant by S Alam Group, said police.
AKM Emran Bhuiyan, assistant superintendent of police of Satkania Circle who was at the spot during the clash, said on information that the two rival groups took position at the spot for holding the rallies, a team of around 25 to 30 policemen went there to impose the section 144.
As soon as the policemen reached the playground, the group of several hundred people opposing establishment of power-plant, attacked the law enforcers with brick-bats and locally made weapons and opened fire, triggering the clash," said Emran Bhuyian.
He said 11 police members including the officer-in-charge of Banchkhali Police Station were injured during the clash.
Arif Ullah, chairman of Gondamara Union Parishad, said that for the last one month, a tension has been prevailing in the area over setting up of the 1320 megawatt power plant by S Alam group.
"Around three days ago some people from S. Alam group visited the spot. While they were visiting the site, they came under attack by villagers who opposed it."
A case was filed in this connection with Banskhali Police Station and six to seven persons were arrested on Monday early hours, he added.
The opposing group led by former Union Parishad Chairman and BNP leader Liakat Ali called for the rally to protest the arrest and the power plant. Whereas the local Awami League led by Union Parishad unit Awami League President Shamshul Alam Master called the rally in support of the plant, he said.
SS Power I Ltd and SS Power II Ltd, two joint ventures of S Alam Group and SEPCOIII Electric Power and HTG of China, will set up the power plant by November 2019.  The electricity will be supplied for 25 years.
The project will require an investment of $2.4 billion of which $1.75 billion will come from Chinese lenders. The plant is being implemented in 600 acres of land.