2 alleged outlaws killed in 'gunfight'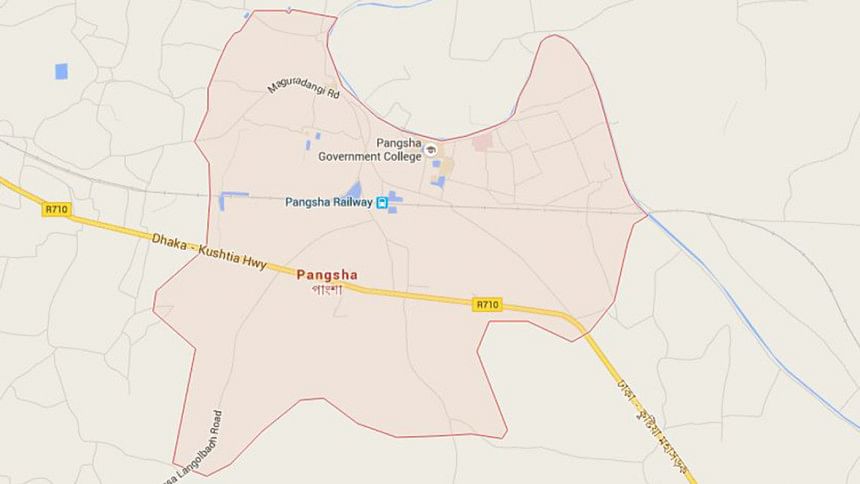 Two alleged outlawed party leaders were killed in a 'gunfight' with police in Pangsha upazila of Rajbari early today.
The deceased were Kamal Hossain, 45 and his accomplice Khan, 35, a ring leader of inter-district robber gang.
They were both top leaders of outlawed Biplobi Communist Party (BCP) and Kamal was the key accused in Mizanur Rahman, officer-in-charge of Pangsha Police Station, killing case that took place in 2004, reports our Kushtia correspondent quoting Hasina Begum, sub-inspector of Pangsha Police Station.
Police launched a drive at Langalbadh village of Sailkupa upazila of Jhenidah and arrested Kamal and Omar from Goalondo Ghat of Rajbari on Thursday.
Following their confessional statements, police along with the arrestees went to Patra village to recover their arms from a secret place there.
Accomplices of the outlaws opened fire when the law enforcers reached the area, upon which the cops retaliated.
"Omar and Kamal were caught in the line of fire and later died on the way to a hospital," Hasina said.
Police recovered two shutter guns, one gun, five cartridges and six shells of bullets from the spot.
Five police men including the officer-in-charge of Pangsha Police Station Abu Shama Iqbal Hayat were injured in gun fighting, Hasina claimed.
According to police, both the criminals were wanted in several cases.
Kamal was accused in at least five cases including Pangsha OC murder while Omar was wanted in six cases including two murders, she added.