Govt protests Pak statement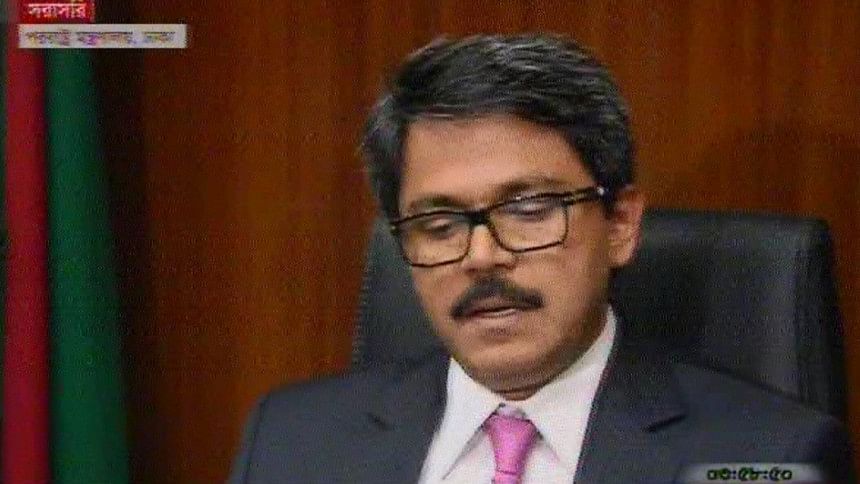 State Minister for Foreign Affairs Shahriar Alam today protested Pakistan's reaction over the execution of two top war criminals but said it would not affect the two countries' bilateral relations.
"A single incident cannot be the yardstick for cutting off or rebuild relations with a country," the state minister said while responding to a query on Gonojagoron Mancha's demand of severing relations with Pakistan.
The government summoned the Pakistan high commissioner this afternoon to convey its sharp reaction over Pakistan's statement where the country expressed "deep concern and anguish" over the execution of Jamaat-e-Islami leader Ali Ahsan Mohammad Mojaheed and BNP's Salauddin Quader Chowdhury.
The state minister briefed reporters on the meeting.
Brushing aside the possibility of severing or 'downscaling' relations with Pakistan, he said: "Many countries can be seen locked in warlike situations, but still maintain diplomatic ties."
Saying that Pakistan has commented on an internal issue of Bangladesh, Shahriar Alam observed: "They [Pakistan] have done something beyond diplomatic etiquette."
"That's why we summoned the Pakistan High Commissioner, to explain our stance in this regard."
On Bangladesh's stance regarding reactions from other countries on war crimes trial, the state minister said, "We will not accept any negative reactions on the war crimes trial from any country of the world, not only Pakistan."