'Gold Girl' gives up 2 medals for father's treatment
Mahfuza Aktar Shila, 'Gold Girl of Bangladesh', who won four gold medals in swimming, including two in SA Games-2016 in India, has been forced to sell two medals to bear her father's treatment cost.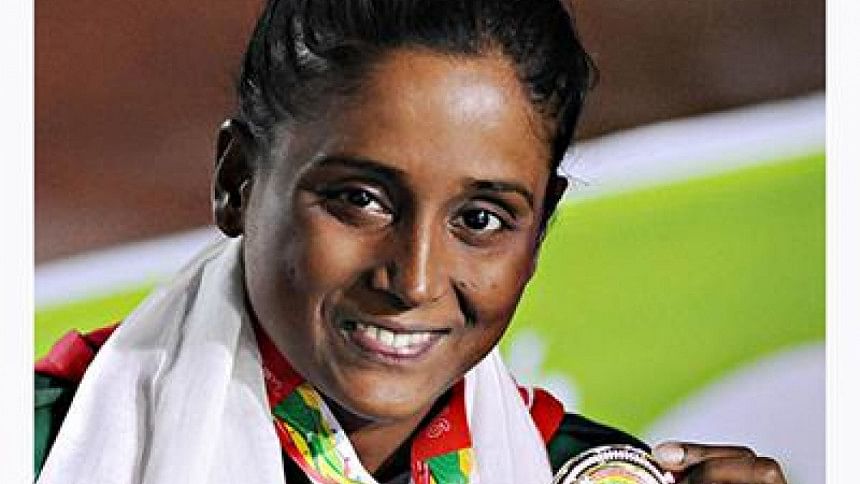 Shila, who comes of a poor family at Pachnkabar village in Abhaynagar upazila of Jessore district, bagged two gold medals in the ongoing South Asian Games-2016 at Guwahati in India in 100m and 50m Breast Stroke (women).
Shila's father Ali Ahammad Gazi, suffering from heart disease has become frail due to prolonged illness, and is desperately struggling to make ends meet by selling dairy milk and cultivating land as share cropper.

"I started a dairy farm by taking loan from an NGO and am cultivating others' land to bear expenses of my family but I have failed to run it properly," Gazi lamented.

"Shila sold two gold medals for treatment of my heart disease as I failed to make arrangement for lack of money," he said with tears rolling down his eyes.

Karimon Nesa, mother of the gold girl said, "We bear expenses for Shila's study and sports by selling milk and taking loan from NGOs and locals."

"My daughter brought the country honour by winning medals abroad but no one tries to understand our misery; how we are running our family or how we support Shila," added Karimon Nesa.

Mahfuza Aktar Shila, popularly known as Shila in University of Chittagong, who has completed her graduation and post-graduation in Communication and Journalism and worked as a part-timer at Bangladesh Navy, won a total of 52 medals in her swimming career, including four gold medals in the international events but could not get rid of her family's financial misery.

This correspondent found during his visit that Shila's father and mother along with their other four children were living in a tin-shed half-ruined house, where electricity connection is a day-dream for them.

Afroza Begum, Shila's elder sister, said, Shila had won the first prize in her first district level swimming competition when she was a third grade student.

Abdul Mannan, a well known swimming trainer of the district, trained her and prepared her for the national level, she added.

Later, Shila started her swimming career at Bangladesh Krira Shikkha Protishtan (BKSP).

During her BKSP life, residents of the village came forward with their helping hands when Shila's study was set to be stooped for want of money, said Afroza.

"Now, I am dreaming that the government will come forward to eradicate this gold girl's family misery as journalists will tell their story to the countrymen," Shila's mother told UNB Benapole correspond with hope.