Costa Rica make history beating Greece 5-3 on penalties
Costa Rica make history beating Greece 5-3 on penalties
Jorge Luis Pinto's side battles to another astounding victory as it secures a shootout triumph despite playing close to an hour with 10 men
Ten-man Costa Rica defied the odds once more to continue its FIFA World Cup fairytale with a 5-3 last-16 penalty shootout win over Greece, Goal.com reports.
Earmarked as the whipping boy having been drawn alongside England, Italy and Uruguay in Group D, Jorge Luis Pinto's men shocked the world by winning the pool with a haul of seven points.
Another chapter was written in the remarkable story in Recife on Sunday as, following a 1-1 draw over 120 minutes, the Ticos triumphed in the shootout against a Greece side which knows all about beating the odds following its UEFA Euro 2004 triumph 10 years ago.
That Costa Rica even forced spot kicks was incredible given the side suffered the heartbreak of seeing Sokratis Papastathopoulos force extra time with a last-gasp strike.
At that stage, it appeared Oscar Duarte's 66th-minute sending off, which came after Bryan Ruiz put the CONCACAF side ahead, would prove decisive.
But having produced a string of stunning saves to deny Greece in outfield play, Keylor Navas was the hero of the shootout as he kept out Theofanis Gekas' effort.
Despite the pressure of attempting to take Costa Rica to the quarterfinals for the first time, Michael Umana then coolly converted to set up a last-eight meeting with Netherlands.
The game initially lived up to its billing of vibrant attack meeting dogged defense as Costa Rica surged forward with verve.
Costa Rica's endeavour almost brought early reward, too, when Christian Bolanos powerfully struck over from a tight angle.
Greece enjoyed a good spell thereafter, although the final ball left a lot to be desired.
That was also the story at the other end as Costa Rica failed to make the most of good openings with the match becoming increasingly stretched.
When a good delivery finally did come, it almost brought an opener as Jose Holebas' superb left-wing cross to the back post located Dimitris Salpingidis, whose cushioned finish was brilliantly kept out by Navas' right foot.
That was the sole bright moment of a largely turgid first period, yet Costa Rica ensured the second would be decidedly more exciting by scoring in the 52nd minute.
Ruiz was the man to find the net, his fortuitous finish wrong-footing goalkeeper Orestis Karnezis following Bolanos' slide-rule pass.
Seemingly holding all of the aces at that stage, Costa Rica was reduced to 10 men midway through the second period when Duarte was sent off for a second bookable offense following an ill-judged sliding challenge on Holebas.
Suddenly sparked into life, Greece pressed forward in numbers and got the equalizer in the 91st minute when Papastathopoulos rifled home after Navas had produced a fine save to deny Gekas.
Costa Rican disappointment quickly turned to relief, however, when Navas produced a stunning save to turn Konstantinos Mitroglou's header over the crossbar.
Inspired by the efforts of the goalkeeper, Costa Rica's defenders were similarly heroic in the first period of extra time, producing a host of crucial late blocks.
Remarkably, it was the 10 men prospering in the second half - although Greece missed the best chance when Lazaros Christodoulopoulos hit straight at Navas following a quick counterattack.
There was still time for one last chance, too, as Navas produced another fine save, this time denying Mitroglou from point-blank range.
A remarkably impressive shootout ensued as the first seven were converted until Navas athletically kept out Gekas.
Umana then made no mistake, his conversion sending the Costa Rican supporters into delirium.
PENALTY SHOOT-OUT
COSTA RICA HAVE WON IT! UMANA FIRES INTO THE ROOF OF THE NET! Karnezis can't get anywhere near it and his nation make history! Costa Rica 5-3 Greece!
GREAT SAVE! Navas makes a fantastic save, diving to his right and then using his top hand to beat Gekas' strong penalty over the bar! Costa Rica 4-3 Greece!
CONVERTED! Campbell now gives the goalkeeper the eyes, waiting for Karnezis to move to the right before slotting the ball into the opposite corner! Costa Rica 4-3 Greece!
CONVERTED! Holebas strokes the ball into the bottom right corner, with Navas unable to get a hand to an expert finish! Costa Rica 3-3 Greece!
CONVERTED! Gonzalez puts plenty of power on his penalty, firing down the middle with a despairing Karnezis unable to make contact! Costa Rica 3-2 Greece!
CONVERTED! Confidence personified for Christodoulopoulos, who calmly sends Navas the wrong way before sliding a finish into the bottom right corner. Costa Rica 2-2 Greece!
CONVERTED! Ruiz nets for the second occasion this evening, keeping his shot just low enough to sneak under the crossbar! Costa Rica 2-1 Greece!
CONVERTED! He's finally taken a chance! Mitroglou also finds the back of the net, sending Navas the wrong way to slot the ball into the bottom left corner! Costa Rica 1-1 Greece!
CONVERTED! Borges is the first man to take the lonely walk to the penalty spot in Recife and the midfielder makes no mistake by firing straight down the middle! Costa Rica 1-0 Greece!
120' + 9' Pen SO Goal M. Umaña
120' + 8' Pen SO Miss Theofanis Gekas
120' + 7' Pen SO Goal Joel Campbell
120' + 6' Pen SO Goal Jose Holebas
120' + 5' Pen SO Goal Giancarlo González
120' + 4' Pen SO Goal Lazaros Christodoulopoulos
120' + 3' Pen SO Goal Bryan Ruiz
120' + 2' Pen SO Goal Konstantinos Mitroglou
FULL TIME IN EXTRA TIME!
It goes to penalties, with Costa Rica dead on their feet! It has been an end-to-end affair in the late stages, but attempts from 12 yards will settle who goes through to face the Netherlands in the next round.
105' + 16' MITROGLOU GOES CLOSE! Gekas wins a flick-on deep in the penalty area, before Mitroglou is denied by a top save from Navas! The goalkeeper is out quickly to fluster the striker, who can't find the bottom corner! The slightest of touches saves Costa Rica!
105' + 15' Holebas whips in a corner delivery, but Ruiz is on hand to hook clear at the near post. There will be three minutes of added time!
105' + 14' Campbell and Cubero combine well to bring Costa Rica upfield down the left, but the former loses his balance and the ball, appearing to run out of energy to think clearly. Greece then break, but Mitroglou fires high into the stands.
105' + 12' Samaras hangs up a clever cross, but Navas rises well enough to claim under his own crossbar. Costa Rica are nearly at finish line, with Brenes doing just enough to track Holebas down to the byeline and poke the ball out of play.
105' + 10' Greece are looking far brighter on the break, as Costa Rica continue to look exhausted. They've had to dig deep to play with ten men until this point in proceedings, but with Navas in goal they've got every chance of squeezing over the line.
105' + 8' Good save from Navas! Costa Rica fail to turn home a corner delivery from Campbell at one end of the field, before Greece break in real numbers! It's five versus two, but Christodoulopoulos is denied by a smart stop from the goalkeeper!
105' + 7' Half chance for Campbell! Cubero does well to swashbuckle his way to the right byeline, before cutting back a pass for Costa Rica's lone striker! He doesn't quite find his first touch, before Katsouranis clears behind for a corner.
105' + 5' Gonzalez tries an outrageous overhead kick from a tight angle, with the ball bouncing wide of the far post. Very ambitious, but Costa Rica do appear to need something very special to net a winner.
105' + 4' Navas is fine to continue, after receiving liberal amounts of the magic spray. Campbell then battles with Sokratis to earn possession for his side, before earning a free-kick due to the slightly over-physical attentions of Karagounis. He's running on empty.
105' + 2' Gekas is picked out by an incisive through ball from deep, as the substitute gets in behind Acosta. Navas races off his line quickly to smother the pass, but the Greek striker clashes slightly with the goalkeeper. He's down needing treatment once again.
105' + 1' We're back underway with not long left for either side to find a winner! Greece are looking the more likely to net the third goal, but this World Cup hasn't exactly followed the pre-tournament script!
105' HALF TIME! It's still goalless in Recife, with Costa Rica doing everything they can to stay in the game! Umana and Gonzalez have been protecting Navas well, as Greece continue to pile forward. Only 15 minutes remain before a penalty shootout.
104' Brenes looks to cut back a cross from the byeline for Borges, but Katsouranis slides in excellently to make a vital interception! The Costa Rica midfielder was definitely going to get to the pass before Manolas, that was real danger for Greece.
102' Brenes tries to carry possession down the right hand side to give Costa Rica some respite, but Holebas hunts him down to win the ball back. Pinto's men are exhausting, while Greece are relentless, there only appears to be one team still in this game.
100' Half chance for Holebas and then Katsouranis! Umana and Gonzalez combine to make a very, very timely block! Costa Rica are trapped deep in their own half, with an exhausted Campbell being asked to be an outlet despite not having the energy required.
98' Brenes tracks Holebas all of the way back to his own byeline to deny the Greek left-back, putting in an important block to deny the Olympiacos man. Neither Sokratis nor Manolas can turn in the resulting set piece, as the latter is penalised for climbing on Diaz.
96' Christodoulopoulos goes on a fantastic run past Diaz, but his eventual cut-back from the right flank is awful and easily cleared. Costa Rica are just about managing to weather the storm at the moment.
94' Gekas goes close! The substitute is picked out by a delivery from the right hand side yet again, with Mitroglou flicking on the cross for Greece. The loose ball falls to Gekas' feet, but he can only nod an effort wide of the near post.
93' Christodoulopoulos tries an ambitious half volley from a tight angle, with the midfielder blasting his effort almost into orbit. Greece are pushing on in numbers and throwing plenty of crosses into the box, with Costa Rica desperately trying to hold on and then find an isolated Campbell.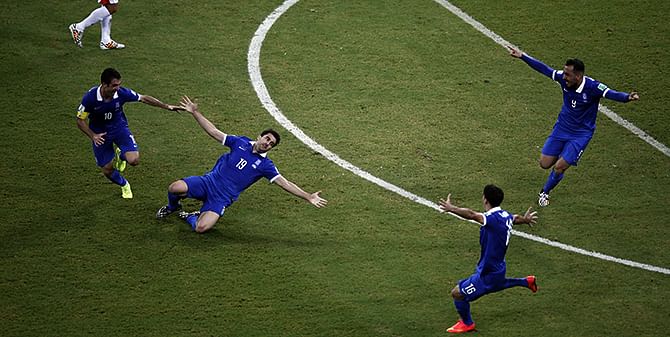 92' Torosidis delivers another great cross from deep on the right, but Umana slides in to get a slight touch on the ball to take it away from the lurking Mitroglou. Navas picks up the pieces, with the substitute thwarted yet again.
91' We're underway in the first half of extra-time! There wasn't much to separate these two sides over the course of 90 minutes, but Duarte's dismissal leaves Santos' side firmly in the driving seat.
90' + 6' FULL TIME! This game goes to extra-time, due to Sokratis' late equaliser! Another half an hour is required to separate these two, though Greece will be far more optimistic given their numerical advantage. Pinto's side are really flagging.
90' + 5' Navas returns to his feet, but does so a little gingerly. He won't be leaving the field if he can help it, given that his side don't have another substitution to replace him with. It's looking like extra time!
90' + 4' Mitroglou manages to flick on a good header, but Navas is able to get up well to tip the substitute's effort over the crossbar! He nearly won it at the death! The goalkeeper stays down after making the stop, meaning that Costa Rica could be in even more trouble.
90' + 3' There are five minutes of stoppage time, meaning that Greece have two more minutes to find an unlikely winner. Umana slices a Torosidis cross high into the air, but Navas is just about able to claim the ball without taking it back over his own goal-line.
90' + 1' Goal Sokratis Papastathopoulos
90' + 1' GOOOOOOOOOAL! SOKRATIS FIRES IN THE EQUALISER! Navas made an initial save, palming away Gekas' effort, but the central defender was on hand to smash a bouncing strike over the Costa Rica goalkeeper and into the back of the net!
90' Yellow Card K. Navas
90' Navas picks up a yellow card for timewasting, as Costa Rica begin to use every tool in their power to squeeze into the next round of the World Cup. Greece are haring forward at every opportunity, but it could be a case of too little, too late.
88' Christodoulopoulos delivers a good ball in from the right byeline, before Navas gets just enough of a touch on the cross to deny Mitroglou a clear swing at the ball. It bobbles off the substitute's shin, before heading back into the grateful embrace of the Costa Rica goalkeeper.
87' Ruiz heads into the corner, before going down after feeling a push from Karagounis. Costa Rica's substitutes can't sit still, they're constantly up and down from their seats, while those on the field are already taking possession out side to run down the clock.
85' Holebas swings in another cross, but Diaz glances it behind for a corner. The same Costa Rica defender gets his head on the resulting set piece, before Brenes belts the ball upfield. Pinto's men are continuing to hold on.
83' Substitution Christian Bolaños R. Brenes
83' Torosidis picks out an excellent diagonal ball to find Gekas, with the striker's first touch excellent, but his second touch escaping him and bobbling behind for another goal-kick. Acosta did just enough. Meanwhile, Brenes readies himself on the sidelines for Costa Rica.
82' Holebas whips in a free-kick delivery, but Manolas sends a looping header behind for a goal-kick. Greece have had plenty of chances to deliver from deep and pile bodies into the box, but thus far Navas has been relatively untested.
80' Atrocious effort from Karagounis, who balloons his free-kick effort high into the crowd! Greece haven't looked too bright going forward, with that strike representing their woes. Only ten minutes remain for Santos's side to earn their reprieve.
79' Costa Rica concede yet another free-kick from a fairly dangerous area, this time 25 yards from goal. Time is running out for Greece, they need to capitalise on these types of opportunity.
78' Substitution Giannis Maniatis OUT, Kostas Katsouranis IN
77' Substitution: Cristian Gamboa OUT, J. Acosta IN
77' Acosta replaces Gamboa, as Pinto recognises that Holebas has been enjoying far too much space and liberty out on the Greek left. The Rosenborg full-back is impressive when attacking, but leaves a lot to be desired when defending his own goal, making this change fairly pragmatic.
75' Umana makes an important block! Holebas breaks down the left yet again, before driving a low cross into the near post. Gekas manages to get on the end of it and steer the ball towards the inside of Navas' upright, but Umana steps across well to deny the substitute.
74' Bolanos floats a cross towards the back post, but Manolas is on hand to head clear. The Greek central defensive duo have been solid this evening, being undone only be a potentially mishit strike from Ruiz.
73' Three Costa Rica players are on the deck simultaneously, as the tackles keep flying in. Manolas is carded for a late challenge from behind on Campbell, as the Arsenal forward looked to pivot away and break at pace.
72' Yellow Card for Konstantinos Manolas
71' Costa Rica are being forced to defend in numbers, with Holebas finding space down the left hand side. The full-back delivers a cross, but Gonzalez slides in to make an interception, before Gamboa hoofs clear. Samaras squares the ball once again, but Navas is able to punch the delivery away!
70' Yellow Card for Bryan Ruiz
69' Substitution: Dimitris Salpingidis OUT, Theofanis Gekas IN
69' Greece signal their new intent, replacing Salpingidis with experienced striker Gekas. Santos clearly feels that his side need an injection of something different in forward areas, as Navas hasn't been tested on too many occasions this evening.
67' RED CARD Duarte sticks a leg out, making a fairly risky challenge on the right-hand side, catching his marker on the ankle. The defender has already been booked, with the referee having no hesitation about reaching for another! Costa Rica are really up against it now.
66' Yellow/Red Card shown to Ó. Duarte
66' Substitution: Y. Tejeda OUT, José Miguel Cubero Loria IN
65' Costa Rica now opt to make a substitution, as Tejeda is replaced by Cubero, as the midfielder picked up a yellow card earlier on. That change perhaps suggests that Pinto needs his players able to make a cynical foul if required.
63' Costa Rica are sitting in their shape nicely, with Greece unable to switch play quickly enough to allow Holebas and Torosidis space to exploit out wide. It's a case of the Greeks being played at their own game, as Pinto tries to keep men behind the ball and pick their opponents off on the counter.
61' Less than half an hour remains for Greece to find a goal to keep their World Cup hopes alive. Costa Rica will be keen to put this game to bed with a second, Santos' men don't look capable of grabbing three.
59' Torosidis tries to swing in an early cross from the right hand side, but curls the ball directly out of play for a goal-kick. His coach is not happy with that whatsoever, in what has been an offensively frustrating outing for Greece.
58' Substitution: Andreas Samaris OUT, Konstantinos Mitroglou IN
57' Greece look to roll their dice, taking off Samaris for Mitroglou, as Santos presumably hopes that the former Olympicos striker can find his past form tonight. Goals have been few and far between for this side, but the 26-year-old is undoubtedly talented.
56' Yellow Card for Ó. Granados
55' Costa Rica are denied a clear penalty, as Torosidis blocks a cross with his hand! The linesman was perhaps unsighted, possibly thinking that the ball hit the right-back's head, but Pinto has every right to complain should his side fail to progress into the next round!
54' Good block from Torosidis! The right-backs slides in well to deny Bolanos, as Costa Rica get forward once again! Space is bound to open up for Pinto's men to exploit, given that Greece have no option but to be adventurous and search for an equaliser.
52' Goal Bryan Ruiz
52' GOOOOOOOAL! BRYAN RUIZ FINDS THE BOTTOM RIGHT CORNER! Time seems to slow down, as the midfielder's dragged effort bobbled its way inside the far post! Karnevis is wrong-footed by what was possibly a mishit from the Costa Rica captain, but they won't care at all!
50' Greece whip in a near post corner, but Sokratis' flick heads straight out of play once again. Santos' men have started the second half the better of the two, with Costa Rica seemingly having no answers to their staunch defensive football.
48' Yellow Card Y. Tejeda
48' Tejeda picks up the third card of the game, as the midfielder lunged into a challenge on Karagounis. He got some of the ball, but his studs were showing from the very start. Committed and somewhat fair, but the Greece midfielder certainly came off worse.
47' No changes at the break, with both managers presumably having been given food for thought after a cagey and well-measured first half. Greece finished the better of the two, with their midfield quality looking to be the game's deciding factor thus far. Samaras heads straight at Navas from a reasonable free-kick delivery.
46' We are back underway in the second half! A quarter final game against the Netherlands is at stake, meaning that there is certainly plenty for both elevens to play for! Hopefully we'll be treated to a bit more entertainment!
HALF TIME! The two sides head in predictably goalless at the break, with a fantastic stop from Keylor Navas denying Salpingidis fantastically to keep the deadlock intact. Chances and passages of exciting football have been few and far between, but neither team will be disheartened.
45' There are two minutes of stoppage time at the end of the first half.
44' Karagounis curls in a high cross, with Navas quick off his line to claim with ease. He's certainly showed why he is being touted as one of the better goalkeepers in the tournament so far tonight. A few minutes remain for the neutral fans to endure in Recife.
43' Christodoulopoulos tries to get in behind Duarte, but the Costa Rica defender tugs on his shirt to impede the breaking midfielder. He receives a yellow card for a cynical foul, also giving Greece the chance to test Navas again from 25 yards.
42' Yellow Card for Ó. Duarte
41' Less than five minutes until the end of the first half, with goals looking to be few and far between in this one. There have been several good chances, but neither side is taking the game by the scruff of the neck and setting up camp in the opposition half due to fear of the counter.
39' The crowd are whistling and jeering once again, as attacking intent is fairly rare in this game. Costa Rica aren't moving the ball quick enough to take advantage of gaps left in the Greek system, while Greece are hoping to play risky but incisive balls to give their advanced two half a chance.
37' GREAT SAVE FROM NAVAS! Holebas delivers a fantastic cross from deep on the left hand side, before Salpingidis nearly manages to tuck home a cushioned finish! The 'keeper sticks out a right foot to divert the ball behind for a corner, an instinctive stop!
36' Yellow Card for Andreas Samaris
34' Costa Rica aren't to be sucked into attacking a rather deep Greek outfit, as they know that their adversaries will prey on the resulting spaces left in behind themselves. Gonzalez tries to switch play from left to right, but sends his pass arrowing out of play.
32' Greece have several bites of the cherry around the Costa Rica penalty area yet again, but neither Samaras nor Samaris are given the opportunity to pounce upon the deflected ball. Pinto is very animated on the touchline for his side, they're certainly not having it all their own way.
30' Campbell just can't get the yard of space required to have a lethal effect on this game, with the very capable defensive pairing of Manolas and Sokratis keeping firm tabs on the youngster. Ruiz and the Arsenal forward have been the more exciting sparks in a drab 30 minutes.
29' Karagounis has a go from 25 yards, but it's a routine stop for Navas, who gathers up the ball simply. A pocket of space opened up for the veteran midfielder and he had every right to shoot, but he knows he's capable of far better strikes than that. Holebas then breaks down the left hand side, but the full-back's cross narrowly misses Samaras.
28' As predicted and aforementioned, the opening half an hour has been anything but free-flowing. Greece are playing cautiously and negatively, looking to bide their time and break, but Costa Rica aren't leaving too many gaps to exploit.
26' Karagounis whips in a corner, but Borges heads clear at the near post. Costa Rica try to break and find Campbell with an incisive long through ball, but the pass is poorly weighted and easily cut out by a back-tracking defender.
24' Karagounis goes down holding his leg after being caught by Duarte, but should be okay to continue. The Costa Rica defender slid in fairly, but the Greek midfielder clashed knees with his opponent.
23' Diaz and Torisidis are taken aside by the referee for jostling in the box, before Costa Rica's free-kick delivery is whipped into the area and narrowly missed by both Borges and Gonzalez. It has been a case of close calls for Pinto's side, but when they've got the ball into Campbell they've looked dangerous.
21' Ruiz flicks an intelligent pass into the space on the right hand side to find Gamboa, but the right-back's cross is blocked excellently by Maniatis. Greece's midfielders are working hard to plug the gaps in their defence which are made when a centre-back is committed.
19' It appears to be a war of attrition at the moment, with Costa Rica and Greece unwilling to concede the first goal. The crowd in Recife are starting to get on the teams' backs, given that there isn't much offensive action to get excited about. Campbell is nearly fed a cross into the near post area, but Holebas covers across well to slide in and make the interception.
17' Again, a Greece attack is halted by the offside flag, as this time Salpingidis is the man penalised. They're prepared to take risks to break at pace, knowing that the Costa Rica's back five can re-assemble very quickly.
15' Samaras whips in an early cross from the left hand side, with Gonzalez taking no risks and putting the ball behind for a corner. The set piece is delivered to the edge of the six-yard box, but Sokratis flashes his header wide of the far post.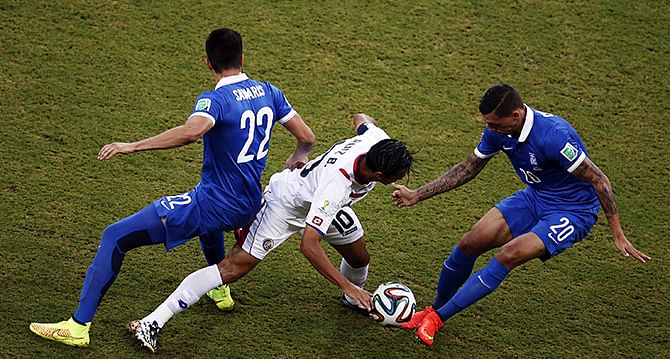 14' Manolas pulls back and fouls Campbell, as the Olympiacos man continues to make life very difficult for the Arsenal striker. He's been Costa Rica's main attacking threat, so if Greece can nullify his many talents, they'll be optimistic of keeping a clean sheet.
12' Christodoulopoulos cuts in from the left hand side, before unleashing an ambitious effort from 25 yards on his right foot. Navas is happy to watch the effort wide of his near post, as once again Greece fail to hit the target. They'll need to be on form to beat Costa Rica's number one 'keeper too.
11' Samaras looks to exploit the high Costa Rica line and get in behind the opposition, but the Celtic forward makes his run slightly too early and is caught offside. He brought the long ball down excellently, but was denied by the linesman's flag.
10' Neither goalkeeper has been called into action in the opening ten minutes, but Karnezis certainly has to be the more concerned of the two. Campbell is looking slightly isolated up front for Costa Rica, but Pinto has two runners looking to link up with the lone forward whenever possible.
8' Greece are looking to pack the midfield and frustrate Costa Rica, but their opponents have some interesting movement and pace in forward areas to drag around and test this Greek shape. If there is to be an early goal, it looks likely to be from Pinto's men.
7' Duarte looks to play a long ball forward to Ruiz, but the former Fulham man fails to win his header. Moments later, Bolanos is found in space on the left hand side, but blazes his shot high and wide from a tight angle.
5' Ruiz pokes the ball down the line, inviting Gamboa to attack, but the Norway-based full-back drags a long range effort well wide of the far post. Greece are trying to slow things down, but Costa Rica certainly have a few interesting wide options which allow them to break with pace.
4' Predictably, it is a slow start to proceedings, with the neutrals in the stadium not too inspired by what they've seen thus far. Both sides are keen to hold onto the ball, before slowly probing their way up the field. No risks are to be taken, it seems.
2' A quarter final game against the Netherlands is the prize for both sides, though there isn't much optimism for a gung-ho approach or attacking philosophy from either. Karagounis has the chance to whip in an early free-kick from deep on the right hand side, but Ruiz heads away, before Christodoulopoulos fires the rebound high and wide.
1' We're underway in the first half! Costa Rica are donning all white, while Greece are in their customary blue. This should be a very interesting match, though it may perhaps have a cagey start!
Neither side will have expected to get this far after navigating their way out of tough groups, but such achievements should only have fuelled their hunger for further success.
Greece starting line-up (4-3-3): Karnezis; Torosidis, Manolas, Sokratis, Holebas; Maniatis, Karagounis, Samaris; Salpingidis, Samaras, Christodoulopoulos.
Greece substitutes: Tzavellas, Moras, Tziolis, Kone, Mitroglou, Vyntra, Glykos, Kapino, Gekas, Fetfatzidis, Katsouranis, Tachtsidis.
Costa Rica starting line-up (5-3-1-1): Navas; Gamboa, Duarte, Gonzalez, Umana, Diaz; Bolanos, Tejeda, Borges; Ruiz; Campbell.
Costa Rica substitutes: Acosta, Myrie, Barrantes, Francis, Granados, Brenes, Pemberton, Miller, Calvo, Urena, Cubero, Cambronero.
TEAM NEWS: Panagiotis Kone is injured for Greece, with Olympiacos' Andreas Samaris replacing the Bologna midfielder. Georgios Samaras leads the line for his side, while Orestis Karnezis is fit enough to start in between the sticks after being substituted through injury against the Ivory Coast. Kostas Katsouranis is available after suspension, but only makes the bench.
TEAM NEWS: Roy Miller drops out of the central defensive three for Pinto's side, as Michael Umana is available for action once again. Cristian Bolanos starts in midfield, after Randall Brenes failed to impress versus England in Los Ticos' final group game. Otherwise, it's an unchanged eleven for Costa Rica, with plenty of goalscoring responsibility heaped onto the shoulders of Bryan Ruiz and Joel Campbell.
Live commentary: Goal dot com