Cox's Bazar Chhatra Union serving free meals to 200 homeless people per day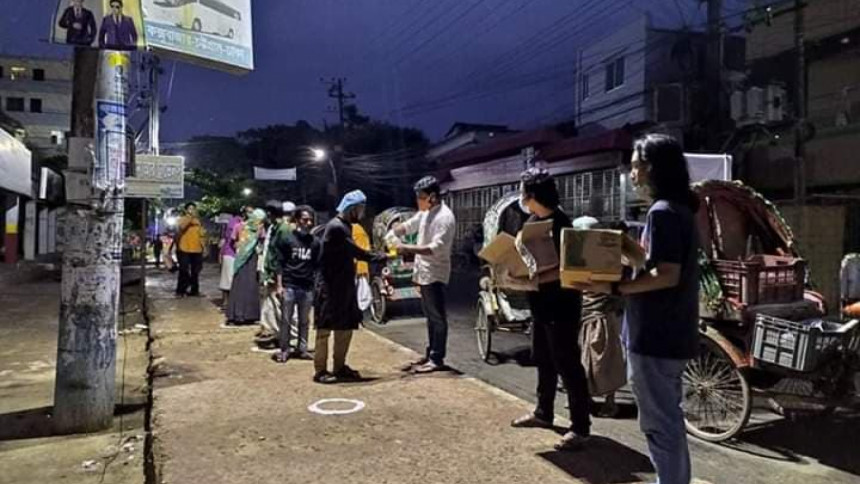 A group of youths under the banner of Bangladesh Chhatra Union of Cox's Bazar district have come forward to provide free iftar and sehri to around 200 homeless people per day.
Many in the district had been struggling to even buy food amid the Covid-19 outbreak.
The volunteer group has already served around 4,200 people in the last 21 days.
A makeshift kitchen was set up for cooking the meals and a volunteer team was formed to packet and distribute those among the people, said Antik Chakraborty, president of Cox's Bazar unit Bangladesh Chhatra Union.
On April 26, Antik arranged lunch for about 50 homeless people in the district. Hotel Al Gani, Haji Abdur Rashid and Gulfam Charity started chipping in.
Apart from this, the group is also distributing dry foods, masks and soaps among the cleaners of the district. Besides, they have also set up a hotline which can be called if anyone needs food. Volunteers are on standby to deliver the meals.
Talking to The Daily Star, Antik said this is the time to stand beside the people who were hit hard by virus.
He urged people to come forward to help the needy as the nationwide shutdown caused a sudden drop in many people's income and left thousands unable to buy food.
Appreciating their service, Inspector Masum Khan, operational officer of Cox's Bazar Model Police Station, said police are providing them all kinds of assistance to distribute meals in the shutdown.