Coronavirus: Authorities decide to keep factories open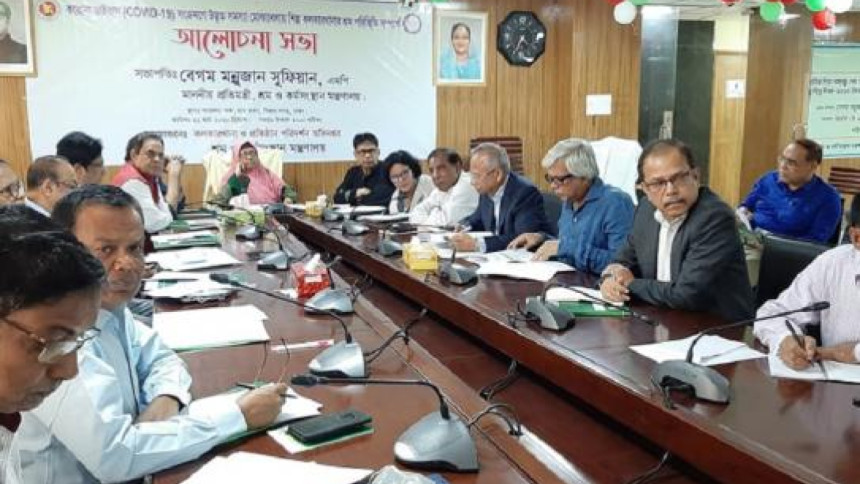 Authorities have decided to keep factories open amid the ongoing coronavirus outbreak, adding that the decision is subject to consideration based on how the overall situation unfolds.
The decision was made at a meeting between the government, factory owners and workers, presided by Begum Monnujan Sufian, state minister for labour and employment, at Shram Bhaban in Dhaka's Bijoynagar yesterday.
Participants at the meeting stressed on raising awareness among workers regarding prevention measures against coronavirus outbreak. Factory owners were urged to provide necessary items at the workplaces for ensuring hygiene of the workers and to safeguard them against COVID-19 infection.
Citing that no symptom of the virus infection was found among workers anywhere across the country, the meeting decided to keep the factories to open for now and informed that about one lakh posters and leaflets have been distributed among the workers across the country for their awareness building.
However, the decision will be reviewed again through holding similar meetings after observing how the overall situation unfolds in the country.
Owners were also directed to place thermal scanners to check body temperature of workers before entering garments, leather, plastic and frozen goods manufacturing and processing factories, and allow immediate leave to workers who would show symptoms of coronavirus including fever, cough and breathing complication, and ask them to go for self-quarantine.
The owners and workers were also directed to follow the instructions and directives of the Institute of Epidemiology, Disease Control and Research (IEDCR) in this regard.
Bangladesh Knitwear Manufacturers and Exporters Association (BKMEA) President AKM Selim Osman, Bangladesh Garment Manufacturers and Exporters Association (BGMEA) President Rubana Huq, Bangladesh Leather Goods Manufacturer and Owners Association President Md Saiful Islam, Labour and Employment Ministry Secretary KM Ali Azam, Textiles and Jute Ministry Secretary Lokman Hossain Mia, Abdus Salam Murshedy, Jatiya Sramik League President Fazlul Haque Montu, among others, spoke at the meeting.