Bangladesh could face severe Covid-19 surge by June-end if Indian variant spreads: experts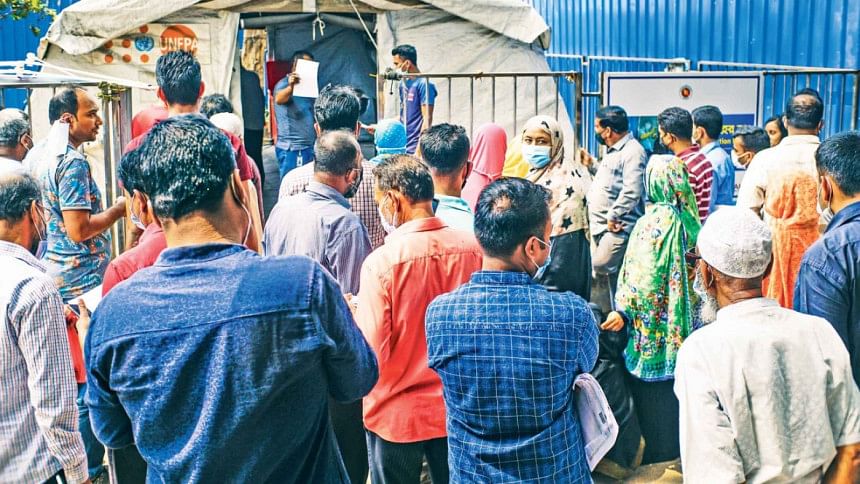 With Covid-19 cases soaring in bordering districts likely because of the highly contagious Indian variant, experts fear that Bangladesh may face the worst outbreak of the deadly virus by the end of June.
They say if the B.1.617, known as the Indian variant, can make its way into other areas from the bordering districts, Bangladesh is likely to witness more than 20,000 cases a day in early July, raising fatality rate sharply.
Lack of necessary oxygen supply and other healthcare facilities may aggravate the situation, according to the experts.
They suggested putting these districts, particularly where the virus infection rate has already gone up, under strict lockdowns like Chapainawabganj and halting inter-district public transport services to contain the virus locally.
They also said, government should take adequate preparations in advance to face any grim situation like India and Nepal by increasing the number of hospital beds, treatment facilities, equipment, setting up field hospitals and finding out potential sources for collecting necessary oxygen supplies.
Terrifying scenario along border
Although the country's average Covid positivity rate was 8.15 percent on Monday, it was very high in different districts along the Indian border.
Chapainawabganj was the worst-hit district with 55 percent infection rate, forcing the local administration to enforce a 7-day strict lockdown.
The positivity rate was over 40 percent in Rajshahi.
The infection rate was also high in some other border districts like Satkhira, Jashore, Jhenaidah, Dinajpur, Meherpur, Chuadanga, Sylhet and Moulvibazar.
Talking to UNB, DGHS spokesman Robed Amin, said the deadly Indian variant has already entered the country and there could be a full-scale outbreak of the virus if it spreads across the country.
He said Covid-19 patients with Indian variants were found in bordering districts, including Chapianwabganj, Rajshahi and Jashore. "It's alarming news. As this variant spreads fast, the infection rate may continue to surge seriously, if people show apathy to masking up and abiding by health safety rules."
Apprehension  
Infectious disease expert Dr Be-Nazir Ahmed, a former director (Disease Control) at the DGHS, thinks the bordering districts are now seeing a little bit of outbreak of the virus due to the prevalence of the Indian strain.
He said it is still difficult to say whether Bangladesh will witness a similar scenario like India. "We'll clearly understand the situation one or two weeks later. It depends on the level of the outbreak and the government's preventive measures. If we can contain the variant locally by enforcing strict lockdown before it spreads to major cities, we may not experience a dangerous situation like in India and Nepal," he said.
Dr Be-Nazir said India has been witnessing over 3 lakh cases for several weeks, including over 15,000 in West Bengal. "Nepal has also been witnessing 8,000-9,000 cases mainly caused by the Indian variant. So, if this strain spreads across Bangladesh, we may record over 20,000 cases every day at the end of next month or early July. The daily cases may even increase to 40,000 if the government fails to take preventive measures and force people to wear masks and follow health safety guidelines."
Bangladesh Como Modelling Group, a group of health experts from both Bangladesh, the USA and Canada, also projected that the country will witness a serious spike in Coronavirus cases mid-June or at the end of the month due to holidaymakers travel rush before and after the Eid along with the entry of Indian variant.
Talking to UNB, Dr Abu Jamil Faisel, a member of the modelling group, said they have submitted their projection to the DGHS on May 12 with some suggestions to control the situation.
He said they think Bangladesh may see over 10,000 cases a day at the end of June and it may continue to increase later if the virus outbreak cannot be controlled in bordering districts. "Many trucks carrying mangoes are coming to Dhaka and other parts of the country from Rajshahi, Chapainawabganj and other adjoining districts. So, it will be difficult to control the spread of the upsurge of the Indian variant."
Possible consequences
Dr Be-Nazir said if the country records over 10,000 cases for some weeks it will be difficult to control the situation as it does not have sufficient hospital beds, oxygen production, ICUs, doctors, nurses and other facilities and equipment to take care of such a huge number of patients.
He said the demand for oxygen was nearly 210 tonnes a day when Bangladesh reported over 7,000 cases for a few days in April. "So, when cases will cross 20,000, we'll need at least 600 tonnes of oxygen a day to treat the Covid-19 patients. So, oxygen will be a major worry for Bangladesh if virus cases rise like in India. We'll also face lack of oxygen concentrators, high-flow nasal cannulas, oxygen masks, general and ICU beds and other necessary equipment".
What should be done?
"We should first make our efforts to control the virus in the areas where it has already started spreading so that it can't reach other parts of the country. We must keep the border shut with strict monitoring until the situation gets normal in India," Dr Be-Nazir said.
He said, the government should immediately make projections of some potential Covid-19 scenarios and get ready to tackle them.
"For example, if the government makes a projection that the cases may go up to 10,000 at the end of June, then it should work out plans about how to manage it. Now we mainly have the Dhaka-centric covid management system. We can distribute it and prepare the upazila, district and divisional hospitals to tackle the situation,'' said Dr Be-Nazir.
He said oxygen, high-flow nasal cannula oxygen concentrators should be there at the district hospital and central oxygen and sufficient ICU beds can be ensured at the divisional hospitals so that 95 percent patients get treatment in their own divisions or districts.
The government should determine the oxygen demand if the situation becomes worse and take steps from now on to meet it by importing oxygen and increasing local production, he added saying that "The government should now contact the countries from where it can import the oxygen when it is needed."
Dr Faisel said the government should now focus on the bordering areas and increase Covid-19 tests and start contact tracing extensively there to control the outbreak of the Indian variant.
Bangladesh's existing capacity to tackle Covid
Dr Robed Amin said the government is making all-out efforts to ready hospital beds and isolation centres to tackle any situation. "We've already increased central oxygen supply systems, high-flow nasal cannula, oxygen concentrators, masks and cylinders for ensuring uninterrupted supply of oxygen."
Besides, he said, the DGHS has already signed MoUs with some private companies, including Abul Khair Group, to supply their oxygen for medical use when there will be a crisis in the case of a spike in Covid-19 cases.
He said Bangladesh has the capacity to produce nearly 200 tonnes of liquid and gas oxygen for the use of Covid-19 patients. "But there're many companies who produce oxygen for different industries. If they supply their major production of oxygen for medical treatment, then we'll be able to meet the daily demand for 600-700 tonnes. But if the demand increases to 1,000 tonnes a day, then we'll face a problem."
The government also has a stock of 900 tonnes of oxygen to treat Covid-19 patients during the crisis period.
Dr Robed said there are 1,069 ICU and 12,059 general beds dedicated to Covid patients across the country and 90 percent of them are now vacant.