Condolences pour in for Latifur Rahman
With the death of founding chairman and CEO of Transcom Group Latifur Rahman, the country has lost a business leader who lived by the highest standards of business integrity and was a protector of professional and independent media.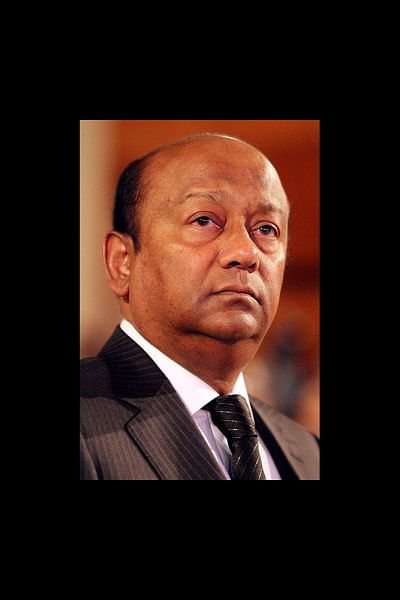 Eminent citizens said Latifur Rahman was a remarkable gentleman and believed in the bright future of the country.
The condolences and tributes have been pouring in from all quarters. Latifur Rahman, 75, breathed his last, in his sleep around 11:00am yesterday at his ancestral home in Cumilla.
The news cast a pall of gloom in the country's business, political and socio-cultural arenas.
People expressed deep shock and sorrow and prayed for eternal peace of the departed soul and conveyed deep sympathy to the bereaved family.
Latifur Rahman will be remembered as one of those rare entrepreneurs who have made remarkable contributions in building the national capital base of the country. He has done that not only by reinvesting his profit in the country, but also through acquisition of foreign farms, economist Dr Debapriya Bhattacharya told The Daily Star.
The conglomerate he has built ranging from tea estates to pharmaceuticals, fast food to media houses is an extraordinary feat in a country where we see rampant practice of capital flight, Debapriya added.
He proved that enlightened ownership can ensure professional independence of the media. To protect that professional independence, the owners have to be ready to take personal risk.
"I remember him telling me that if one takes financial and commercial benefits from the government, then one cannot really protect the independence of the media."
"That is probably why he did not do business with the government… Many governments tried to harass him with tax-related cases and administrative measures, but to no avail," Debapriya said.
Everybody knows what a remarkable gentleman he was, Debapriya added.
"I had the privilege of observing over the last three decades. He highly valued his employees and had an extraordinary belief in the bright future of the country.
"In his death the country has lost a great citizen. The industries have lost a unique leader, and many of us lost a wise and sensitive guardian to go to."
Transparency International Bangladesh (TIB) Executive Director Iftekharuzzaman said Latifur Rahman will be remembered as a modest, unassuming and exceptional example of the rare category of business leaders who practice the highest standards of business integrity.
"Unlike many of his peers, he not only refrained from capitalising the loan default culture, but also successfully stayed away from linking his business success with advantages of partisan political patronage.
"Rather, he credibly survived the adversities of attempted political victimisation for being a top ranking promoter of free media", Iftekharuzzaman said.
Finance Minister AHM Mustafa Kamal, Planning Minsiter MA Mannan, Home Minister Asaduzzaman Khan, Information Minister Mohammad Hasan Mahmud, Expatriates' Welfare And Overseas Employment Minister Imran Ahmad, Environment, Forest and Climate Change Minister Shahab Uddin, State Minister for Disaster Management and Relief Enamur Rahman, State Minister for Information Murad Hassan and Dhaka North City Corporation Mayor Atiqul Islam expressed shock at his death.
BNP top leaders in a condolence message said the death of an honest, workaholic and benevolent businessman like Latifur Rahman was irreparable.
BNP standing committee member Amir Khasru Mahmud Chowdhury also expressed shock at the death.
Former information minister Hasanul Haque Inu also mourned his demise.
Latifur was the founding director of Mediaworld, the company owning The Daily Star, and chairman of Mediastar, the company owning Prothom Alo, both leading English and Bangla newspapers of the country. He was the driving spirit behind the establishment of The Daily Star.
He was an honouree of "Oslo Business for Peace Award 2012" for his recognition of business ethics and social responsibilities. He was awarded Business Executive of the Year 2001 by the American Chamber of Commerce in Bangladesh. He was also president of the Metropolitan Chamber of Commerce and Industry, Dhaka for seven terms.
Trustees of Liberation War Museum in their message said that they will remember the contribution of Latifur Rahman and Transcom Group in building the museum.
UNB reports, AK Azad, president of Newspaper Owners' Association of Bangladesh, expressed his shock at his death.