Wendy Sherman for probing irregularities
Disappointed at BNP's boycott; meets Khaleda Zia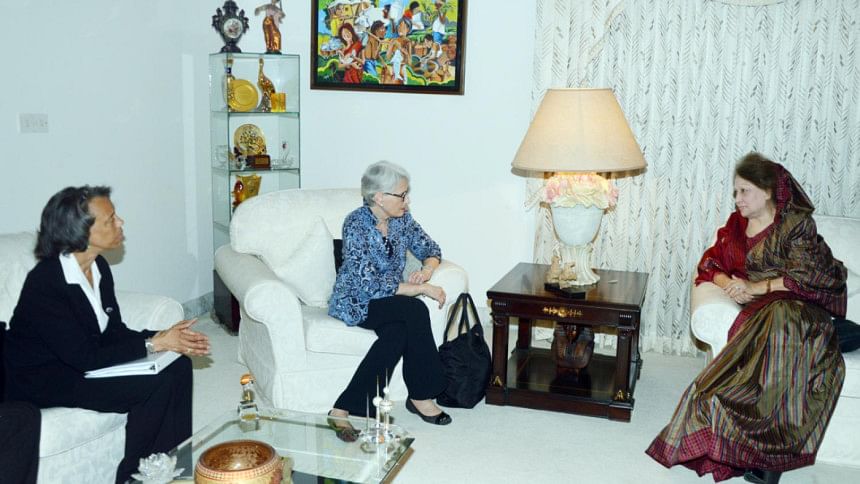 Conveying disappointment both at irregularities in the city corporation elections and BNP's boycott midway through, Washington has said the focus must now be on a transparent investigation to make sure that the next election is highly improved.
"We remain focused on a long-term solution that accommodates all parties and allows the Bangladeshi people to peacefully express their views," said a top US diplomat in Dhaka on Friday.
Speaking at a joint press conference on the outcome of the two-day  4th Partnership Dialogue, US Under Secretary of State for Political Affairs Wendy Sherman stressed the need for a transparent investigation into the electoral irregularities.
"I think what everyone needs to focus on how the next election is highly improved and that is very important for democracy," she said. "I am here to discuss finding ways that two moderate, pluralistic nations can work together to advance common goals."
Foreign Secretary Md Shahidul Haque, who led the Bangladesh delegation at the two-day dialogue, said they discussed issues of three broad areas -- development and governance, trade and investment, and security cooperation.
"We're extremely happy as the meeting was held in a very productive manner," he said.
Speaking about the partnership dialogue, Sherman said they have broadened the discussion to include an emphasis on the environment, health and infectious diseases, and the blue (maritime) economy. She termed relations with Bangladesh strong, deep and vibrant. "We support Bangladesh's goal of becoming a middle-income country by 2021 -- and we are actively partnering with Bangladesh and investing our resources to make it a reality," she said.
Appreciating Bangladesh's contribution to the peacekeeping efforts, the US official said Bangladesh's contribution in peacekeeping is second to none.
She mentioned that in a just few days, they are providing Bangladesh with its second Coast Guard Cutter. "Ambassador [Marcia] Bernicat will deliver the ship to Vice Admiral [Farid] Habib at a ceremony in California on May 6."
The under secretary thinks expanding the country's investments in women and girls will foster broader and more sustainable economic growth.
"Prime Minister Hasina (Sheikh Hasina) has been an outspoken champion of empowering women and girls, and we share the view that a country's true strength is determined by how well it integrates its entire population."
KHALEDA-SHERMAN
BNP Chairperson Khaleda Zia has informed the visiting US diplomat of the widespread irregularities and vote rigging with documents in the election to three cities.
Before leaving Dhaka on Saturday, Sherman went to Khaleda's Gulshan residence, along with Ambassador Bernicat, and held nearly a half-an-hour meeting. She did not talk to the press about the outcome of their meeting.
However, talking to reporters, BNP standing committee member Abdul Moyeen Khan said the BNP chief projected the country's political situation, the government's repressive acts, sacking of opposition-backed elected representatives from different local government bodies, repression on the opposition leaders and activists, and filing of false cases against them.
Khaleda also provided Sherman with various documents and footage on the issues, he added.
Meeting sources said the BNP chief told Sherman that her party is repeatedly calling for dialogue but Sheikh Hasina is not paying any heed to their call.