Unfinished stalls, low turnout mark first day of book fair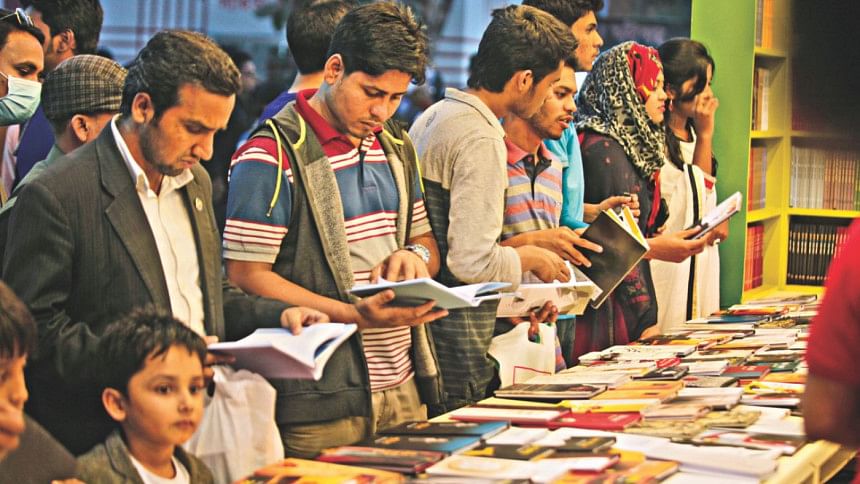 As soon as the doors of the Bangla Academy and Suhrawardy Udyan opened around 5:30pm yesterday, there was a combined sigh of relief among the book lovers waiting for a long time in the Dhaka University area.
However, the much awaited Amar Ekushey Grantha Mela raised its curtain with less intensity and turnout as many publishing houses were yet to have books on display for sales.
But youths clad in brightly coloured clothes, added colour to the book fair because of the celebration of Saraswati Puja.
Despite being letdown, bookworms were seen thronging the stalls.
"I love reading books. I bought books on the Liberation War, science and story books on ghosts," Ridita, a first grader of Viqarunnisa Noon School and College, told this correspondent. Her mother bought her five books.
But not all were able to buy books as many publishers could not finish decorating their stalls. Many were seen arranging their books while some busy setting up the stalls.
Decoration materials and scattered pieces of wood hindered visitors' smooth movement. Suhrawardy Udyan in some places was filled with dust due to the ongoing work.
Also, low vigilance, poor deployment of security personnel and mismanagement marred the first day of the month-long fair.
Azizur Rahman, a Manikganj school teacher, who has been attending the fair for 15 years, said, "I couldn't buy the research books as many stalls were not opened yet."
Abdul Barek, a staff of a stall at Bangla Academy, said, "Books have not arrived yet and we couldn't finish everything within the short time limit."
Staff of some publishing houses alleged as they got permission to enter the fair after the inauguration ceremony, they could not get ready for the visitors.
"Because of today's security arrangement, we needed extra time to prepare our stalls," said Dipak Roy, chief executive of Sanghati Prokashani.
However, some new books, including "Raktajabader Kew Bhalobaseni" written by Mauli Azad, daughter of Dr Humayun Azad, was launched yesterday.
Enamul Haque Sohel of Kakoli Prokashani said "Humayun Ahmeder Kathamala" and Anisul Hoque's "Mayer Jonno Valobasha" arrived at their stall yesterday.
The fair will remain open for 30 more minutes daily than the previous years. It will remain open for all from 3:00pm to 8:30pm on workdays, 11:00am to 8:30pm on holidays, and 8:00am to 8:30pm on February 21.