Unemployed nurses back on streets with unmet demands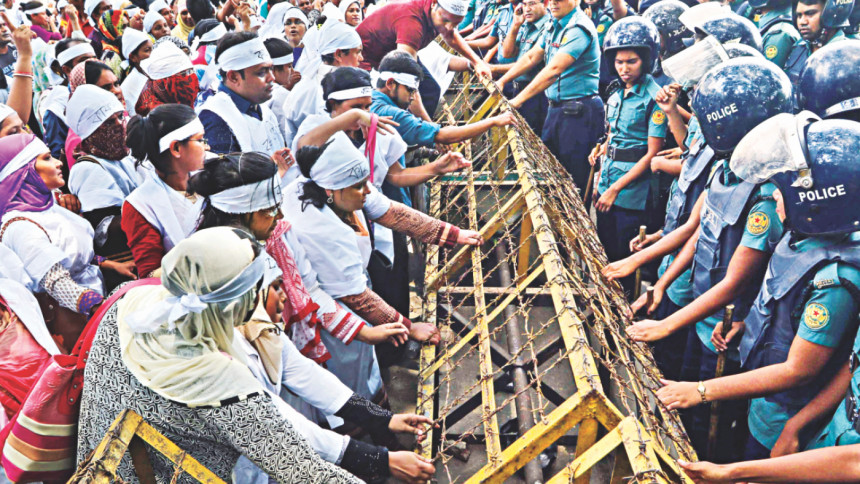 Wearing shrouds, nearly 1,000 unemployed nurses protesting a Bangladesh Public Service Commission recruitment circular marched towards Bangladesh Secretariat from Central Shaheed Minar in the capital yesterday morning demanding postponing the exam scheduled for June 3.
Crossing Teacher-Student Centre and Jatiya Press Club, they faced a police barricade and sat in front of the secretariat from 11:30am to 5:00pm, demanding that this be the last time previous selection criteria be followed -- year of graduation, merit, and seniority.
"We are not against exams for recruitment, but it can be done from the next recruitment, not this time," Nahida Akhter, secretary general of Bangladesh Basic Graduate Nurses' Society, told this correspondent.
Nurses have been demonstrating since early April protesting the circular of March 28 on recruiting 3,616 senior nurses in public hospitals. The circular says applicants below the age of 36 and attaining Bachelor of Science and diploma in nursing had to take the exam.
Many of the nurses who have been waiting for public jobs since the last recruitment in 2013 are about to cross 36 years and might be deprived of jobs, say nurses under the banners of the society and Unemployed Diploma Nurses' Association.
Nahida said a delegation went to the secretariat and placed the demands. Health Minister Mohammed Nasim was not there and Additional Secretary Biman Kumar Basu  assured conveying the demands, she said.
She said they met the minister several times and he assured them of looking into the matter. At one point he said he did not have the authority to cancel the circular and told them he would take them to the prime minister on May 24, said Nahida.
This never happened and the exam's seat plan has already been finalised. "We are therefore feeling cheated," she said.