Those who kill in name of religion will go to hell: Islamic clerics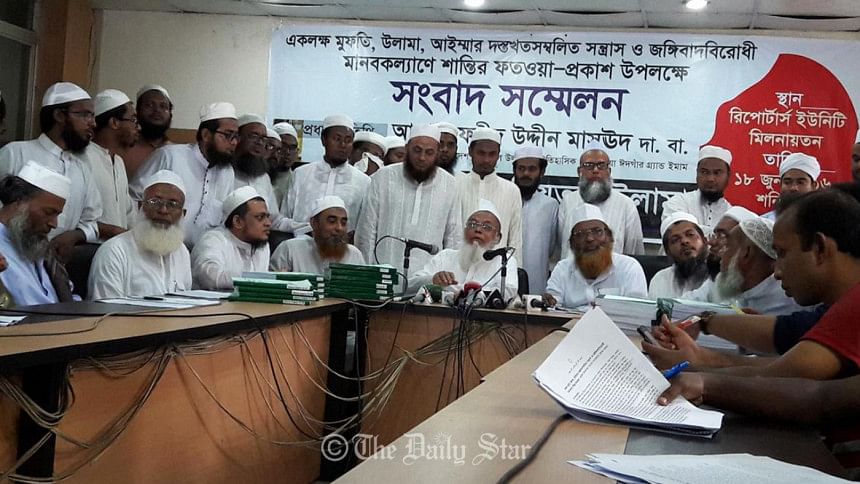 A section of Islamic clerics today in a set of fatwas (decisions made under Islamic law) against militancy said those who are killing people in the name of religion are heading towards hell.   

Militants will not get involved in the "act of killing people out of the aspiration of reaching to the heaven" once they will realise that it is a path of hell, not heaven, Farid Uddin Masoud, chairman of Bangladesh Jamiyatul Ulama, said.

"These fanatic militants are not only enemies of Islam and Muslims but also the enemies of humanity," he said.   



Also read: Target tolerance
The fatwa comes in the wake of continued attacks on religious minorities, intellectuals and secular writers. Such killings, mostly by hacking with machetes, have risen over the past few months.  

Masoud, who was leading an 11-memebr panel of Alems and Ulamas (Islamic clerics) to declare a set of fatwas against militancy, made the remark while addressing a briefing at Dhaka Reporters Unity in Dhaka.

Calling for peace, harmony and tolerance in the country, the Islamic clerics came up with the anti-terror edicts in light of the Quran and Hadith.

Masoud is also the convener of 'Shontrash O Jongibad Birodhi Manob Kollyane Shantir Fatwa' (fatwa for humanity and peace against terrorism and militancy) initiative.

A total of 1,01,524 Islamic clerics including imams signed the fatwa against militancy and violent extremism, Masoud, also the grand imam of the country's largest Eid congregation at Sholakia in Kishoreganj, said while reading out a written statement.

The move is first of its kind in the country in the context of targeted killings by suspected militants.

Even if the fatwas fail to stop terrorism completely, it will definitely help in curbing violence," the Islamic cleric said.

Claiming that a section of criminals are spreading panic in several parts of the country with misinterpretation of the Quran and Hadith, Masoud said law enforcers will not be able to prevent them if the criminals' misperception is not eradicated.

The panel requested people from all levels in the society including teachers, social workers, NGO workers to spread their message.