Social Safety Net Programmes
The marginalised not getting due benefits
Speakers tell roundtable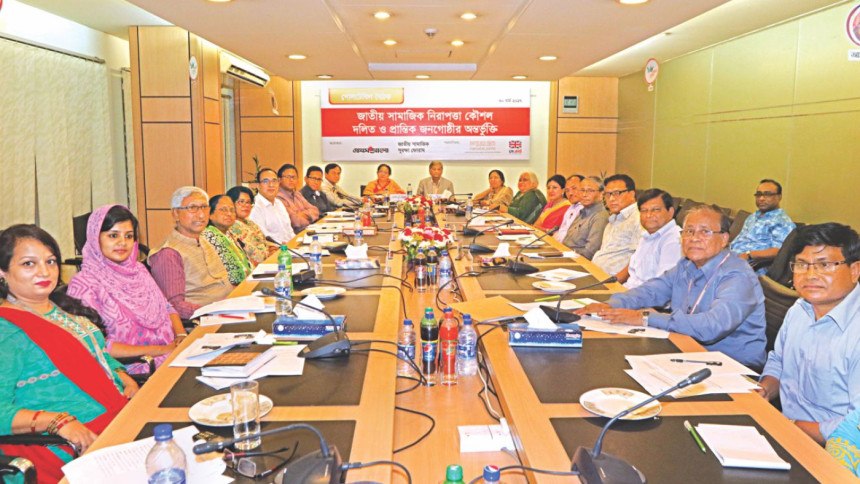 Dalit and marginalised communities are not getting adequate benefits of the government's social safety net programmes as the local authorities are not paying heed to the central administration's directives properly, observed speakers at a roundtable yesterday.
The local government representatives and the local administration are allegedly discriminating against the marginalised groups, they added.
Assisted by Manusher Jonno Foundation (MJF) and DFID, the daily Prothom Alo and the National Forum for Social Protection jointly organised the roundtable titled "National Social Security Strategy: Inclusion of Dalits and Marginalised Communities" at the Bangla daily's office in the capital.
Rasheda K Chowdhury, former adviser to a caretaker government, praised the government for taking various welfare projects for the marginalised communities and the dalits.
But the mindset of the people in the society, and the government's policy towards the deprived groups are still not satisfactory, she said.
"Now, the government must create funds from its own sources … to operate safety net programmes for the marginalised groups," said Rasheda, also executive director of the Campaign for Popular Education (CAMPE).
She urged the government to expand its budgets for including the children of the magrinalised communities under the school stipend programme, but expressed her frustration over the radicalisation in the textbooks this year.
MJF Executive Director Shaheen Anam said making the elected representatives and the government officials accountable to the public is very crucial.
"The most important issue for us is to abolish discrimination against the marginalised people and protect their rights through proper monitoring of government projects," she said.
The MJF along with its 12 associate NGOs is working to ensure that the officials are duly following the government's directives in operating safety net programmes, she said.
"With the help of Law Commission, we have drafted Elimination of Discrimination Act. It is now in the law ministry. We hope that the government will enact it as soon as possible," she added.
Bangladesh Harijan Oikya Parishad Secretary General Nirmol Chandra Das thanked the government for including them in the safety net programmes and requested it to ensure job quotas and accommodation facilities for them.
State Minister for Finance and Planning MA Mannan said the government has taken many safety net programmes for the marginalised groups, but the outcome is not satisfactory due to systemic flaws.
Getting benefits from the government's safety net programmes is the right of the marginalised people, he said. 
The department of social services Director Abu Muhammad Yusuf, PRIP Trust Executive Director Aroma Dutta, BIDS senior research fellow Nazneen Ahmed, DFID poverty and social protection Adviser Naved Chowdhury, Bangladesh Adivasi Forum General Secretary Sanjeeb Drong, among others, spoke.