Brac University cancels classes amid protest
Brac University has cancelled all classes till tomorrow amid protests of the students following the allegations of assault on a teacher, who was said to have been manhandled by authorities.
However, all exams will be held as per the schedule, according to an announcement published on the university website.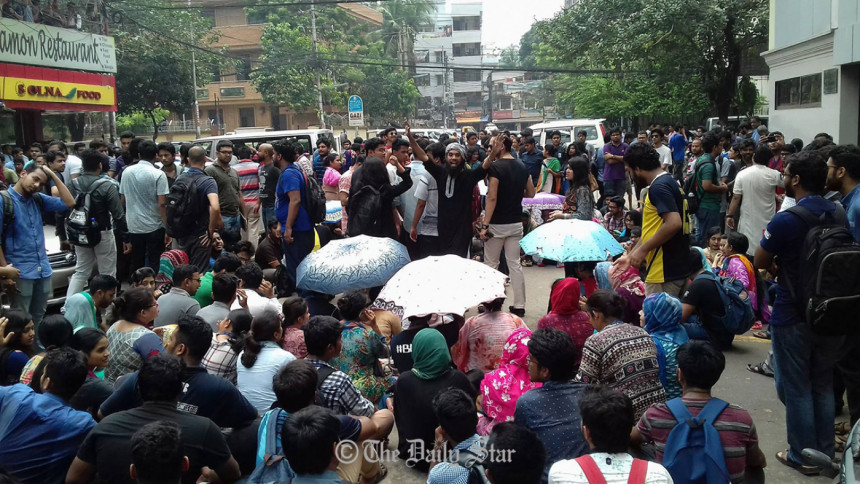 The university also reconstituted a five-member probe body headed by Mathematics and Natural Sciences Chairperson Prof AFM Yusuf Haider, also former Dhaka University (DU) Pro-Vice Chancellor.
The other members are former DU English department Chairperson Prof Syed Manzoorul Islam, Brac University Prof Afsan Chowdhury, and its Alumni Association President Tajdin Hassan and one student representative.
The probe body has been asked to submit its report by five working days, the notice said.
Earlier, demanding a fair probe into the allegations, the agitating students put the building 1 and 2 under lock and key around 3:15pm today amid rain, on the third day of their protest that has been a peaceful demonstration so far.
READ MORE: Brac University students protest 'assault' on teacher
Hundreds of students took position on the Mohakhali-Gulshan road without halting road transport and not allowing any staffs or teachers to exit the buildings.
Until today they were staging sit-ins, before authorities denied to negotiate the inclusion of student-selected teachers into the probe body formed yesterday to investigate into the allegation.
They were demanding removal of three officials -- Registrar Sahool Afzal, Assistant Registrar Mahi Uddin and a senior co-curricular officer Jabed Rasel for alleged assault on law department teacher Farhaan Uddin Ahmed.
They also demanded to the authorities concerned for reinstatement of teacher, Farhaan Ahmed, who was terminated on Sunday.