Star editor honoured for courageous journalism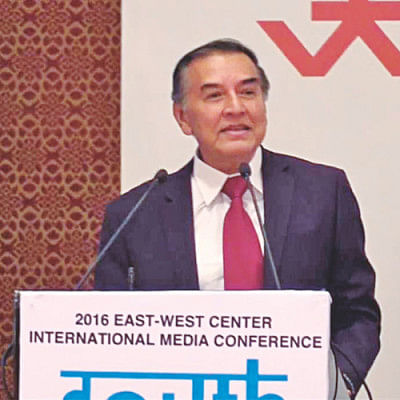 Mahfuz Anam, editor and publisher of The Daily Star, was honoured by East West Center for his courage and determination in journalism.
At a conference titled "South Asia Looking East" held in New Delhi on September 9, the US-based organisation also honoured five other journalists from India, Afghanistan, the Philippines, and Sri Lanka.
Mahfuz Anam faces over 80 defamation and sedition cases in different courts in Bangladesh for stories published in his newspaper in 2007 based on leaks fed by the Directorate General of Forces Intelligence. The editor had regretted the decision to carry the reports without independent verification in a TV talk show, nine years later in February 2016, triggering the avalanche of cases. In the face of such intense pressure, Mahfuz Anam fearlessly carried on his journalistic duties.
While terming the cases politically motivated and a way to silence the media, local and international media and human rights organisations, including International Federation of Journalists, Human Rights Watch, PEN International, Asia News Network, Amnesty International, Editors Guild of India, and Editors Council of Bangladesh, among others, condemned the move by the government and the ruling party.
"It has been my experience, in any clash between independent media and a powerful government, the government wins in the beginning. It wins because it has all the coercive machinery of state behind it. But the good news is free press wins at the end. It does so because it is energised by the inalienable right of people to freedom,'' Anam told the conference while receiving his award.
The five other awardees were Rowaida Rhima Folloso Macarambon (The Philippines), Stella Paul (India), Zaffar Iqbal Sheikh (India), Habib Khan Totakhil (Afghanistan), and Lasantha Wickrematunge (Sri Lanka), who was honoured posthumously. Wickrematunge was shot dead in Colombo in 2009.
Some 350 journalists, including senior editors of regional newspapers, eminent media experts, media professionals, researchers and representatives of media organisations from more than 40 countries attended the conference, which is one of the largest gatherings of media professionals and among the most influential media events in the Asia-Pacific region.