Star brings together change makers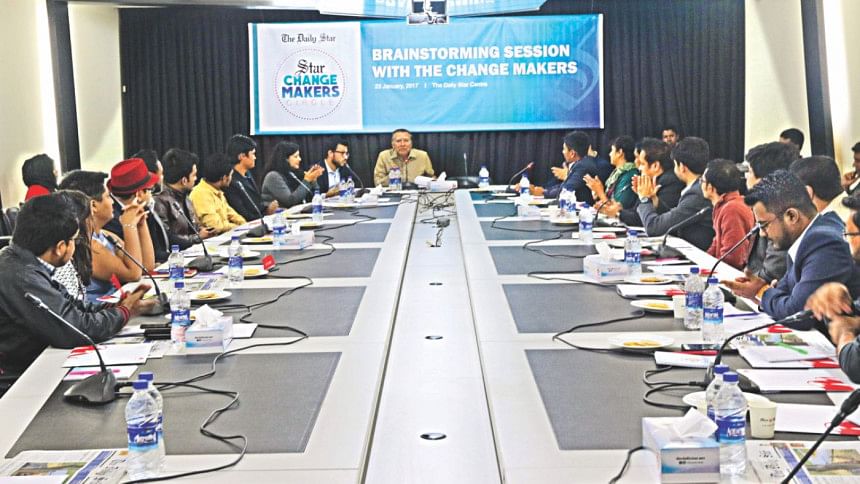 Bringing together more than two dozen change makers, The Daily Star held a meeting yesterday, recognising their efforts to initiate, create, and spread positive activities in the country.
The initiatives include educating street children, providing rehabilitation, creating web portals for blood donation, developing digital entertainment contents, among others. 
From entrepreneurs to social media activists and volunteers joined the meeting at The Daily Star Centre.
The meeting helped the participants share their experiences and ideas on how to take their services to a vast majority of the people of the society.
Saying that the platform will connect all change makers of the society, Editor of The Star Weekend Elita Karim said, "You are bringing positive change to the society. Through the platform more people will be connected."
The founder of non-profit organisation Heroes for All, Rehnuma Karim, said people are working in their individual field.  She hoped such a forum would give them the opportunity to work in collaboration.
Founder and president of Bangladesh Youth Leadership Center (BYLC) Ejaj Ahmad said there are many heroes in the society working behind the scene. Together they would be able to help find out these heroes, he hoped.
Co-founder of Youth Opportunities Osama Bin Noor said many change makers are working at the rural level. "If they can be reached and inspired, the society will be greatly benefited," he said.
Mahfuz Anam, editor and publisher of The Daily Star, commended them for their outstanding jobs in respective fields.
Among others, Ayman Sadiq, founder of 10 Minute School; Shariful Islam, founder of Bangladesh Brand Forum; Solaiman Shukhon, social media activist; Ejazur Rahman, chief executive officer of Asia at International Supply Chain Education Alliance; Korvi Rakshand, founder of Jaggo Foundation; G Sumdany Don, chief inspirational officer at Don Sumdany Facilitation and Consultancy; Ovick Alam, CEO of WebAble Digital; Muhammad Saimum Hossain, co-founder of GEEKY Social Ltd; Sajid Iqbal, founder of Change; Rahat Hossain, founder of CriticaLink; Salman Muqtadir, social media activist; Dipon, founder of Batighar; Azra Mahmood, fashion enthusiast; Maimuna Ahmad, founder of Teach for Bangladesh; Shubrata Deb, founder of DonateBloodBD.com; Saif Kamal, founder of Toru; Shamnoon Muheb Chowdhury, co-founder of GoBDgo; Arain Arif, founder of Mojar School, and Kashef Rahman, founder of Travel Booking BD, spoke at the programme.