Short stories, big smiles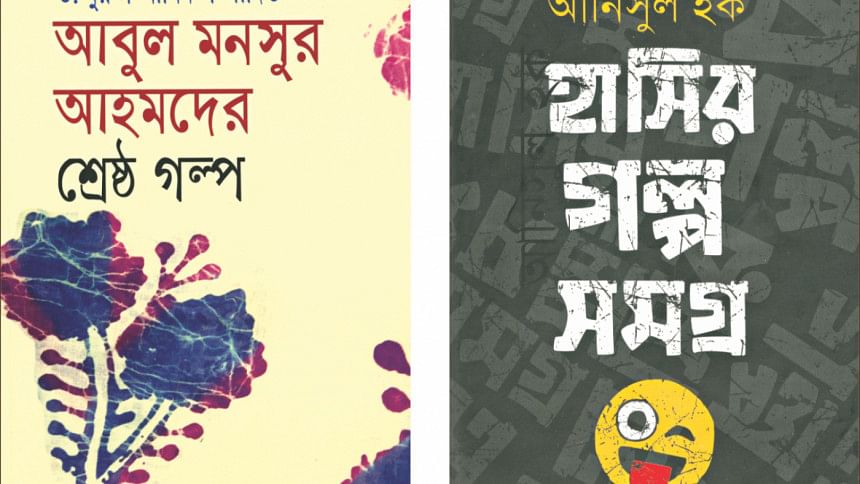 There is a sense of yearning and curiosity connected to a short story. An incomplete sensation -- even though it lingers, can be gratifying as well.
A short story may highlight seemingly little events or incidents of our lives, or focus on little delights or melancholies, but as Rabindranath Tagore has said, "shesh hoye hoilo na shesh" (it ended, yet it did not), a short story can leave an enduring impression on our psyche.
Like previous years, this year's Ekushey book fair also drew flocks of curious readers -- buying, making queries and turning pages of the short story collections of their favourite authors.
Dr Md Fazle Elahi, a textile engineer, was flipping through the pages of "Abul Mansur Ahmader Shreshta Galpo" (best stories of Abul Mansur Ahmad) edited by Dr Nurul Amin at the stall of Daily Star Books at the Suhrawardy Udyan premises of the book fair yesterday.
"When I first read his satirical story 'Relief Work' in the textbook of Class-IX, I became a fan of his writing that depicted the realities of the society," said Elahi, who came to the fair with his wife and children. "I bought the compilation of his (Abul Mansur) short stories for my collection," he added. "The print quality is also good."
"But, 'Aina' (mirror) and 'Food Conference' are still my favourites," said Elahi's wife Laila Arjumand, standing next to him. Meanwhile, their daughter, Maryam Zafirah, a third grader, cheerily said, "And I bought 20 books."
Yesterday being a holiday, booklovers were seen swarming the stalls at the Bangla Academy and Suhrawardy Udyan premises of the book fair.
Surrounded by stalls of children's literature -- the Shishu Chattar, set up around a banyan tree, was filled with children. Even the overcrowding did not dampen their spirit. Some sat on their fathers' shoulders to catch a glimpse of their favourite characters of TV show Sisimpur.
"People are mostly looking for collection of short stories at our stall," said Shahadat Hossain, proprietor of Anwesha Prokashani. Anisul Hoque's "Hasir Golposamagra" and Humayun Ahmed's "Shishu-Kishor Golposamagra" were in high demand, he said.
Humayun's "Golposamagra" (collection of stories) and "Amar Prio Bhoutic Golpo" (my favourite ghost stories) were getting much attention at Kakoli publication.
Meanwhile, Ghashphoring (grasshopper)'s stall, was filled with children's laughter. Little bookworm Mithila was all smiles as she got an autograph of writer-cartoonist Ahsan Habib after buying his book "Bhoot Samagra" (collection of ghost stories).
"Earlier, a writer used to start their literary journey through short stories. Short stories remain an important part of Bangla literature, writers should write more of those," he said.
His juvenile story books "Chhotoder Chhoto Galpo" (short stories for children) and "Kishor Galpo Samagra" were much sought after. Anisul Hoque's "Guddubabur Chor Dhora" and "Ekjon Rakhal Baloker Muktijuddho" were also favourites among the children, said Karima Aktar, a staff member of the stall.
Booklovers were also swarming the stall of Bishwo Shahitto Kendro to enrich their literary palates by buying collections of stories written by Syed Mujtaba Ali, Syed Waliullah, Rabindranath Tagore, Sarat Chandra Chattopadhyay, Manik Bandopadhyay and Kazi Nazrul Islam, among others.
"Shreshto Bideshi Rupkatha" by Hasan Hafiz and "Kishor Galpo Sangkalan" by Selina Hosaain were also selling well at Akkhar Prokashni.
A musical contest for children was held yesterday morning at the Bangla Academy where singer Subir Nandi was present as a guest.
On the 17th day of the book fair, 241 new books arrived, of which 32 are short story collections.