Job seekers block Shahbagh for raising age bar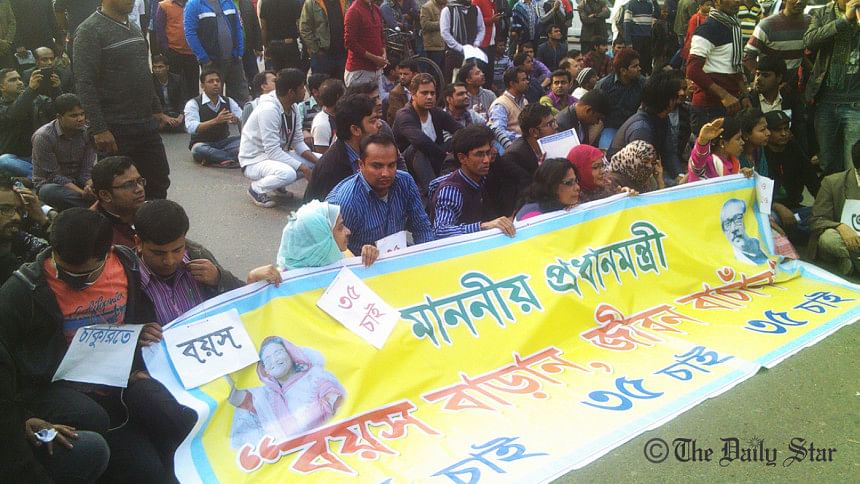 Demonstrators demanding a rise in the age ceiling for civil service today blocked Dhaka's Shahbagh – one of the busiest thoroughfares of the city.
They halted vehicular movement to and from Shahbagh around 4:00pm, said Abu Bakar Siddique, officer-in-charge of Shahbagh Police Station.
Police later dispersed the demonstrators, allegedly using batons, after around an hour. Two demonstrators were held from the spot, the agitators said.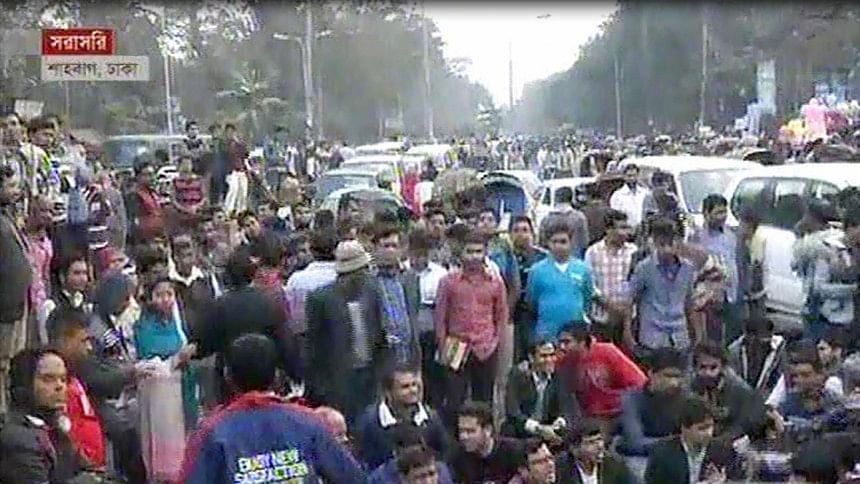 The demonstrators were hoisting a banner that sought Prime Minister Sheikh Hasina's attention.
Among those held were Imtiaz Hossain, a Dhaka University student and president of Bangladesh General Student's Union, and the group's secretary Nuruzzaman Chandan.
They will be released, OC Abu Bakar Siddique of Shahbagh police said.
Currently, the age limit to apply for civil service is 30. Demonstrators demand that the ceiling be raised to 35. They allege that the education system gives general students little time to "fight" for the job.
"When the life expectancy was 50, we had an age limit of 30. Now when the life expectancy is 71, what should the age limit be?" said Imtiaz Hossain, president of the students' front.
Several demonstrators said they will have no choice "but to commit suicide" if the age ceiling is not raised. They said session clots at government colleges and universities ate up "too much" of their life.
Civil service is the single largest job sector of Bangladesh. It became more lucrative to students after the government doubled the salary for civil servants in the latest pay scale last year.