SEVEN YEARS OF FELANI KILLING
Wait for justice not over yet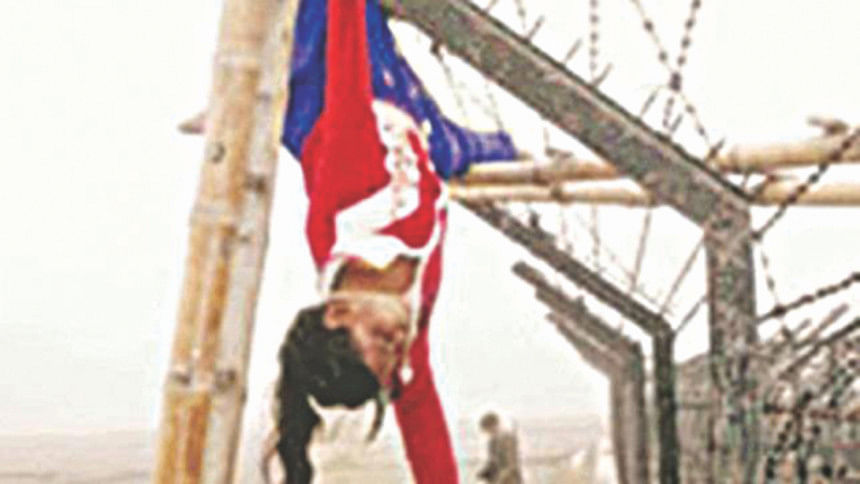 Yesterday was the seventh death anniversary of Felani Khatun, who was shot dead by Indian Border Security Force (BSF) in 2011. Long seven years have passed by, but her family's wait for justice is not over yet.   
"I am yet to get justice for the murder of my daughter," said Felani's father Nur Islam while talking to this correspondent over the phone. 
Fifteen-year-old Felani was gunned down by the BSF when she, along with her father, was returning home from India through Anantapur border along Phulbari upazila of Kurigram on January 7, 2011.
Although her father managed to get inside the Bangladesh border by scaling the barbed-wire fence, Felani was shot dead by a BSF man before she was able to do so. The ghastly photo of Felani's bloody body hanging from the barbwire upside down sparked an outcry of protest and condemnation throughout the country.
The BSF trooper, Amiya Ghosh, who killed the unfortunate child, faced two phases of trial in an internal court. In both cases, he was acquitted.
Nur Islam said, "I testified two times before the BSF special court in Cooch Bihar where the lone killer BSF man Amiya Ghosh admitted his killing. But the court acquitted him."   
Challenging the acquittal, Bangladesh Jatiya Mohila Ainjibi Samity through an Indian lawyer filed a writ petition with the Indian Supreme Court in 2013. Following the acquittal of Amiya for the second time, Felani's father with the help of Indian human rights organisation Manobadhiker Surokkha Mancho (Masum) filed another writ petition with the court on July 13, 2015, said Advocate Abraham Lincoln, Kurigram public prosecutor and lawyer of the Felani killing case.
The Indian Supreme Court fixed hearing of both the petitions on January 18 this year, he added. 
Meanwhile, marking the anniversary yesterday (January 7), Felani's family organised a doa mahfil in their village home under Rumkhana union of the district's Nageswari upazila, praying for the salvation of her departed soul.