Stop atrocities, Bangladesh Buddhists urge Myanmar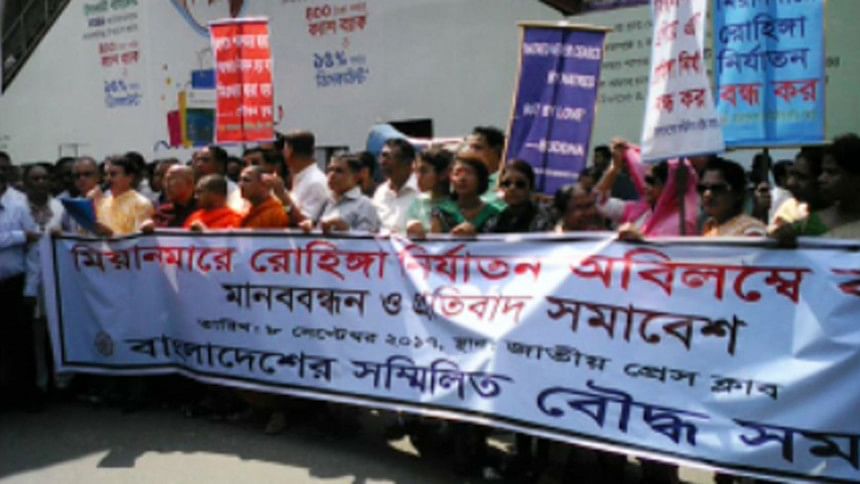 Buddhist community in Bangladesh today called upon the Myanmar government to stop ongoing atrocities on Rohingya Muslims in northern Rakhine state.
Bangladesh United Buddhists' Forum came up with the call during a human chain formed in front of the Jatiya Press Club in Dhaka this morning.
The forum also expressed concern over the Buddhists' security for allegedly spreading rumours in social media against the minority community people in Bangladesh.
Read More: 'Military atrocities on Rohingyas have hallmarks of ethnic cleansing'
 "I call upon the Myanmar government and its people to deal with the ongoing matter in non-violent way," said the forum's Chief Convener Ashokh Barua. 
He alleged that some vested groups are spreading rumours in social media blaming Buddhists over the attacks on Rohingya Muslims.
"Many of our peace-loving Buddhists feel insecure for such revengeful attitude of few people," he observed.
The forum will submit a memorandum to Myanmar embassy in Dhaka on September 10 and also send a copy to the local office of the United Nations.
President Dr Ashim Ranjan Barua and its women chapter executive president Prof Tripti Rani Barua among others spoke at the occasion.