GRAFT CASES AGAINST MOUDUD, ALTAF, ZUBAIDA
Resume trial proceedings: HC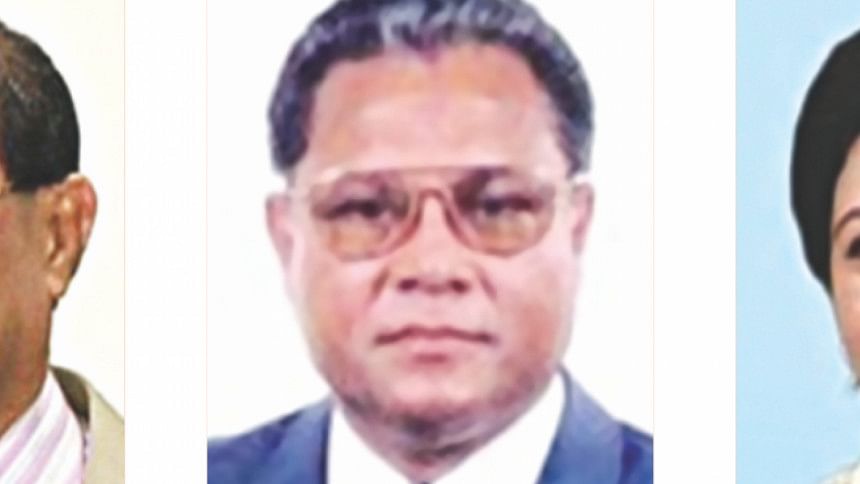 The High Court yesterday cleared the way for the lower courts concerned to resume the trial proceedings against BNP leader Tarique Rahman's wife Zubaida Rahman, and former BNP ministers Barrister Moudud Ahmed and Altaf Hossain Chowdhury in three corruption cases.
It also asked Zubaida to appear before the trial court in eight weeks in the case filed by the Anti-Corruption Commission.
Rejecting a petition filed by Zubaida, now in London along with Tarique, for quashing the trial proceedings, the court lifted its earlier stay order on the trial proceeding against her, ACC lawyer Khurshid Alam Khan said.
On September 26, 2008, the ACC filed the case against Tarique for accumulating wealth worth around Tk 2.75 crore beyond his known income sources and concealing information about assets worth around Tk 2.17 crore in his statement. Zubaida and her mother Iqbal Mand Banu were accused in the case of aiding and abetting Tarique.
Yesterday, the HC, rejecting former BNP law minister Moudud's petition, lifted its earlier stay order on the trial proceedings against him in the Niko corruption case.
The ACC filed the corruption case in December 2007 over charges that BNP Chairperson Khaleda Zia and several others abused powers to award a gas exploration and extraction deal to Canadian company Niko when she was the prime minister between 2001 and 2006.
Meanwhile yesterday, another HC bench rejected a petition filed by former BNP home minister Altaf and lifted its earlier order that  stayed the trial proceedings of the corruption case against him.
The ACC filed the case on December 18, 2007, against Altaf for concealing information or giving false information about movable wealth worth Tk 59 lakh and amassing wealth worth Tk 2.56 crore beyond known sources of income.
Now, there is no legal bar for the trial courts concerned to resume the trial proceedings against Moudud and Altaf, said Khurshid.