Rajuk starts survey to identify building code violators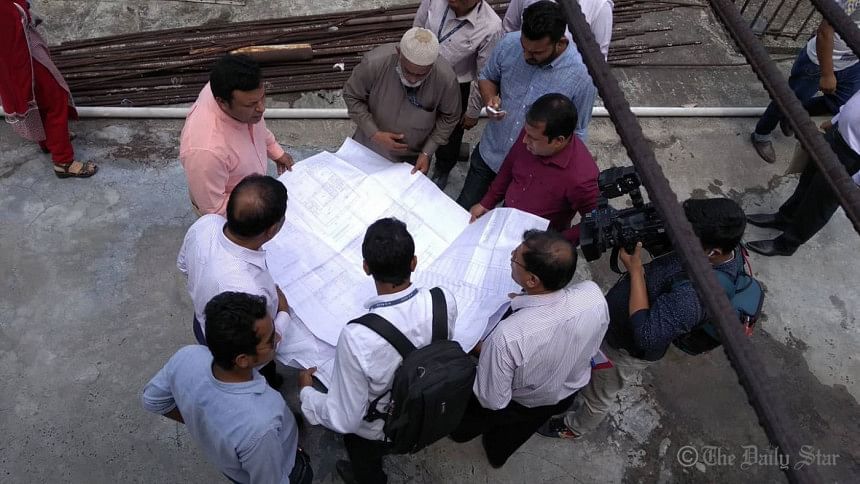 Rajdhani Unnayan Kartripakkha (Rajuk) today launched a two-day survey in Dhaka to find out buildings constructed flouting the building codes.
Twenty-four teams of Rajuk will conduct the survey in the buildings higher than 10 storey in eight zones, said Ananda Kumar Biswas, director (Law), also the supervising officer of Zone-7.
Three teams under Ananda Kumar are inspecting buildings in the Zone-7 that includes Keraniganj, Zurain, Sutrapur, Wari.
"We are inspecting if the high-rise buildings have fire exits, fire safety and other safety measures," the supervising officer of Zone-7 said.
As part of the programme, a five-member team of Rajuk was seen visiting an under-construction building in Kamrangirchar area around 12noon.
They talkedwith the owner of the building and also looked at its plan, our correspondent reports from the spot.
On the other hand, the Rajuk team designated to inspect Zone-4, visited Praasad Trade Centre on Banani's Kamal Ataturk Avenue and found various deviations of the building code.
Mamun Mia, director of the zone told our staff photographer that they have found a restaurant at the entrance of the building which should not have been there.
"We have instantly closed operations of the restaurant and directed to move it," Mamun said. "If they fail to move the restaurant in given time, we will take legal actions via mobile court."
The inspection team also found various digression in the actual building design from its approved design, which is against the Building Construction Act, the director added.