RU teachers, students demand justice for Professor Rezaul
Main accused still at large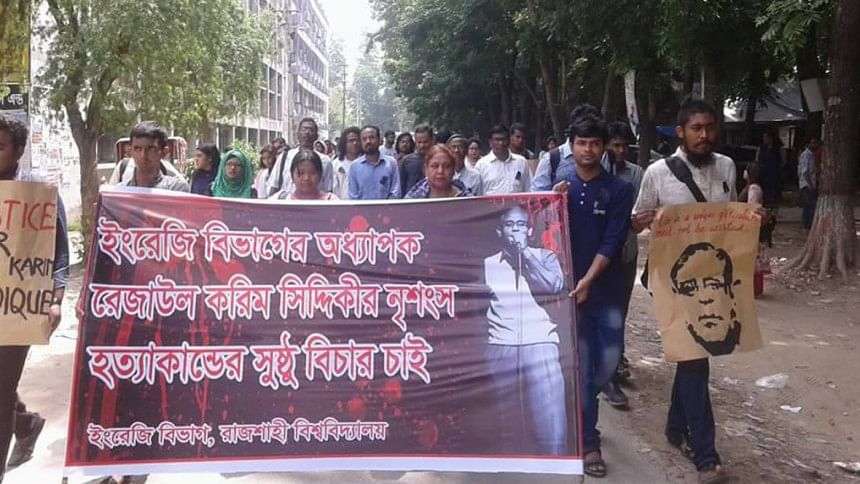 Students and teachers of Rajshahi University (RU) have organised various programmes on the campus today marking the death anniversary of Professor Rezaul Karim Siddiquee, an English department teacher who was killed by "militants" in 2016.
Around 300 students and teachers at about 10:00am brought out a silent procession in front of Shahidullah Arts Building, which houses the English department, demanding justice for the professor.
Prof Dr AFM Maswood Akhter, chairman of English department, Prof Jahurul Islam of the same department and Rizwana Hasin Shotovi, daughter of the slain professor, spoke at the rally that ended around noon, reports our RU correspondent.
A candle lighting programme at 7:00pm today in front of the department building was also announced during the rally.
Many teachers and students of different departments also took part in the procession organised by the English department, a 4th year student of the department told The Daily Star over phone.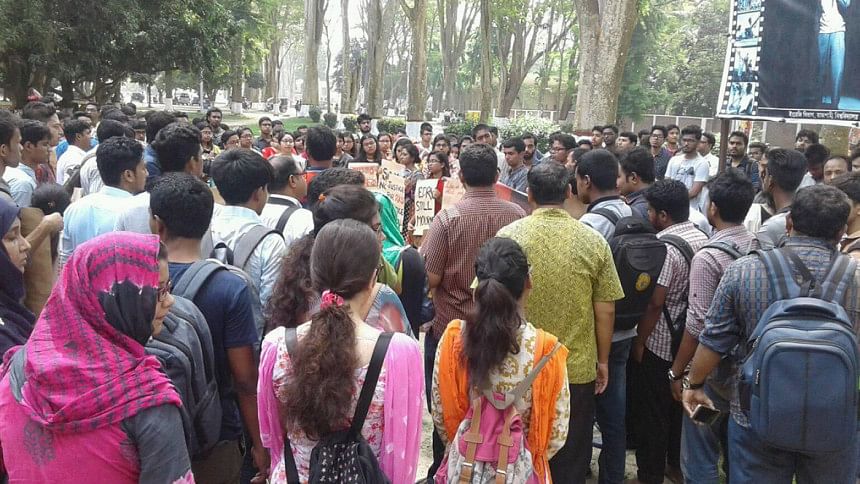 Earlier around 7:30am, dozens of students of Professor Rezaul Karim Siddiquee stood silently for half an hour in Shalbagan area in Rajshahi city where the professor was killed in 2016, reports our Rajshahi correspondent.
Prof Rezaul's son Riasat Imtiaz Sourav and daughter Rezwana joined the students.
Some of the students were wearing t-shirts with the portrait of the slain professor while some others were holding placards demanding arrest of the main accused in the murder case.
Later, the students met Prof Rezaul's wife, visiting his house in the same area.
A court in Rajshahi on April 11 fixed May 8 for delivering verdict in the murder case.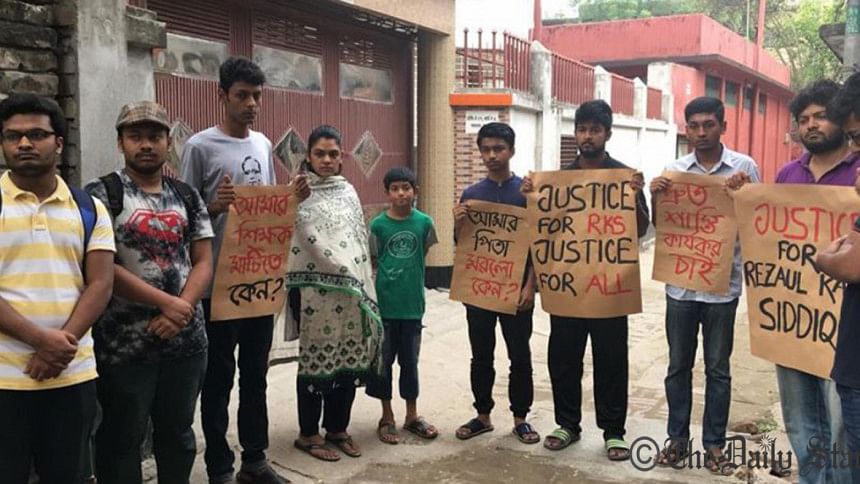 Detectives found a group of eight militants involved in the charges of the murder of Prof Rezaul who was, the police say, a victim of the targeted killings orchestrated across the country by militants.
Meanwhile, the Islamic State claimed responsibility of the killing soon after the murder.
Among the eight accused, Shariful Islam, a RU English department student, is still absconding. Using a codename of Khalid, Shariful was found responsible for planning the killing, according to the charge sheet.
Three other accused were killed in "police raids" and "gunfights".
Khairul Islam Payal alias Badhan was killed during the raid on July 1, 2016 at Holey Artisan Bakery in Dhaka, and two others -- Nazrul Islam alias Bike Hasan and Tareque Hasan Milu alias Osman, were killed in "crossfire" in Rajshahi and Bogra.
Other accused – Polytechnic institute student Maskawath Hasan Sakib alias Abdullah, RU crop science department student Rahmatullah, Abdus Sattar and Sattar's son Ripon -- gave confessional statements in the case.