Policy actions must to boost labour market for women
Swedish dy minister tells Bangladesh Development Forum before leaving Dhaka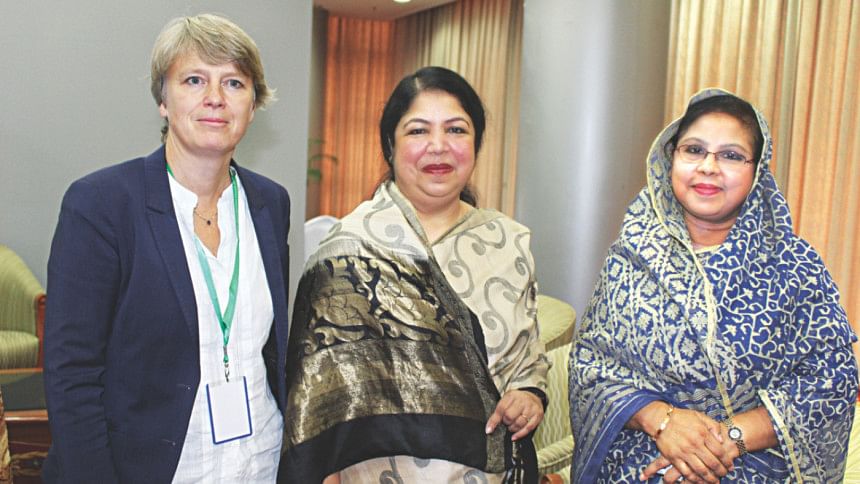 Policy actions are most urgent to strengthen the labour market for women and promote decent works that benefit women, Swedish Deputy Minister for Employment Irene Wennemo has said.
She made the call while addressing a session on gender and economic development of the Bangladesh Development Forum held in Dhaka on November 15-16.
Wennemo left Bangladesh on Tuesday following a three-day visit to the country.
In her speech, Wennemo emphasised women's increased participation in the labour market and women's economic empowerment, said a Swedish embassy press release.
The economic empowerment of women reduces gender inequality and poverty, she said.
She highlighted the Swedish prime minister's global deal initiative so that governments ratify and the ILO's core conventions in this regard.
"Sweden is particularly happy that Bangladesh is one of the countries that have agreed to be in the forefront of this initiative."
Later, Wennemo visited the Centre of Excellence for the Bangladesh Appeal Industry training centre funded by Sweden and H&M through ILO. Then, she met BGMEA President Md Siddiqur Rahman.
Wennemo along with Swedish Ambassador Johan Frisell and representatives from H&M visited an Ashulia garment factory, "Natural Denims".
She also visited Swedish-funded "Bangladesh Global Deal Project" that aims to improve the social dialogue and industrial relations in the garment industry.