Police keep Moshrefa Mishu 'confined' to home all-day
Allegedly to prevent her from attending a demo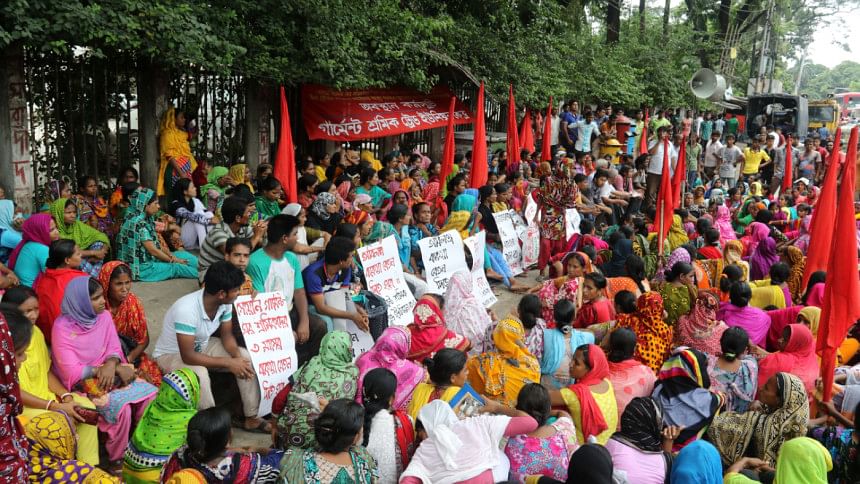 Police allegedly prevented garment workers' leader Moshrefa Mishu from leaving her house yesterday morning to join a protest in front of the capital's Jatiya Press Club and kept her confined throughout the day.
Mishu, the president of Garments Sramik Oikya Forum, was intercepted by a police team at the entrance of her Kalabagan residence around 10:00am when she was leaving for a sit-in, organised by Swan Garment workers demanding four months' arrears.
"I was advised by police to watch TV or read books at home and to avoid all sorts of commotion," Mishu told The Daily Star.
She added that several policemen stayed at the entrance of her house throughout the day and prevented her from going anywhere.
"My constitutional right to be able to go out of the house was violated," she said.
Officer-in-Charge of Kalabagan Police Station Mohammad Iqbal denied confining her. "I...requested her not to go to any programme because of the traffic jam," he said.
Mishu was a key organiser of Tuba Group garment workers' indefinite hunger strike demanding arrears and festival bonus before Eid-ul-Fitr last year. The protests forced Bangladesh Garment Manufacturers and Exporters Association (BGMEA) to pay the arrears of several hundred workers.
Garments Sramik Oikya Forum at a press release condemned the law enforcers' move and demanded immediate withdrawal of police from her house.