Nation paying tributes to liberation war martyrs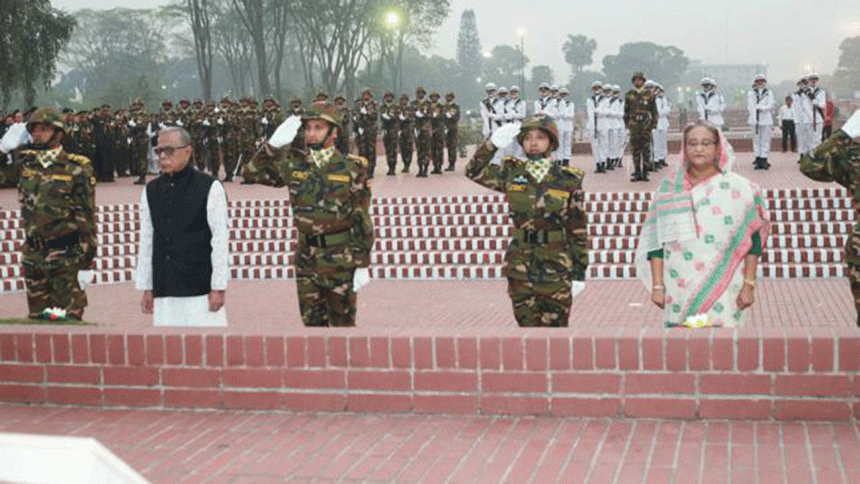 The nation on Saturday is paying glowing tributes to the Liberation War martyrs who laid down their lives for the country's independence.
On March 26, 1971, Father of the Nation Bangabandhu Sheikh Mujibur Rahman declared Bangladesh's independence following the crackdown on unarmed Banglalees on the midnight of March 25 by the Pakistani occupation forces.
After the nine-month War of Liberation with the supreme sacrifices of three million people, Bangladesh achieved its cherished independence on December 16, 1971.
The day is a public holiday.
President Abdul Hamid, Prime Minister Sheikh Hasina and BNP chairperson Khaleda Zia issued messages on the occasion.
Both the president and the prime minister greeted the countrymen living at home and abroad on the occasion.
In his message, the president underscored the need for maintaining patience, self-restraint and forbearance along with showing respect to others' opinion in a democratic pluralism.
He also urged all to take united efforts to accelerate overall development and democratic advancement of the country.
In her message, the prime minister expressed the hope that all would engage themselves with their utmost sincerity, honesty and dedication to build Bangladesh as a peaceful, non-communal, developed and prosperous country and help place it on a prestigious position in the comity of nations.
­The national flag was hoisted atop government and private buildings while the government and semi-government buildings and other public places were illuminated on the auspicious occasion.
President Abdul Hamid and Prime Minister Sheikh Hasina placed wreaths at the National Mausoleum at Savar to pay tributes to the war martyrs.
The president will host a reception at 4:45pm at Bangabhaban on occasion of the Independence and National Day. Prime Minister Sheikh Hasina will attend the reception.
The prime minister placed wreath at the portrait of Father of the Nation Bangabandhu Sheikh Mujibur Rahman at Dhanmondi and attend a rally of children and juveniles at Bangabandhu National Stadium at 8am.
She will also release stamps at 4pm at Ganabhaban.
HPM #SheikhHasina & AL leaders paid tributes to Bangabandhu on 46th #IndependenceDay https://t.co/34KJcEp0OC pic.twitter.com/T1zI0mUen0

— Awami League (@albd1971) March 26, 2016
As part of Awami League's programmes to celebrate the National Day, the national and party flags were hoisted at Bangabandhu Bhaban at Dhanmondi, party's central office on Bangabandhu Avenue as well as offices across the country at sunrise. The party placed wreath at the portrait of Bangabandhu at 7:00am.
Besides, another team of AL central leader attended programmes taken at Tungipara to observe the day.
AL arranged a discussion at Krishibid Institution Bangladesh in the city's Framgate at 3:30pm on Sunday. AL president and Prime Minister Sheikh Hasina will attend the programme as the chief guest.