Old Dhaka building collapse: 2 bodies recovered
The rescue operation was called off around 1am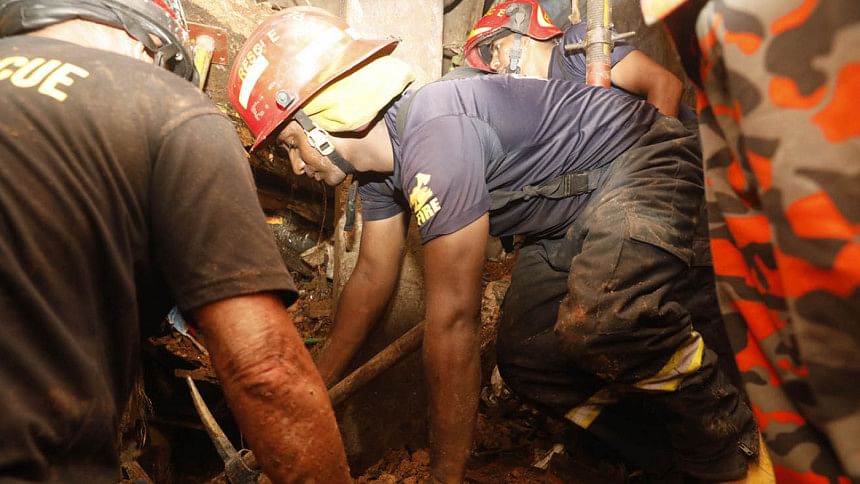 Firefighters last night recovered the bodies of two men from the rubble of a partially collapsed two-storey building in the Old Dhaka's Patuatuli area.
Rescue operation was called off around 1:00am, early today, after the recovery of the bodies, Sahidur Rahman, officer-in-charge of Kotwali Police Station, told The Daily Star.
The death bodies were sent to the morgue of Mitford Hospital for autopsy, the OC said.
Officials and locals said the victims are roadside fruit vendor Jayed Ali Bepari, 60, and his son Shafiqul Islam alias Babla Bepari, 16, who lived in the century-old building.
They added that it was unlikely that anyone else was trapped in the building.
Jayed's brother-in-law Liton Bepari told The Daily Star that the victim's family members had not been able to reach Jayed or Babla over the phone since yesterday morning.
Around 12:30pm, Liton went to Jayed's rented home and found out that the part of the building where they lived had collapsed.
Firefighters were informed at around 1:20pm and started working to recover the missing people, said Debashis Bardhan, deputy director of Fire Service and Civil Defence in Dhaka.
Seven units of firefighters worked at the building, he said.
After trying to rescue the "missing people" by removing the debris for hours, firefighters said they could see two bodies under tonnes of rubble around midnight.
Several residents of the area said they heard a thudding noise around 2:00am on Wednesday. The building might have collapsed at the time, they added.
Jayed and his son, who are from Madaripur, had been living in the building for the last eight years, Liton said.
Liton said Jayed paid a monthly rent of Tk 3,000 to a local influential person.
Hazrat Ali, caretaker of a spectacles market in the area, said Jayed and his son went to their residence after selling fruit until 12:30am on Wednesday.