Biswal assures US support against terrorism
She visits Holey Artisan Bakery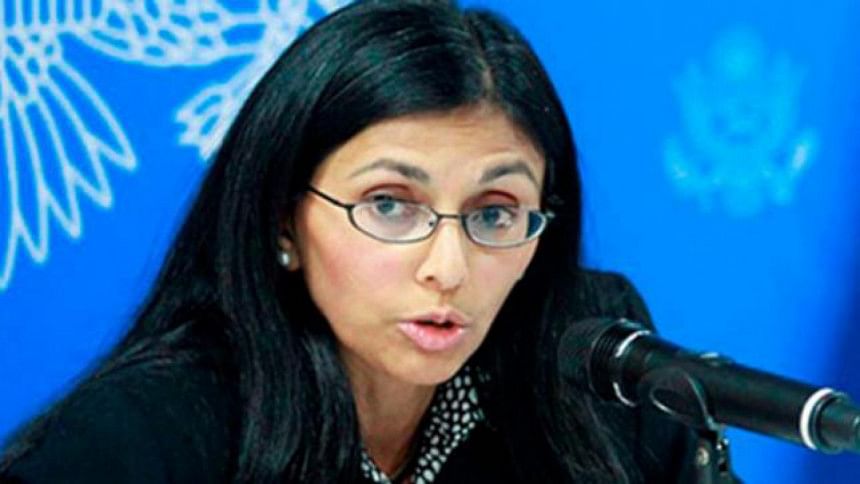 Visiting US special envoy Nisha Desai Biswal has met Bangaldesh's Home Minister Asaduzzaman Khan and assured her country's full support against terrorism and violent extremism.
The meeting was held at the Secretariat at 3:00pm today and continued for about an hour. After the meeting, both sides briefed reporters about the contents of the discussion.
"I am here to offer US assistance and support for Bangladesh's own effort against terrorism and violent extremism," Nisha, US assistant secretary of state for south and central Asian affairs, said.
She underscored US' "broad-base" understanding with Bangladesh and added that her country's support is an "extension of long and deep partnership based on shared values of democracy, tolerance and inclusion."
READ MORE: Dhaka to weigh all aspects before taking int'l help
Nisha Desai, who is in town on a two-day official visit for security issues after the Dhaka restaurant attack, yesterday offered Bangladesh help in anti-terrorism capacity building.
Today, she reiterated her commitment saying bilateral relations "are as robust as ever" and lauded Bangladesh's law enforcing agencies' efforts in tackling the extremism issue.
BANGLADESH YET TO SEEK US HELP
Home Minister Asaduzzaman Khan, after the meeting, told reporters that the US has assured Bangladesh of complete support in combating terrorism.
As he hinted, Bangladesh is yet to seek help or support from the US.
"We will assess what help we need. Then we will let them know," he told reporters in response to a query on whether Bangladesh sought help from the US in fighting terrorism.
Bangladesh witnessed two back-to-back major attacks in the first week of July – the first one being the grisly attack on a restaurant in capital's diplomatic zone followed by the attack on Sholakia Eidgah.
Twenty hostages were killed in the Dhaka restaurant attack, mostly foreigners including a US citizen, and two police officers died in the 12-hour-long siege on July 1.
Barely six days into the attack, the country's largest Eid congregation in Sholakia Eidgah witnessed another attack on Eid day where two police officers and an innocent woman was killed.
The US, which has continued a travel alert in Bangladesh, still believes that the threat of terrorism is very real in Bangladesh and that foreign nationals are the most likely targets.
NISHA MEETS ENVOYS OF UK, CANADA, AUSTRALIA
Earlier today, special US envoy Nisha Desai met with the envoys of UK, Canada and Australia over the security situation in Bangladesh and also met Prime Minister Sheikh Hasina's security adviser.
She sat with Canadian High Commissioner in Dhaka Benoît-Pierre Laramée, acting British High Commissioner Mark Clayton and acting Australian High Commissioner Sally-Anne Vincentand at the US Ambassador Marcia Bernicat's residence in Gulshan around 8:30am, our diplomatic sources said.
Nisha met Maj Gen (retd) Tariq Ahmed Siddique, security adviser to Prime Minister Sheikh Hasina, and Dr Gowher Rizvi, the premier's international affairs adviser around noon.