Worse off at a shelter
Evidence of veterinary malpractices, harassment incense animal welfare activists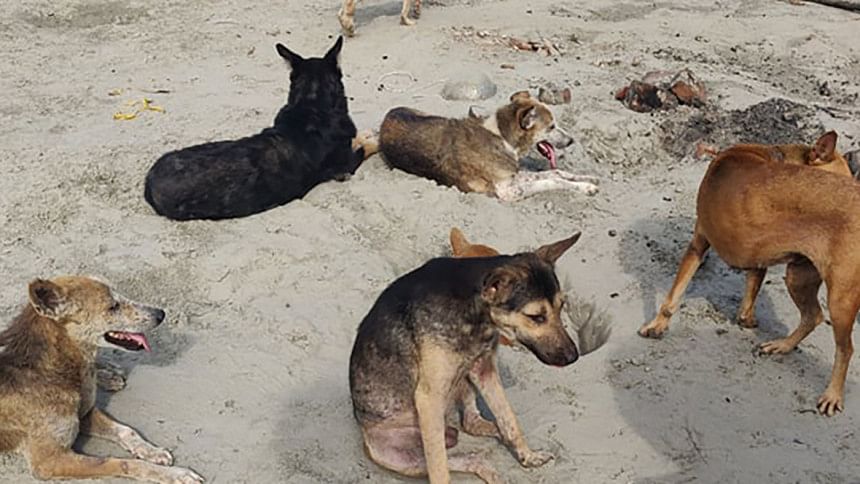 For those involved in animal rescue, welfare and adoption in Dhaka, the name "Adi Guru" is quite familiar. Using this alias, one Naim Ibn Islam has been rescuing and sheltering cats and dogs, and he also provided treatment to the animals on many occasions.
Since late 2018, Naim has been running a shelter called Kalua's Homes at Baruikhali of the capital's Rayerbazar area, on about 16,000 square feet of land (23 katha). On paper, this shelter appears to be the perfect space for rescued and injured animals, considering its location beside the river Buriganga and large space.
However, the reality barely resembled a happy place for cats and dogs. In early June, a group of animal welfare activists visited Kalua's Homes twice in one week after hearing multiple complaints about its operations.
"I went with a team of seven other animal rights activists to see what was going on. We found that there were at least 80 dogs and 18 cats in the shelter, many of them on the brink of death, some paralysed, some injured," said Rakibul Haq Emil, founder of People for Animal Welfare (PAW) Foundation.
"It was a gruesome situation, to be honest."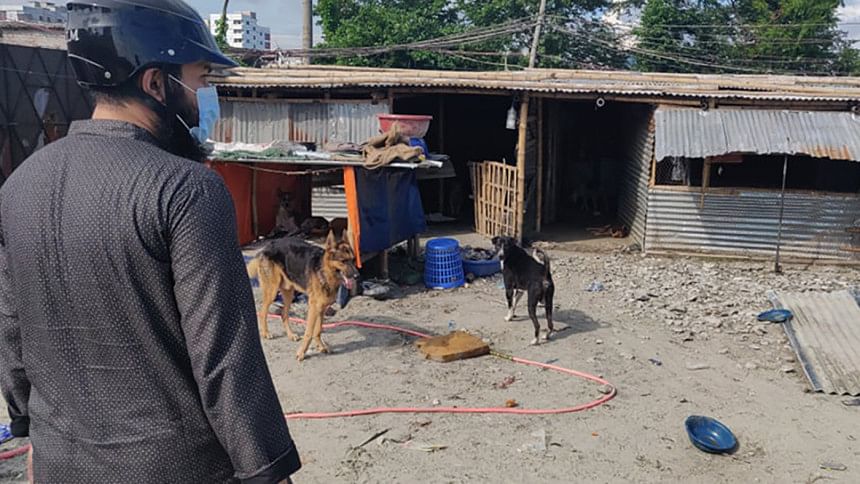 Photos taken by the activists revealed a dismal picture. Scores of well and unwell dogs were photographed cramped inside a small shed, while paralysed cats were found in cages. Some of the dogs were all skin and bones, as the food given to them were inedible and covered with mould, said Saurav Shameem, founder of Care for Paws, another animal welfare group.
"The ill animals were not being given proper treatment and medicine was not stored properly," he claimed.
No medical records of these animals could be found, so there was no way to determine which animal was undergoing what kind of treatment, or even when and where they were rescued.
Considering the scenario they observed on May 30 and June 6 at the shelter, the activists decided to intervene, and gave Naim a ten-point instruction with fixed deadlines.
A handwritten agreement was signed by all eight animal rights activists and Naim. A copy of the informal agreement shows that Naim agreed to expand the shed to allocate separate spaces for dogs, cats, and unwell dogs. He also agreed to immediately create a record of every animal and clear ticks and fleas.
On June 8, Naim – through a Facebook Live announcement, handed over the shelter to two persons, saying he "was not in a state to look after it."
When the activists visited the shelter on June 13, the shelter was found still in abysmal condition, with dogs and cats suffering from mild to severe skin infections, food bowls filled with mouldy bread and cake, and a layer of dust on the water kept for the animals.
The two people left in charge of the shelter were unable to take care of so many animals, said the activists' team. In a later conversation, Naim also hinted the same.
Until July 4, independent activists alongside PAW Foundation and Care for Paws looked after animals at Kalua's Homes. Once another group of activists involved with ALB shelter and Animal Care Society of Bangladesh (ACSB) came forward, the responsibility was handed over to them.
Dipanwita Ridi, founder of ALB shelter explained that they will allow Naim, who returned to Dhaka recently, to continue running the shelter under her team's strict supervision. "We will set up CCTV cameras and ensure proper nutrition, shade, and accommodation for the animals. Cats and dogs will be kept separately and all ill animals will receive the treatment they need," she said in a public Facebook Live video on Sunday.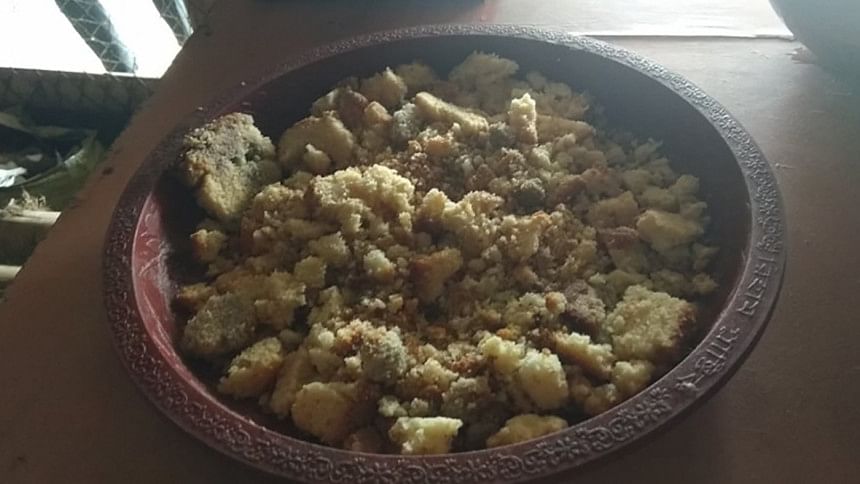 ALLEGATIONS OF FRAUDULENCE, HARASSMENT
Riya (not her real name), a private university student, had given at least three of her rescued dogs to the shelter. "Back in 2019, I often helped out at Kalua's," she said.
"However, I limited my interactions with Adi bhai [Naim] and rarely visited the shelter unless I urgently needed space for a rescue dog, after he misbehaved with me and inappropriately touched me," alleged Riya.
In late April, Riya rescued an abandoned German Shepherd from Mohammadpur. The dog had an injured limb but was otherwise healthy. On a later visit in June, Riya found Neel in a distraught state. There were cuts on his neck, another leg was injured, and he had lost weight. "I thought I was rescuing him from the streets, but then he had to be rescued again from the shelter," Riya said. Neel has since been adopted and is happy at his new home.
Riya filed a general diary at Hazaribagh police station on June 12, accusing Naim of animal cruelty and harassment.
Meanwhile, Barsha (not her real name), a final-year student at Dhaka University, had taken a mother dog to Kalua's Homes. "I used to feed the dog near DU's arts building. She and the puppies were quite vulnerable and once the university closed down, I thought they would die without food and care," Barsha explained.
Instead, the puppies later died at the shelter. Barsha had left the dogs at the shelter on March 24 on a fostering agreement, which meant she would take them back once the university reopened. She paid Naim Tk 200 on a daily basis as a maintenance fee for the animals. When Barsha checked up on the animals in early June, Naim said the puppies had died in the thunderstorm.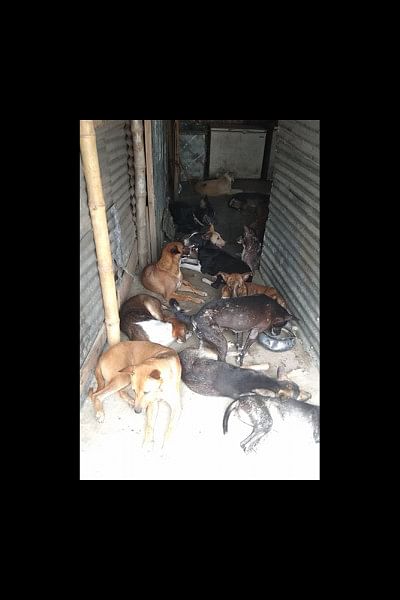 "Even stray dogs can take shelter under any structure or building in the road. But these innocent puppies died at a shelter, with no shed to protect them from the rain," claimed Barsha. Her bKash transaction records show that she transferred at least Tk 6,675 to Naim's bKash account as foster fees.
Screenshots of a messenger conversation between Barsha and Naim show the latter continuously making romantic advances towards the girl, despite her saying that it makes her uncomfortable.
"I still did not block him at the time (April-May) because the animals were under his care and I was concerned about them. But later my dogs died," an aggrieved Barsha said over the phone. She filed a GD with Ramna Model police station on June 15 with allegations of animal cruelty and harassment.
Apart from Riya and Barsha, multiple others formally and informally brought allegations of mistreatment and cruelty against animals, as well as fraudulent activity, harassment and scamming.
'WAS WORKING OUT OF LOVE'
In a phone conversation with this correspondent, Naim claimed that a vested quarter is out to defame him and his shelter.
"I have been working in animal welfare for many years. I have worked with reputed veterinarians and I know how to provide treatment to animals," said Naim, claiming to be a paravet. "I have been endorsed by vets; I don't need a license," he said.
"My shelter was running smoothly before the Covid-19 shutdown. Four people were working there but they could not continue after the virus outbreak. I had very little income and stayed at the shelter in Rayerbazar. Everybody sent animals and few sent money, but in the last two months, I received around Tk 2.5 lakh in donations. I was planning to develop the shelter with this money," he said.
"It isn't cruelty to give animals a home. You are telling me about keeping more animals than capacity, but I gave them a home. They would die in the street otherwise," said Naim.
"People came after me before I could improve the shelter. I was concerned for my safety so I left the shelter in the care of two people who were working with me and left for Manikganj on June 8."
Naim insisted that the rotten food and dirty water were isolated mishaps, and denied all allegations of harassment, terming them "innocent flirting".
On the lack of transparency in fund management, he said, "People donate funds anonymously; how can I keep a full record of where every penny is going?"
OFFICIAL'S REPORT, AND LEGAL IMPLICATIONS
Sub-inspector Al Momen of Hazaribagh Police Station said he had summoned Naim to the station in early June, but he did not show up.
According to section 6 of the Animal Welfare Act 2019, any act or omission which is the cause of an animal's illness is to be deemed as cruelty.
It also lists providing inadequate nutrition to animals and keeping them tied or caged in uncomfortable positions as cruelty.
If found guilty under this section, people can be sentenced to maximum six months' imprisonment or Tk 10,000 fine or both.
According to the Veterinary Council Act of 2019, licensed and registered paravets can administer treatment under the supervision of legally recognised veterinarians. Practising without a license can land someone in prison for a maximum three years, or they can be fined maximum Tk 2,00,000 or both.
Dr Shaheen Noor, a livestock officer of DLS, confirmed that he visited the spot on June 29.
His report, filed yesterday, states, "The animal shelter in Baruikhali has been running for nearly two years with no license or permission from DLS. There is no proper arrangement for veterinary services for the animals there. These are offences under the Animal Welfare Act-2019."
The report recommends the Officer-in-Charge of Hazaribagh station to follow up with the necessary legal steps. 
Following up to the general diaries, a group of activists including Emil and Shameem are in the process of filing a case under the Animal Welfare Act, where offences are considered non-cognizable unless recommended by Department of Livestock Services.