'Why did you cast my vote?'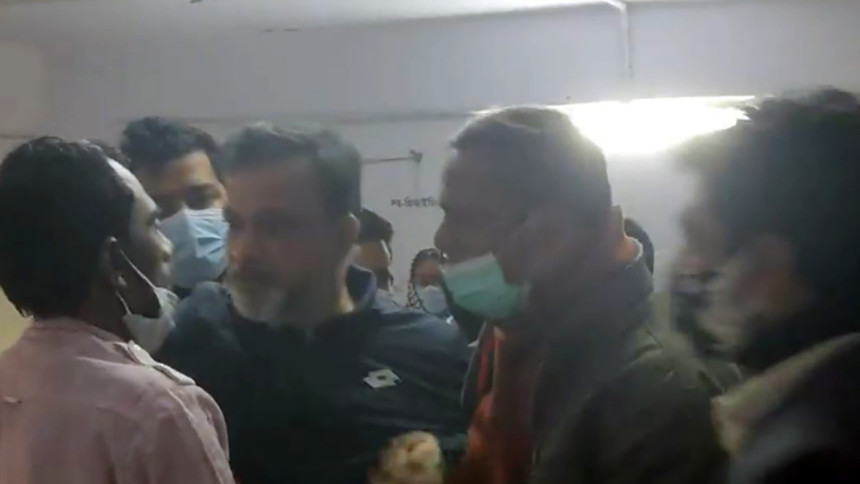 "Why did you cast my vote? It's my civic right. Who…are you? I have spent my life for Awami League. You should ask me before pressing the button. Do you know me? I'm the joint convener of polling center based committee for AL mayoral candidate Rezaul."
This is what Md Jasim Uddin, an active supporter of Awami League (AL), was telling a Bangladesh Chhatra League (BCL) man following an argument with him inside a polling booth when the BCL man supposedly cast Jasim's vote in favour of "boat" on the electronic voting machine.
The incident took place today at booth no-2 of the administration building of Bakalia Teachers Training College's male polling station under Ward no-17 around 10:00am.
Jasim Uddin is the joint convenor of voting center operation committee formed by ward-level AL centring the Chattogram City Corporation (CCC) election.
"Why are you doing this? I was supposed to vote for boat but you pushed the button without my permission," he told BCL men.
"I opened the EVM machine but they pressed it without my consent," he told The Daily Star while a Jubo League (JL) man tried to calm him down by taking him away from the polling booth.
While visiting the polling station, BCL, AL and JL men wearing "boat" badges were seen roaming free in the male polling station on the ground floor of the administration building of the college. When the incident happened, police were seen milling around.
After learning of our correspondent's identity, Jasim requested him to not file the story.
Around 11:00am, Fahima Sultana Jinu, a female voter, alleged that her vote was cast in favour of "boat" by another woman who was positioned inside the secret chamber of the polling booth after she opened the EVM with her fingerprint in the other polling centre under the same territory.