'Want right to ancestral land, not luxury hotel'
Mro community demonstrates in capital in their mother language; rights groups express solidarity to their demands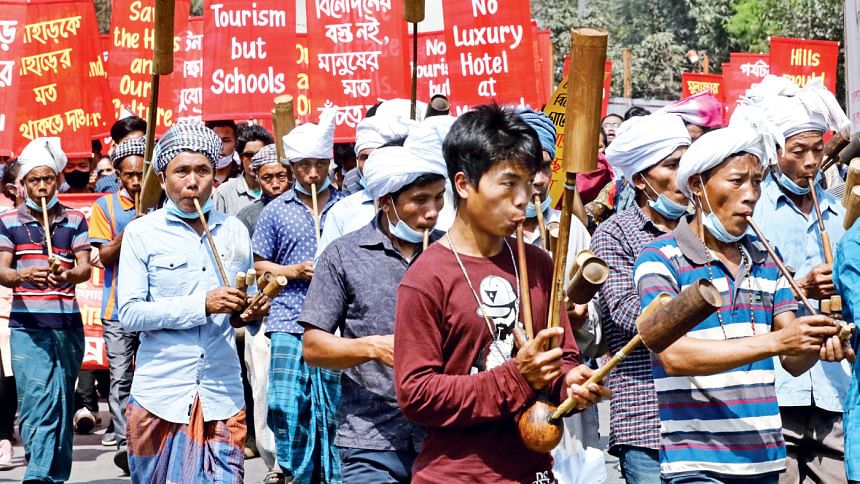 People of the Mro community need the right to live on their ancestral land maintaining their traditional lifestyle, not any five-star hotel, said speakers at a protest rally yesterday.
They demanded the cancellation of a project to establish a five-star hotel and amusement park at Bandarban's Chandrapahar, popularly known as Chimbuk.
"Committee to save Mro land in Chimbuk hill" organised the programme at the capital's Shahbagh, seeking attention of the prime minister.
According to them, a welfare organisation and Sikder Group are trying to grab about 1,000 acres of jhum land from Kapru Para Bazar to Jiban Nagar area, in the name of constructing a luxury hotel and tourist spot there.
The initiative, if implemented, will directly affect six villages of the Mro community and indirectly affect another 70-116 villages.
A group of Mro people, who have been directly affected by the project, came from Bandarban to protest.
Reng Young Mro translated the speech of one of their representatives, Mengchit Mro, who spoke in his mother tongue.
The group also played their traditional flutes and, protesting the project.
Different organisations, including Bangladesh Indigenous Peoples Forum (BIPF), Manusher Jonno Foundation (MJF), Bangladesh Somajtantrik Dal, Communist Party of Bangladesh (CPB), Bangladesh Environmental Lawyers Association (Bela) and Kapaeeng Foundation, expressed solidarity at the event.
Conducting the session, BIPF General Secretary Sanjeeb Drong said, "The plan to establish a five-star hotel on the ancestral land of Mro people is a sin and crime. We can't make such imprudent plans just because we have money."
"It is their ancestral and traditional land. Only they have the right to decide what they will do with it. They have a right to say 'no', and we must respect such democratic rights."
Cultural personality Mamunur Rashid said, "Development doesn't mean only buildings. Why must the natural environment be destroyed by building these structures? Let them [Mro people] live their lives."
Workers Party of Bangladesh General Secretary and MP Fazle Hossain Badsha said, "Chimbuk is a place of natural beauty. A miscreant group like Sikder Group has been permitted to build a hotel there. These miscreants have now turned into the owners of Bangladesh."
"Bangladesh is not a place to loot for any corporate group," he added.
Dhaka University Professor Robaet Ferdous said, "There's no quality primary and high school there. Then why will there be a five-star hotel? For whose interest? Is it for corporate people to have fun and get entertained? I ask the government to establish schools, colleges and quality hospitals there first."
"It has been 50 years since our independence. We believe the state doesn't only need to be neutral in terms of religion, but also race, language and gender," he said, adding that a state should be based on pluralism, not monolithic ideology.
MJF Executive Director Shaheen Anam said, "The demand of the Mro people is only to live on their ancestral land, maintaining their language, culture and livelihood. Is it too much for a community to ask?"
"No democratic and people-friendly government can allow the eviction of such a large number of people," she said, adding that Mro people's lives and livelihood will be endangered in the name of development.
Seeking attention of the prime minister, DU Associate Professor Zobaida Nasreen urged Sheikh Hasina to intervene and save the community's land.
Bela Chief Executive Syeda Rizwana Hasan said, "The constitution says that it is the responsibility of the state to save the environment. If hotels and eco-resorts are being built, then how will there be hills and forests for the next generation?"
"Bandarban itself is a five-star hotel. The entire Bandarban is an eco-resort. Why must there be a separate five-star hotel?" said Rizwana, emphasising the environmental significance of Bandarban.
Jatiya Adivasi Parishad President Rabindranath Soren, CPB central leader Ruhin Hossain Prince and Parbatya Chattogram Nagorik Committee President Goutam Dewan were also present at the event.