Voting was meaningless: LDA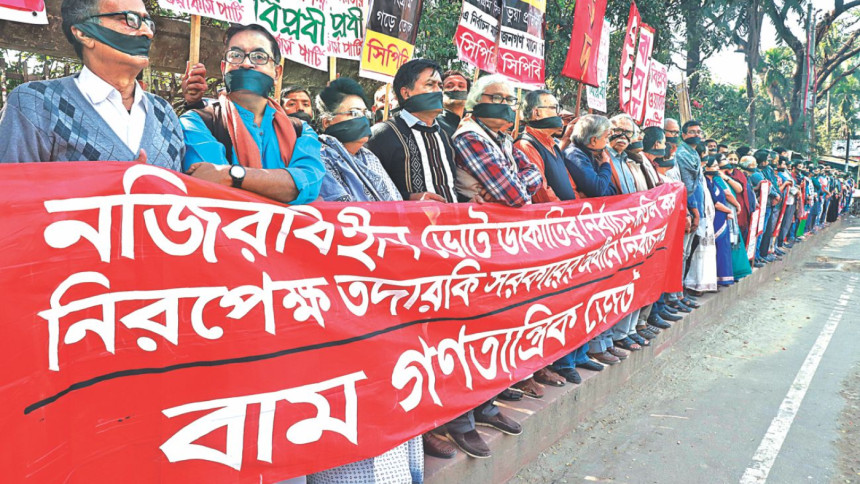 Voting was meaningless in the 11th national election, well-orchestrated by Awami League to get its desired outcome, according to Left Democratic Alliance, comprised of eight left-leaning parties.
Public opinion has not been reflected in the "manipulated election", the alliance claimed from a rally at the Jatiya Press Club yesterday and demanded re-election under a neutral caretaker government.
Since early morning on election day, polling centres were taken over by the ruling party activists across the country; opposition parties' polling agents were not allowed in or were driven away, said Ruhin Hossain Prince, secretariat member of the Communist Party of Bangladesh (CPB), reading out a statement.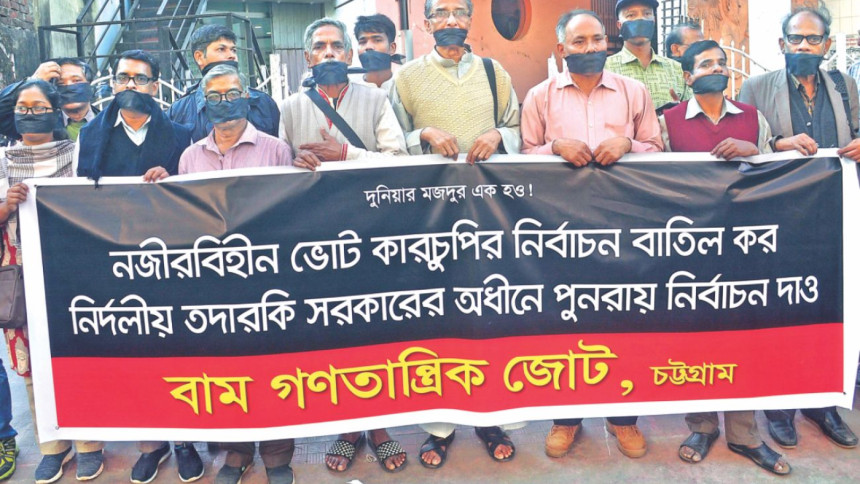 People have been deprived of their voting right through stuffing of ballot boxes with full control over the administration and law enforcement agencies, he said, adding that there were many centres that ran out of ballot papers by 10am-12pm.
"These incidents made the election meaningless and farcical," he said.
All the attempts to influence election results also caused voters to lose interest that had picked up momentum ahead of the election, Ruhin said. "It was again proved that the country cannot have a fair and acceptable election under a partisan government."
Around 11am yesterday, leaders and activists of CPB, Revolutionary Workers Party of Bangladesh and Bangladesher Samajtantrik Dal (Marxist) started gathering in front of the press club in the capital with placards.
While their agitation went on outside the premises of the Press Club, inside at a press conference Ain Sohayota Kendro Foundation – registered with the Election Commission as election observer – said the latest election was very different from previous polls in terms of voters exercising their voting right freely, fairly and in a peaceful environment.
The Left Democratic Alliance condemned election violence and the gang-rape of a woman in Noakhali, allegedly because of voting for the election symbol "sheaf of paddy".
It rejected the election results and demanded that the Election Commission be reformed before a re-election under a non-partisan government.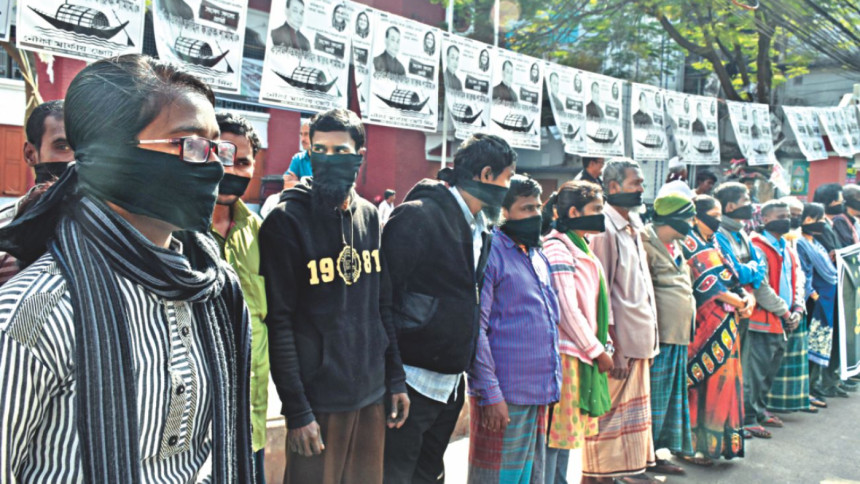 Ruhin said people didn't consider those elected as MPs as their representatives since they were elected in rigged polls.
CPB President Mujahidul Islam Selim, Revolutionary Workers Party General Secretary Saiful Huq and Ganatantrik Biplobi Party General Secretary Moshrefa Mishu were among those present at the rally.
The whole electoral process needs to be overhauled for fair election, Ruhin said, calling on the government and relevant authorities to make necessary steps for a re-election.